Original article here -
Here
Warnock blasts 'gutter' boy Diouf
R's boss fuming with Rovers winger after freak injury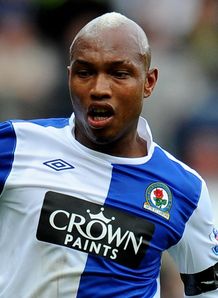 QPR manager Neil Warnock has launched an astonishing attack on Blackburn Rovers winger El-Hadji Diouf following their FA Cup defeat.
The Championship side suffered a 1-0 loss to Rovers in the FA Cup on Saturday, but it was Diouf's reaction to Jamie Mackie's serious injury that annoyed Warnock.
The Senegalese forward issued a verbal volley at Mackie who was stretchered off and taken to hospital where it was confirmed he suffered a double leg break.
Warnock believes the loss of Mackie, who he expects to be without for the remainder of the season, is a massive blow to their promotion hopes.
However, it was Diouf's reaction that upset him and his players and he does not believe Rovers boss Steve Kean will allow him to play for the club for much longer.
Double break
"He's broken both of his bones in his leg, his tib and his fib," Warnock said on Mackie's injury.
"It's disappointing for everyone. It pales into insignificance, the result really.
"I'm pulling my hair out as well because I wasn't going to play him. He pleaded with me to play him yesterday.
"That's how he is, he wants to play in everything. We'll miss him. It's a massive blow to us.
"I can't see him really playing again this season. The lads have said 'we've really got to try and get promotion for him now'.
Disappointed
"He's a fantastic lad, so that's why I was disappointed when El-Hadji Diouf starts, the lads were furious at him.
"He'd broken his leg. There was no need for it. I think the Blackburn people were embarrassed.
"I can't buy people like that. I don't know why he wants to take on the world every week.
"There was no need for him to put the finger up and talk to Mackie like he did. He was calling him a disgrace and all sorts of things.
"I think for many years I think he's been the 'gutter' type of boy. I was going to call him a sewer rat, but that might insult the sewer rats. I think he's the lowest of the low.
"I can't see him being at Blackburn much longer because I can't see Steve Kean putting up with someone like that in the dressing room when he's creating a new image.
"I think he'll be the first to go. Good riddens. I hope he goes abroad. I won't miss watching him. Sign him? I wouldn't want to talk to him."
He derserves a punch round the face, if u ask me....
Your opinion......