This is my first FM 2010 story hope all you guys/girls enjoy it
Fulham announce Dos Santos as new gaffer:
After Roy Hodgsons long awaited retirement Fulham have announced former Portugal international Paulo Dos Santos as their new manager and believe that he is the man to elaborate on the great success Roy Hodgson has brought them. After racking up just over 20 years of playing experience he is said to be extremely excited about putting them into practice as a manager.
Fulham Manager secures key targets and staff:
New Fulham manager was said to be itching to get wheeling and dealing after he was given a mere £500k by the Fulham board.
He is said to be be delighted to secure his the first signning of his managerial career, Fabio Celestini £230K from Getafe. Ebi Smolarek, Jorge Andrade, Michael Ball and Sol Campbell on free transfers. His supposed last signing of the transfer window was hot prospect Jonjo Shelvey £750k from Charlton. Dos Santos delighted the board and fans and he managed to pull the cat out of the bag once again, David Beckham! Signing the English ledgend on a free transfer, he will join in January. The total cost of the transfers were £975k. He had this to say about the signings "Im delighted to be able to secure these signings so cheaply. All of them except Jonjo(A future star) will give us a lot of varied experience. I brought in Celestini to gice use some much needed steel in midfield and experience from different leagues, Smolarek was brought in to add extra flair upfront, Andrade was brought in for his European experiance and to add an extra dimension to our defence next to Brede, Ball was brought in to give competition to Konchesky at left back, Sol, well basically to warm our bench as he is getting on and Jonjo as he is a great prospect and in my eyes a long term replacement for Danny Murphy. Last but not least David ******* Beckham. Im delighted to be able to capture a player of his stature and im am sure that he will do this club proud."
Fulham Let players go:
Fulham have decided to sell a total of six players, these were: Toni Kallio £1m West Brom, David Stockdale £100k Reading, Diomansy Kamara loan fee £375k with a £3.2m option to buy, Fredrik Stook £3m Sunderland, Aaron Hughes £2.5m Hull and Erik Nevland £1.3m Coventry. Coming up to a total of £8.25m.



Dos Santos had this to say about the departures "Ill have to make this short and sweet. Letting these players go was in the best interests of the players and the club, i wish them all good at their new clubs."
Mark Schwarzer​
Brede Hangeland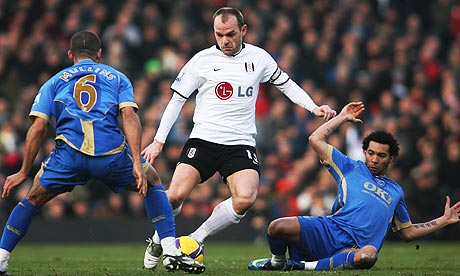 Danny Murphy​
Clint Dempsey

​


Pre Season:



Friendlys:



A Swindon 3 Fulham 2
A Charlton 0 Fulham 2
H Fulham 4 Nuremburg 1
A Burton 1 Fulham 2
A MK Dons 0 Fulham 2



Europa League:





A Fredrikstad 1 Fulham 2



Ill be updating and adding screenies later on, if you want anything extra just ask


Enjoy
Last edited: