I created this tactics for my Southampton and have
very good perfomance of my team in the current season
.
Download 4-3-3 Tactics
Formation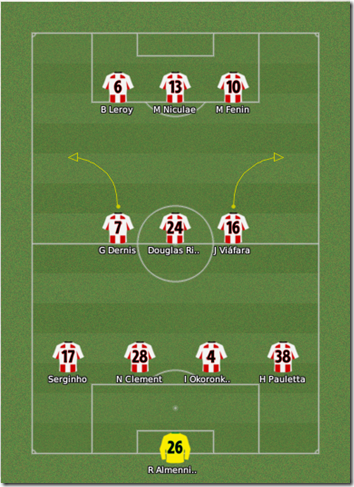 Team instructions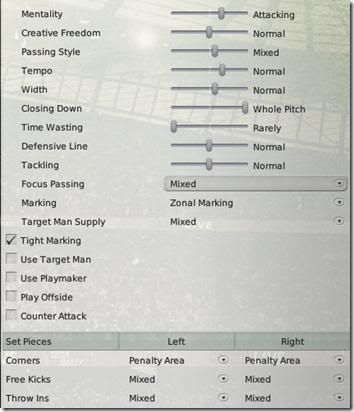 You see that it's of attacking mentality with full closing down and rather quick style of playing. There is also Tight Marking set up just because of need to make close pressing and leave space of opponent's attacking players.
Individual instructions
Left/Right and Central Defenders have very common individual instructions which are almost the same as standard presets in Football Manager 2008.
MLC and MRC players have some Creative Freedom - 15 (consider that 10 is average or normal value of a slider), Hard Tackling, full Forward Runs, Run With Ball and Cross Ball settings. So footballers playing on these positions must be creative central midfielders with good speed and technics who can shift on a flank, dribble opponents and make a fine cross to Penalty Area. Of course, such halfbacks should be able to play either in the center or on the flank.
MC has more defensive role. His individual distinctive instructions are: Forward Runs - Rarely, Hard Tackling, Through Balls - Often and Mentality=10. For this position the ideal variant is tough fighter who can tackle the ball and give good pass, someone of Steven Gerrard type
I prefer to have pair of different players playing MC:
* creative midfielder who can perform smart passes - for home games;
* defensive midfielder whose struggling, tackling abilities higher than passing - for away games.
Left and Right Forwards must be quick and technical because of often Forward Runs and Runs With Ball. What's interesting these guys are also participate in full closing down having Hard Tackling turned on. Such closing down allowed my team to score several goals when forward made pressing of opponent's defender, tackled ball and created goal moment.
Central Striker has Hold The Ball turned on and rare Run With Balls. This allows him making smart and dangerous passes to other forwards. Very important: use player with good technics and very good abilities to win headers (so it's should be high values of Height, Jumping and Strength). Other important thing that central striker is the main finisher who should score a lot of goals. For that high values of Finishing and Concentration are needed.
And Goalkeeper has the standard preset of individual instructions mostly. Some differences only in long kick distribution of balls (so GK should have good kicking) to central striker.
More wide tactics description including some tuning tips and hints can be read here
.