Euro 2012 preview: Denmark

Euro 2012 preview: Denmark | Zonal Marking
June 5, 2012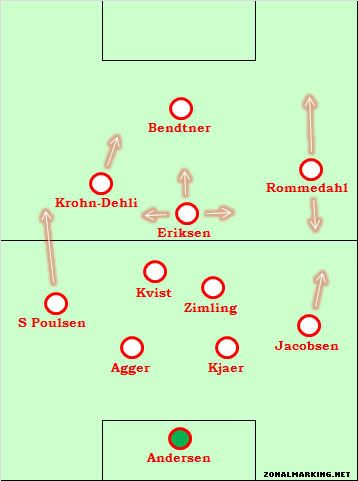 Denmark's probable starting line-up

​
It's impossible to think of Denmark at the European Championships without thinking of their astonishing victory 20 years ago. Then, they triumphed at Euro 92 despite not qualifying for the tournament initially…yet they're even more of outsiders this time around.
That's not due to the ability of the side, but because of their group. Together with Germany, Holland and Portugal (three of the top five sides in the world, according to the FIFA Rankings), they have the worst draw of any of the 16 teams in the competition. In Group A, they might have been favourites. In group B, they're expected to finish bottom.
Yet there are grounds for optimism. Denmark finished above Portugal in their qualification group, and thrive upon the role of underdog.

Eriksen
This is a slightly different type of Danish side to usual. For years they seemed to turn up at major tournaments with the same mix of players, mainly based around the wing threat from Martin Jorgensen, Jesper Gronkjaer, Thomas Kahlenberg and Dennis Rommedahl. The latter two remain, and Rommedahl – who still has good pace despite being 34 next month, will start on the right flank. But overall, Denmark seem to be more of an all-round threat.
The reason for that is the presence of Cristian Eriksen, the highly talented Ajax number ten who acts as the chief playmaker in Morten Olsen's system. He travelled to the World Cup two years ago but was too young to have a meaningful impact. Now, he's unquestionably Denmark's star player, and perhaps the player in the tournament most responsible for his team's creative threat. He has tremendously quick feet, can play clever through balls but also likes a chipped ball over the defence to a winger making a late run into the area. He'll be able to cope with the big responsibility – his appreciation of space is fantastic and his movement into zones to receive the ball is excellent.

Around Eriksen
Because of Eriksen's free role this is a slightly unusual system – not quite a 4-2-3-1, not quite a 4-3-3, more of a 4-2-1-3. Eriksen has two sturdy holding midfielders behind him: Niki Zimling and William Kvist have an excellent partnership, and generally stay in position rather than venturing forward.
Eriksen will be supplying three other attackers. Nicklas Bendtner has an excellent record at international level and is perfect for the system – he can hold the ball up, and also get on the end of crosses. Expect Rommedahl to motor down the right before attempting to provide low balls across the penalty area. On the other flank, Michael Krohn-Dehli plays a narrower role, a half-winger and more of a link between midfield and attack, which is important as it means Eriksen doesn't have to do all the connecting by himself.

Technical defence
At the back, Denmark seem vulnerable to individual errors. Bad mistakes from Daniel Agger and Christian Poulsen gifted Brazil two goals in a pre-tournament friendly. However, they possess centre-backs very good at playing incisive passes, so opponents need to be wary of them stepping forward and firing a pass into the front four, bypassing the midfield altogether. Daniel Agger's left foot brings good balance to that department, but his centre-back partner is unclear. Simon Kjaer should be first-choice, but he's endured a couple of disappointing season at club level and could be replaced by Andreas Bjelland.
Denmark's left-back will be slightly more attacking than their right-back – for a combination of two reasons. First, Rommadahl's high positioning means that overlapping is difficult down that zone, and Lars Jacobsen will be cautious with positioning. On the left, however, Simon Poulsen scampers up and down the line well.
In goal, Thomas Sorensen's injury means Stephan Andersen will start.

Depth?
With the exception of the question marks in defence, this should be one of the more predictable sides in the competition, partly because Denmark lack strength in depth, particularly going forward. "We can't afford to get any injuries, otherwise we will not qualify," Olsen bluntly admits. There is no clear supersub ready to replace the front four. Variations in attacking structure will probably come from the same starting quartet, with the wingers and Eriksen able to move higher or deeper according to Olsen's demands.
Conclusion
So much depends upon Eriksen – if he's on top of his game, Denmark could have the player of the tournament in their ranks. If he's closed out by powerful opposition double pivots sitting deep, Denmark will struggle to create.

Quick guide:
Coach – Morten Olsen
Formation – 4-2-1-3ish, with the option to move to either 4-2-3-1 or 4-3-3
Key player – Christian Eriksen
Strength – A settled starting XI, combined with a degree of flexibility in shape
Weakness – A lack of game-changers from the bench, plus question marks about the reliability of the defenders and goalkeepers when under sustained spells of pressure
Key tactical question – How much does Eriksen influence the game?
Key quote – Olsen: "Eriksen cannot carry the team by himself and we have told him that he shouldn't try to do that."
Betfair odds: 100.0 (99/1)
Recommended bet: Nicklas Bendtner to be Denmark's top scorer at 3.55
Further reading: Dave Farrar's piece on Denmark's 1992 side in Issue One of the Blizzard is well worth paying 'however much you want' to read