Marcelo Bielsa (El Loco) is one of the greatest managers IMO, seemingly working with smaller teams and transforming them into a hard working unit with unbelievable and relentless pressing.
The 3 teams that have been highlighted in a change of his career are;
Chile
Athletic Bilbao
Marseille


Tactics

The formation that Bielsa had adopted during his time in Spain was that he adopted a 4-3-3/4-2-3-1 varient, as majority of the La Liga used the 1 striker system, however he would change into a 3-3-1-3 if the opposition played 2 strikers.
The first approach of this was used whilst he was managing Chile;
As displayed above, the movement of the team is slightly differ from other managers as the wing backs cut in and the wingers provide all the width.
He did employ other formations such as the 4-3-3 which most famously used against Manchester United in the Europa League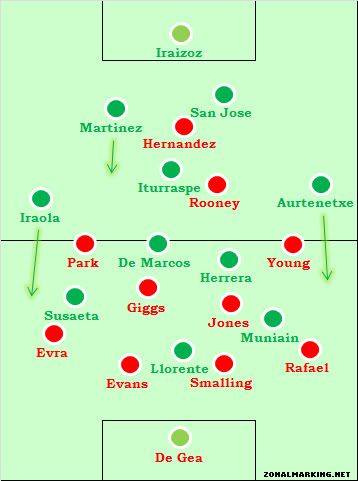 As many of you know, he likes to implement a complete man marking system with everyone getting tight on a man apart from the covering CB who was more of a sweeper and the striker, which would press the two opposing CB's
His managerial career went onward to Marsellie, where he would implement his famous 3 back system with a twist
With both of the wingbacks bombing down the wing, although Mendy and Dje Dje, would change things up and run more narrower lines just to give the wingers a change in option.
Links are below so you guys can read more.
The whole point of me doing this is i want to implement these ideas into FM16, but with no time at the moment to experiment i will at some point give out tester tactics, hopefully with the feedback you guys give me, i can make the most accurate tactic to replicate El Loco.
IF YOU THINK YOU CAN DO IT HAVE A TRY AND POST ON THIS THREAD.


Further Reading
El Loco: The Obsessive Genius of Marcelo Bielsa - Eight by Eight
Marcelo Bielsa's tactical evolution-From Chile to Marseille - The False 9
Manchester United 2-3 Athletic Bilbao: United unable to deal with pressing and high tempo | Zonal Marking
Athletic 2-2 Barcelona: Bielsa stifles Barca by telling his players to stick tightly to opponents | Zonal Marking