Zeus V5
TIME WASTING TACTIC

Download -
https://www.mediafire.com/file/ec3y3twnqcm7fn3/(FM20)_Time_Wasting_Tactic_by_TFF.fmf/file
Use this tactic when you need to protect your lead and "kill" the game. Please notice that this tactic doesn't give you 100% guaranty that you don't concede it only greatly reduces the probability of it so if you start using this tactic too early, for example, when you've got a shaky lead by 1 goal then it might backfire and you might concede a fluke goal at the last minute and give away a win so you should use this tactic it wisely.







IMPORTANT INFORMATION
-- ML : Right Foot – Very Strong
-- MR : Left Foot - Very Strong/Strong/Fairly Strong (Conqueror, Gladiator, Berserk and Crusher tactics)
CORNERS :
- MR should take the right corners
- ML should take the left corners
THROW-INS:
- DL should take the left throw-ins
- DR should take the right throw-ins
OPPOSITION INSTRUCTIONS
I suggest not setting any Opposition Instructions and not letting your assistant manager to do that
YELLOW AND RED CARDS
Please notice that all positions in the tactic have "Tackle Harder" PI which means that you need to control your players' tackling aggression during matches in order to avoid getting a man sent off so if during a match you see that someone of your players gets booked then go to the tactic menu and add "Easy Off Tackles" PI to this players or otherwise there's a high risk that this player gets a second yellow card/red card.
INDIVIDUAL TRAINING FOCUS

STCL / STCR – Complete Forward ( Attack )
ML / MR – Inverted Winger ( Support )
MCL / MCR – Box To Box Midfielder ( Support )
DL / DR - Inverted Wing-Backs ( Support )
DCL / DCR - Ball Playing Defender ( Defend )
GK – Sweeper Keeper ( Support )


FILTERS

DOWNLOAD FILTERS -->https://www.mediafire.com/file/kg27wr9f83vte8x/(FM20)_FILTERS_-_ZEUS_V4_by_TFF.fmf/file



First of all, if you are going to use the filters then you should turn OFF the "Attributes Masking" setting when you start a new save otherwise the filters will be useless.

Also, you need to understand that when starting a new save the more nations you load and the larger database you set, the more players appear in the filters.

Here's a screenshot with an information how you can turn it OFF when you start a new:

The more expensive "package" you have, the more players appear in "Player Search" menu.

In order to have all players in game appearing in "Player Search" menu you need to have the best possible package "World".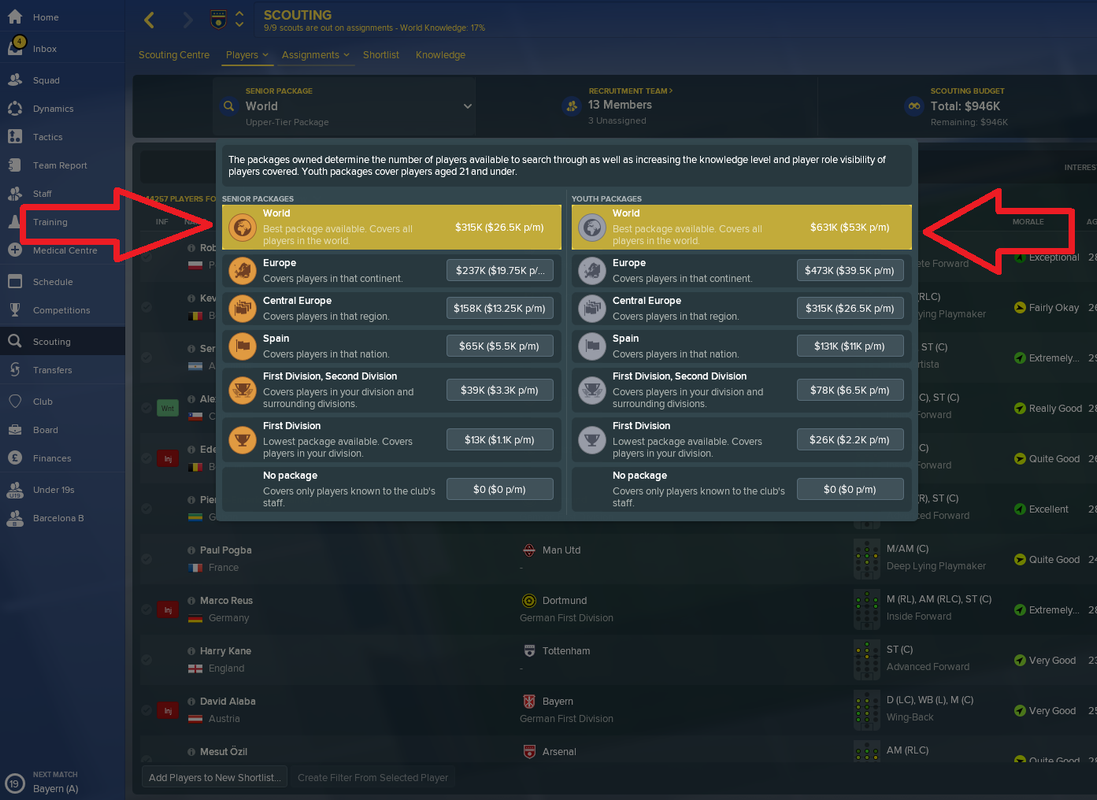 Please notice that the default settings of the filters are very tough and it's supposed to show the best 10-30 players in the world for the positions in the tactic and only the top clubs from the major European football nation can afford such players and it's obvious if you manage a small club then you can't afford to have such player and you need to "easy" the matching condition one by one until you find someone that you can afford to buy but you need to be very careful when you "easy the matching conditions" because some important attributes might be missed by much and you always should check and see what attributes are missing and by how much amount: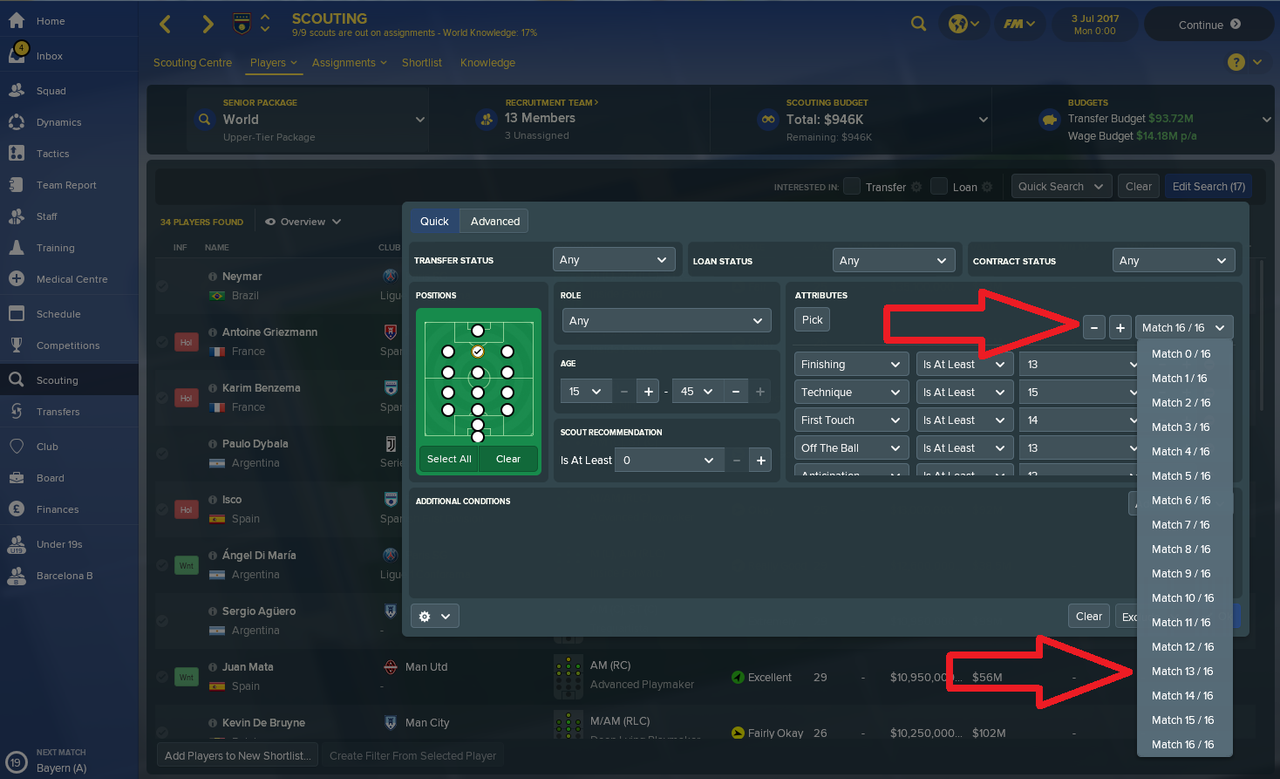 ATTRIBUTES



STCL / STCR

( Suarez | Roberto Firmino | Harry Kane | Mo. Salah | Messi | Neymar)

-- High Importance Attributes --

Acceleration, Agility, Pace

Finishing, Dribbling, First Touch

Technique, Anticipation, Off The Ball

Composure, Decisions

-- Moderate Importance Attributes --

Strength, Work Rate, Passing

Vision, Teamwork, Stamina

Heading, Long Shots, Determination

ML / MR

( Messi | Neymar | Mo. Salah )

-- High Importance Attributes --

Acceleration, Agility, Pace

Flair, Dribbling, First Touch

Technique, Off The Ball, Anticipation

Decisions, Composure

-- Moderate Importance Attributes --

Crossing, Finishing, Long Shots

Passing, Vision, Teamwork

Work Rate, Stamina, Determination

MCL / MCR

( Sergio Busquets | Arturo Vidal | Casemiro | Fernandinho | Rakitic)

-- High Importance Attributes --

Work Rate, Teamwork, Positioning

Marking, Tackling, Anticipation

Strength, Pace, Determination

Passing, Technique, First Touch

Vision, Decisions, Composure

-- Moderate Importance Attributes --

Acceleration, Off The Ball, Dribbling

DL / DR

( Alexander-Arnold | Robertson |Dani Carvajal | Alex Sandro | Mendy )

-- High Importance Attributes --

Acceleration, Pace, Work Rate

Positioning, Tackling, Marking

Anticipation, Stamina, Strength

Determination, Aggression, Bravery

-- Moderate Importance Attributes --

Technique, Passing, First Touch

Vision, Composure, Off The Ball

Decisions, Teamwork, Dribbling

DCL / DCR

( Virgil Van Dijk | Sergio Ramos )

-- High Importance Attributes --

Strength, Jumping Reach, Acceleration

Pace, Anticipation, Positioning

Concentration, Marking, Tackling

Work Rate, Bravery, Determination

Aggression

-- Moderate Importance Attributes --

Composure, Technique, Passing

First Touch, Vision

GK

( Alisson Becker | Ederson )

-- High Importance Attributes --

Reflexes, Handling, One On Ones

Aerial Reach, Command of Area, Communication,

Agility, Concentration, Anticipation

Determination

-- Moderate Importance Attributes --

Positioning, Rushing Out, Acceleration

Composure, Vision, Passing

​