hey yall,
hope everyone of you has had an enjoying time playing FM18 like I do
There's not so much to say about it but I have implemented all the relevant tweaks and/or performance enhancing instructions through player roles.
Didn't have too much time to play yet, but I "created" this very simple 442 tactic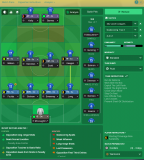 CHANGES THAT CAN BE MADE -


1)
Add Instruction "Tackle Harder" for LCM, RCM, Wingers, and Strikers.
Add Instruction "Tackle Harder" for Fullbacks if playing an easier/ or equal opponnent so your booking gallery doesn't rise too quickly.
2)
The 442 is defo "Opposition Instructions"- friendly, that being said, if used the right way (may it be through a guide, or through knowledge) can be a further weapon to build from the back.
Built quite simple - basically - on medium to fast tempo, engaging both flanks quickly and to exploit space on the wings.
No OI!
Enjoy
https://www.mediafire.com/file/p9apkstkobc6lyq/442 Lower Leagues.fmf
Last edited: