Pardew sacked after arguement over budgets but Singapore millionaire bid to take over as new Toon owner
​
Former West Ham boss Alan Pardew has been sacked by unfavoured owner Mike Ashley after he had a fight with the board members over budgets.
This was followed by a auspicious bid from Singapore millionaire Peter Lim - whose attempt to buy Liverpool last October failed. Mike Ashley says that they are finalising the deal, which could see the debts being repayed and £800M being pumped into the club.
This deal could be the one that forces Ashley out, a long-term wish from Toon supporters.
​
-------------------------------------------------
Lim takes over as new owner, while former Spurs star Klinsmann becomes new boss
​
Newcastle can now boast "Rich" finances as ex-Spurs superstar Jurgen Klinsmann took over as new manager and Peter Lim completed his takeover as new owner at the Toon.
Lim has appointed Alan Shearer as the club's new director alongside Costinha and Luis Figo, while former Manchester United star Eric Cantona is appointed as Director of Football.
Klinsmann sacked all the staff and the new staff brought in will do their duties with immediate effect.
"I'm delighted to have this opportunity to revive the Toon which has been ******* embarrassing these last few years after losing their reputation." Jurgen said.
​
---------- Post added at 09:26 AM ---------- Previous post was yesterday at 03:02 PM ----------
Eriksen and Spearing to join on loan while Ochoa deal is stalled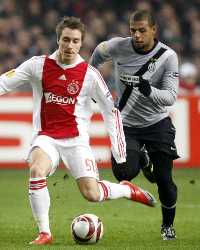 ​
Newcastle have announced the loan signings of starlets Christian Eriksen (Ajax) and Jay Spearing (Liverpool).
Jurgen Klinsmann says that these signings will only be the beginning of his 'makeover treatment' of the team.
"The lads have impressed me with their past performances and I decided to bring them over here to help in their development." the ex Bayern boss said.
In other news, veteran goalkeeper Steve Harper has left Newcastle for the New York Red Bulls for a fee of £875K after reports have confirmed that Mexico's goalkeeper Guillermo Ochoa is ready to join Newcastle - subject to a work permit.
"I am very sad to leave the club I played for many, many years. However, I wish them the best and I also hope to see them becoming one of England's big forces again." Harper said.
​
---------------------------------
​
Klinsmann completes his makeover treatment for Newcastle
​

Newcastle's German boss Klinsmann has released a statement saying that the complete overhaul has come to an end.

Many, many players have left Newcastle - excluding Tim Krul, Joey Barton, Kevin Nolan and numerous others - to make way for new signings and free up funds. The biggest sales were Ryan Taylor to Fulham for £4.2M and Peter Loverkrands' £3.3M move to FC Kobenhavn.

"I did the overhaul as many of the players were not Premiership-style players, most of them were Championship rated players (eg Loverkrands). I think the new signings will help the club to stay in the top flight for many years to come." the ex Germany boss said.

The biggest buy for the Toon was Lukaku's £12.25M move and he surprisingly rejected big names like Barca and Chelsea. Romelu said that he wanted to help Newcastle in his stay at St James' Park and steer them up into top-half favourites.

Current Newcastle side, as of 31st July 2010:
​

GK: Ochoa / Renan (Avaio) / Krul
RB: Appiah / Gosling / Taylor (Steven)
CB: Fazio / Musacchio / Galeano / Coloccini
LB: Alex Sandro / Kadar / Enrique
DM: Casemiro / Tiote
CM: Milan Badelj / Tomas Horava / Barton / Nolan / Guthrie / Spearing
AM: Alex Patrick / Lucas (from Sao Paulo) / Eriksen / Ben Arfa
LW: Zezinho / Jonas
RW: Dimitri Payet / Oscar
ST: Necid / Lukaku / Best / Ranger / Ameobi





--------------------------------------------------------------
Newcastle 3

------------------

0 Blackpool
Eriksen (15, 52) | Necid (20 pen.)
​
Newcastle enjoyed a flying start to their 2010/11 Premier League campaign with a 3-0 win at relegation favourites Blackpool at St. James Park in Newcastle this afternoon.

Danish starlet Christian Eriksen opened the scoring with a stunning volley from the edge of the area followed by Necid's penalty and Eriksen completed the rout with a header from close range.

"Eriksen did well, as well as the others. I'm impressed." Klinsmann said after the match.

Newcastle formation (brackets determine rating, bold determine subsituted and replacement):
​
Krul (7)
Appiah (7.3) Fazio (7.8) Coloccini (7) Sandro (8)
Tiote (7.7)
Barton (8)
Spearing
(Nolan 80)
*
Eriksen (10) Ben Arfa (8.5)
Necid (9)
Lukaku
(Best 90+1)​