Long time reader, first time poster
To cut a long story short, I like playing around with interesting formations on my FM games, and came across this that I think seems to be working quite well, so I thought I'd share it with you good people.
I'm playing as Arsenal and this is the formation I am using: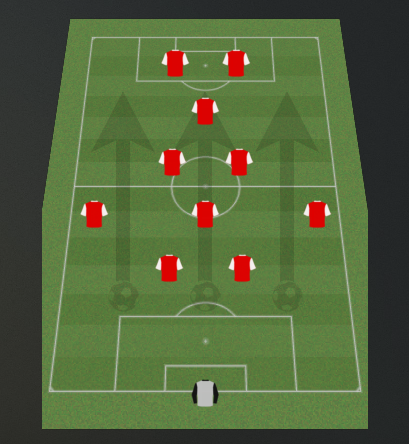 I'm calling it "4-4-2 Wingbacks" although I suppose it could be regarded differently. I am utilising the two wide men as Wing Backs, although set to an attacking role. This is used to make up for my lack of wingers. I find it best to play full backs who also have wing back as an accomplished position here, so that the defence is not left too light. However I would say that they need to be good crossers of the ball, in case the ball gets out wide.
I don't have one definite regular team that I play as their is some rotation to allow for form, fitness etc., but this is a good approximation of a first team: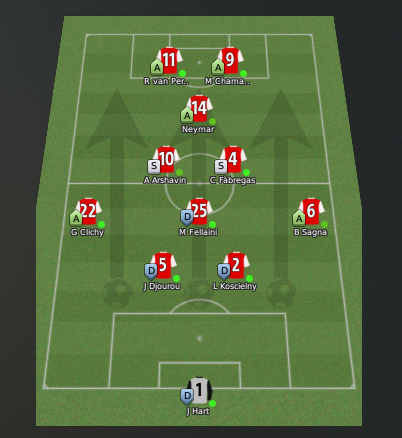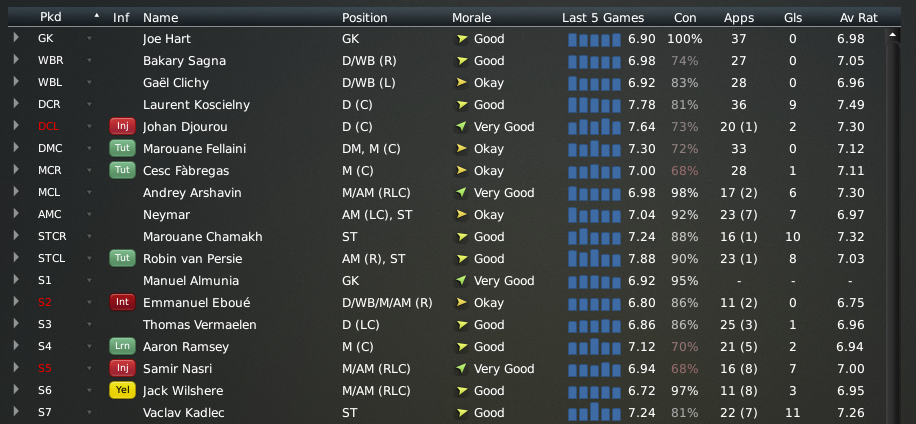 As you can see, I have Nasri, Vermaelen and Kadlec all on the bench in this shot, but with the form Kadlec has been in it's sometimes hard to leave him out!
Furthrmore, despite Vermaelen statistically being the best defender in my team, Djourou
always seems to play well and Koscielny scores headers at the back post from corners for fun, so it's always useful to have him in!
Back to the formation in general.
I usually have the team instructions in Control mode, as the amount of players I have around the middle of the park often allows me to try to dictate games. I allow the players to be Fluid (in Philosophy) and More Expressive (Creative Freedom) and also keep the passing short. Fabregas comes into play here, as his passing ability has always been clear.
There are some alterations I can make to this formation to reinforce the backline against stronger teams. I have it saved as a different formation in my game to allow for changes to be made quickly, but it's really a small variation.
I change to three centre backs and move Fellani up into being one of my two Central Midfielders, although he is employed still in a defensive duty.
I often change the team instructions to Counter, and keep the team much more Rigid. This is usually used against all of the other big teams (unless I'm pushing hard for a win), and is almost always deployed away from home in any important match.
This has worked fairly well for me results wise too. I finished 2nd in the Premiership in my first season, and lost in the Semi-Finals of the Champions League (after beating Barcelona in both legs of the quarter final).
I'm currently 3rd in the Premiership (after 27 games) in this season and am still in both the Champions League and the FA Cup.
So I know that I haven't exactly had resounding success, but I've liked coming up with this formation and have yet to test it with other teams or players. I'm going to keep on with this save to see how far I get.
I hope this guide has been ok,if anyone thinks I need to make any alterations or would like any information I'll try my very best to provide!