Aiming to rage at press saying "the next Klopette". Ms Ackerman's journeyman career.
Intro
Because it seems giving a story a short title is an impossible mission for me.
I was initially having the idea of making a Burgos save, since I haven't done one since FM11. But after a third of the season and with the team looking good to overachieve and get in the promotion play offs, I began to lose interest. One factor may be the financial situation of Burgos is bleak, adding a very short squad (this part is a good point, though), which makes me think the future has two paths open: I don't get promotion and the financial status prevents any reinforcements to improve or I get promotion without money to improve it to the next level, go immediately back and find the team stagnant. Plus I short of went too fast through the preseason without actually giving all the proper thought to loans, affiliated clubs, etc.
Then I thought "Since I've made stories here with FM09, I've made two of each: Two Crewe (FM09 and 13), two Burgos (10 and 11), two Championships (11? and 14), two good Serie B teams (12 and 14). But only one journeyman save, which happened to be with a female manager. So I'll make the second of that: a journeyman career, which I'll make woman just because that's what I made it in that save.
I made a woman in the FM13 (The nex Belgian talent. Etc) because I was curious about whethere sexism was considered in the game. Back then I didn't reach a definite conclusion, mainly because I wasn't running it along an equal male manager to follow her steps and see differences. There was only one thing that caught my attention as something I had never seen before, but which might have been because of reputation being in the low extreme of chances to land that job: during her first game as Huesca manager, the fans gave my manager a poor reception. Then again, it was my first serious and lasting journeyman save and all the rest I had started as a club to develop it.
In FM14 I made an experiment creating a set of managers with the same reputation in reloads of the same game at the manager selection point. A male English, a male Belgian, a male Portuguese and a Female Portuguese. I may be forgetting a Spaniard or Italian. The male Portuguese, being the same as the female Portuguese, received one more job offer when he applied than the female did, which means there is sexism. It for sure makes a few clubs more reluctant to hire you, maybe some fans disliking you from the start. Other than that, in my Aurora Schmied game I didn't see any message or news item mentioning anything negative as being caused by her gender.
Manager and game presentation
I loaded countries down to the bottom most division that's in the default database (I have my Spanish loaded and an Italian D which I didn't uncheck, on top of the real names fixes). The countries are: Belgium, Germany, England, Spain, Portugal, Italy, Romania, Greece and Turkey. Belgium because initially I was going to recreate Aurora Schmied, Romania because is an Eastern country that uses latin letters, Greece and Turkey because they seem like potential emerging divisions in reality.
Another difference is that the FM13's female manager career I made using only the coach reports, not looking at attributes; but though at first and later at spells I found that interesting enough to be entertaining, it mostly felt rather dull, as I was missing a lot of information. Maybe if for FM13 there already were (or I had known) skins that allowed to not see attributes and see the analysis polygon and preferred moves I might have enjoyed it more. However, I don't feel like testing it and I'll manage seeing the attributes.
I then thought that being Belgium made Aurora start speaking three languages: German, French and Dutch and that could be an extra help I didn't necessarily want. I had begun with Aurora and got two or three job offers, if with the one language manager I got nothing in months I would return back.
I was making Aurora a German, but I found an image I thought I liked more as a protrait for my manager, so changed to that and changed name. The manager I've created is German, born in Jena. Her name is Viktoria Ackerman, twenty years and a month at the start of the game. She only speaks German, her favoured clubs are Jena (local though the game says supporter), Borussia Dortmund (I kind of feel sympathy for that team since Isaw them play well in a match against Atlético in 1997), Chelsea (I've found a lot of things said about how Mou likes to do things being as I like to do them in FM, other than the press management) and Real Madrid (biggest club in the XX century). Favourite formation 4-4-2 because from a brief game I played in Germany I think it was one of the more used formations there, though don't quote me on that.
Her coaching qualification and past experience was what the game suggested selecting unemployed from either Belgium's Derdre Klasse or Germany's 3. Liga (it should have been the later, but I may have gone routine mode and repeated from when I was making Belgian Aurora).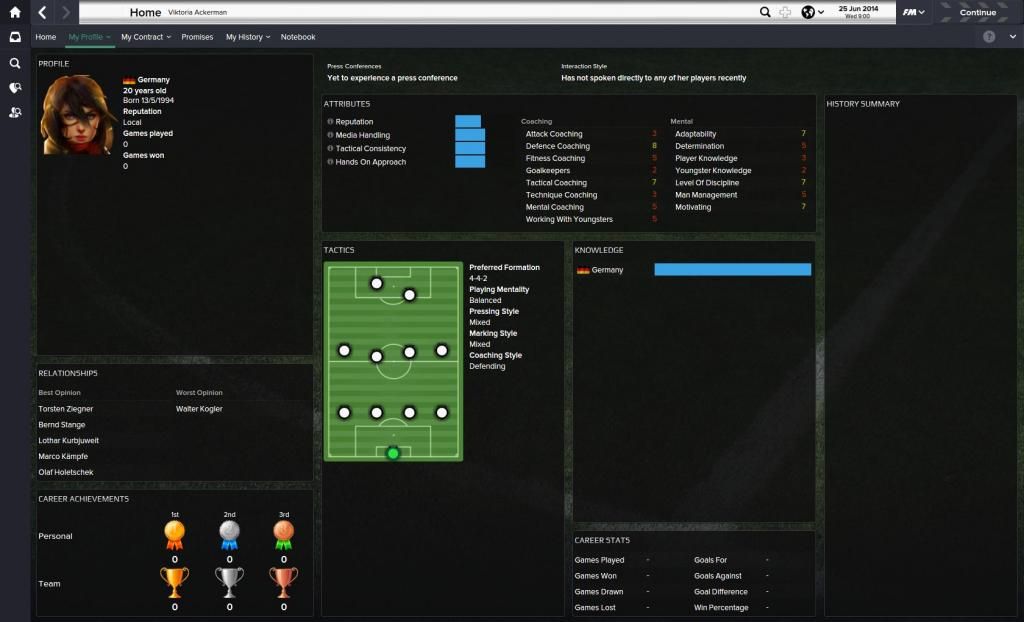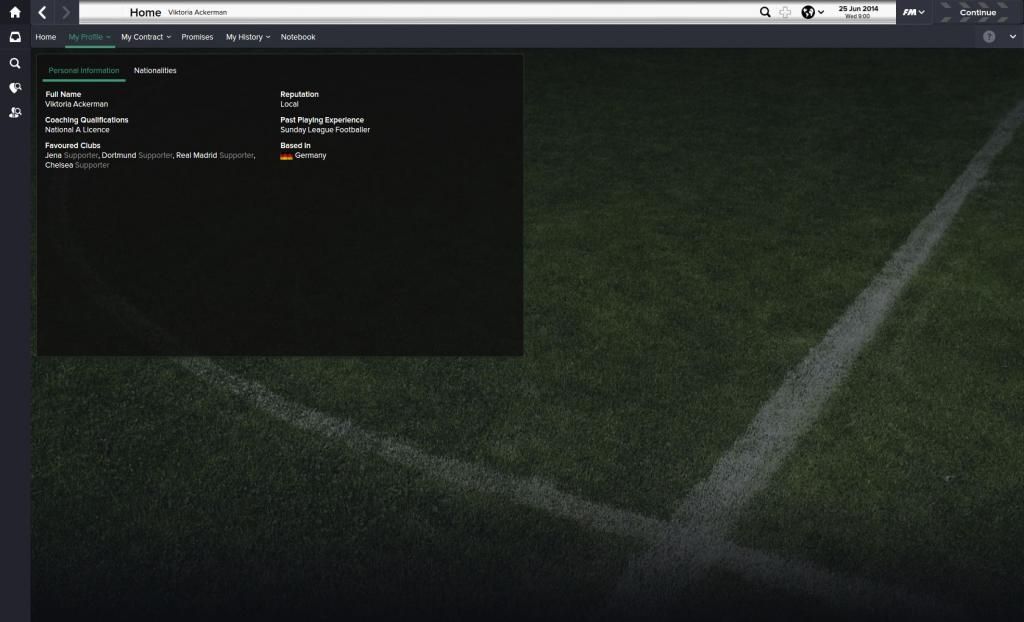 Curiosity
The portrait is an image depicting Mikasa Ackerman, from Shingeki no Kyojin, a series that looked with potential to be great but I abandoned after some chapters because it made me feel a strong vibe of pretentiousness. Or at least acceptance of some snob thesis, like "unhappy ending is automatic quality", in they seem to work so hard to negate any chance for things turning to hope.
I made her German because the name of the character sounded like German to me, so I kept the family name. I chose Viktoria as first name because it was the first German name with i as first vowel I saw.
This is the original image use for her portrait:
Click for source
Last edited: