Member
Joined

Feb 9, 2011
Messages

79
Reaction score

0
Points

0
I recently did a Blackburn story which i liked at first but scrapped the idea to instead do a challenging story where i am Arsenal with Wenger as manager but without no Fabregas i decided to make the fee around 30 million pounds to be fair as if i sold him for alot i might get bad comments saying im cheating etc
Fabregas joins Barcelona for £30 Million pounds but Wenger will not quit!
Arsenal FC confirmed today that Cesc Fabregas has joined Barcelona for £30 Million pounds but stated he will not leave even though he didint want Fabregas sold. He had this to say "I am Fully Commited to Arsenal and the football club will always continue to grow without Cesc"
Arsene did confirm though already he is looking at transfer targets at their is media speculation about the future sigining of Moussa Sissoko to replace him but Wenger clearly stated no talks have begun wih any players.
Could this man be on his way to Arsenal?
Next Update i tell you my formation and tactics and first day of training and possible transfers!!!
P.S good luck to Arsenal on Sunday vs Birmingham and i assue you more information and pictures will be in the next update
---------- Post added at 02:57 AM ---------- Previous post was yesterday at 10:40 PM ----------
nxt update in 10-20 mins
---------- Post added at 03:31 AM ---------- Previous post was at 02:57 AM ----------
I woke up knowing Cesc wouldnt be at training ive lost my captain and a friend but Arsenal must move on so when i arrived at training i talked to the lads and decided Gael Clichy was Arsenal's Captain for the 2010/2011 season with Robin Van Persie as Vice Captain. The lads seemed really up for training especially the young lads who want to replace Cesc and i think already Jack Wilshere will now play the most important role in my team and will start every game.
I gave Jack Wilshere a new improved contract to 2014 and above is the deal being done.
i decided to kee
p my 4-3-3 attacking ways and to still play brilliant exciting football this is what my team is like at the moment if the season started straight away
Szczesny
Sagna Vermaelen Koscienly Clichy (C)
Song
Nasri Wilshere
Walcott Van Persie Arshavin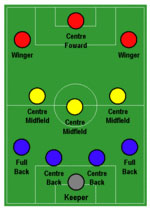 in my 4-3-3 i use very fluid and press on the opposition a lot and do shorter passing but be very expressive which basically means you dont need to stay in your postion the whole 90 move around.
As the lads left training i decided to stay back and make a few calls to a few managers about their players i have nearly £60 Million to spend but i decided only to spend around 30 due to stadium costs and to keep the club finacialy sound and not to go into debt.
note in every football manager i play i dont ever buy people over the age of 25 i like to have a young squad.
i have been looking at players but nothing official yet but as soon as there is the siginings will be up here also maybe the sale of players.
next update preseason results transfer news and a massive injury blow for Wenger before the start of the season