1st June 2009
CARLO ANCELOTTI REVEALS PLANS FOR SEASON


Carlo Ancelotti in his first month in charge of the Blues has become very active in transfers. Signing Daniel Sturridge, Ross Turnbull, Yuri Zhirkov, Nemanja Matic, Yossi Benayoun, Ramires, Tomas Kalas and Matej Delac, and has done the departures of Joe Cole, Micheal Ballack, Juliano Belletti, Miroslav Stoch, Deco, Scott Sinclair, Ricardo Carvalho and Franco Di Santo along with Sam Hutchinson retiring, and many more Youth Players Leaving.

Carlo Ancelotti has called a press conference with John Terry to address the media of the plans of the season.

Journalist: "Ok Carlo, What is your possible aim and how much more will you spend?"

Carlo Ancelotti: "My aim is to win The Champions League and The Premier League, possibly getting The FA Cup too. However Carling Cup looks a bit unrealistic as I will field youngsters to play in that."

Journalist: "Ok John, Who do you think is key to Chelsea and integral?"


John Terry:

"Well there is really not anyone integral or indispensable and we have reasonable depth still. However I feel Cech and Essien are the real backbones, no offence but everyone else is great too."

Journalist: "Back to you Carlo, What Types Of Tactics are you planning to adopt for the current season?"

Carlo Ancelotti:

"I plan a diamond type formation, with swift countering, aggressive attacking, good defending and a all-roun

d good
mentality."
Journalist:
"John, What are the expectations? Also do you think Carlo can handle the pressure?"
John Terry:
"Carlo is experienced and has been in these kind of situations. Well the fan and board expectations are winning The Champions League, Carlo has told the board that he believes he can win the league, and all the current investments aren't from his 100 Million Welcome, So He will use that money."


Journalist:
"Ok Carlo final question, Tell us about the injuries, the friendlies coming up, your transfers and finally your involvement in the club"


Carlo Ancelotti:
"Well, I am not going to make many changes in the staff but I am having a wealth of targets in my mind, which are going to be there, I am going to be a little strict, and will involve myself heavily. Kakuta, Drogba and Turnbull will be fit in two weeks. Cech is going to be fit in around 3-4 weeks, with Alex out for around 1-2 months. In terms of friendlies, well we have a Friendly Cup Semi-Final at 20th July, and I forgot the date of the final *laughs*, anyway we face Real Madrid 7 days after the semi-final and 6 days later a friendly against Inter Milan which Ray proposed."
Journalist: "Well thank you Carlo for your time, Terry pleasure having you too, let's do it again some time."

The Press Conference has ended.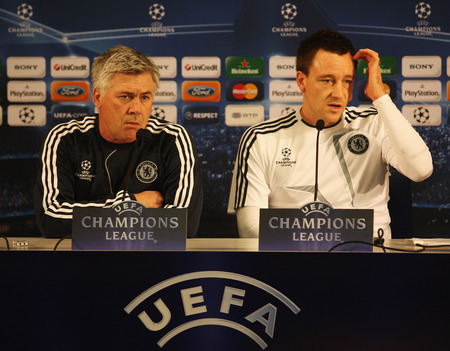 Press Conference of Carlo and Terry.
​
---------- Post added at 07:33 PM ---------- Previous post was yesterday at 06:30 PM ----------
Chelsea sign Daniele De Rossi


After completing his medical, Chelsea FC can confirm they have signed Italian sensation Daniele De Rossi for a estimated fee of £48.5 Million. Daniele De Rossi has been brought in too give some steel and brilliance to the good midfield. He has signed a 5 year contract worth
£135,000 per week. A great player and perhaps Italy's best at the current moment.


Chelsea sign Mikel Arteta




Spanish playmaker and trickster Mikel Arteta has joined Chelsea for a estimated sum of
£22 Million. Ancelotti says the captures of De Rossi and Arteta are enough to see Chelsea's hole in the midfield fixed and says it's going even better. The Sky Sports feedback has been burst with Chelsea Fans praising Ancelotti's view in the transfer market, will they spend big more?
​