Euro 2012 preview: Poland | Zonal Marking
Euro 2012 preview: Poland
June 5, 2012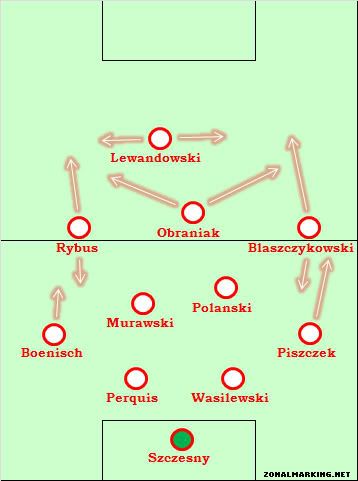 Poland's probable starting line-up
​
Poland come into this tournament with the lowest world ranking of the 16 competitors, but they are certainly not the weakest side in the competition.
Their ranking is unfairly lowered, of course, because they are the co-hosts and therefore haven't been playing competitive games over the past two years. The last two years has made a big difference – 24 months ago Poland seemed to lack players established enough to compete at a major international tournament, but the rise of the Dortmund trio (Lukasz Piszczek, Jakub 'Kuba' Blaszczkowski and Robert Lewandowski) plus Arsenal goalkeeper Wojciech Szczesny, means they do possess some fine footballers.
Teamwork
But this is not a side based around standout individuals, something coach Franciszek Smuda is unable to do. "We don't have stars," he says. "We can only accomplish something as a team."
That is code for a defensive style, and Poland have fallen back upon the standard template for outsiders in major international tournaments, having initially tried to be more inventive under Smuda. He promised "offensive and attacking football" when he took over, and experimented with a variety of systems: 4-3-2-1, 4-1-4-1/4-3-3 and 4-4-2. Now, it's cagey, counter-attacking football combined in a structured 4-2-3-1. There have been disagreements with players about the nature of the tactics, with Lewandowski a particularly vocal character, but few would argue that this formation and approach doesn't make the best use of Poland's decent squad.
Defensive style
Poland's best quality is their defensive strength. They're on an excellent run of clean sheets in their friendlies (albeit against questionable opposition at times – their final pre-tournament friendly was against an extremely poor Andorra side). Smuda says the biggest progress the team has made over the last two years is that ability to not concede goals, and Group A looks certain to be low-scoring. The inevitable next question is about how good they are at attacking. Smuda wants the side to pass the ball quickly through the side, playing one-touch football and breaking directly down the flanks.
Solid defence
At the back, the centre-back duo is fairly unremarkable. Marcin Wasilewski is a sturdy, physical defender while Damien Perquis is slightly more cultured, and has recovered from injury in time to make the side. Left-back Sebastian Boenisch is actually right-footed (maybe explaining why he wears the number two shirt) and therefore prefers to play forward passes into the front four rather than overlapping down the left.
Good right flank
On the other side is unquestionably Poland's biggest strength, as right-back Piszczek and right-winger Blaszczkowski have an excellent partnership for Dortmund and will bring that to the national side. Piszczek plays high up the pitch and looks to stretch the play, while Blaszczkowski makes very direct runs towards goal, and can run at speed with the ball, as well as protecting Piszczek well and covering when the right-back goes forward.
Interestingly, especially with Boenisch being predominantly right-footed on the other side, Piszczek assisted two goals in pre-tournament friendlies by coming inside onto his left foot before crossing into the penalty box – so opponents should be wary that both full-backs can come inside onto their 'wrong' side.
Unambitious central midfield
In midfield, the holding duo of Eugen Polanski and Rafal Murawski is more defensive than is ideal – both are strong and good in the tackle, but there's not much variety in their passing, with both tending to simply knock the ball wide rather than look for a more incisive ball. Polanski tends to play slightly higher up, but Murawski is probably more likely to provide a clever pass. Both can shoot from outside the box, with mixed results.
Attacking options
On the opposite side to Blaszczkowski is Maciej Rybus on the left. He plays a similar role, maybe positioned slightly wider. This position was up for grabs, with Ludovic Obraniak and Adrian Mierejewski also options, but Rybus has impressed in pre-tournament friendlies and should get the nod from the start of the competition.
That means that Obraniak,
a former Lille superbsub
who has moved to Bordeaux, will play as the number ten. The fact that he can play on the flank means he plays as a
central winger
, always looking to move into wide positions, helping to create overloads and providing another crossing option with his left foot – again, often from the 'wrong' side, the right. He can drift in and out of games, but is Poland's most intelligent midfielder and this position allows him the greatest amount of positional freedom – had he been stuck out on the wing, his creative energy would have been diminished and his defensive awareness can be suspect. He's the one individualistic player in an otherwise solid unit.
Upfront, Poland have Lewandowski, fresh from a superb season in Germany with Dortmund. He performed better than anyone could have expected having been a back-up in 2010/11, and comes into this tournament in great form and with his confidence very high. He is basically a typical number nine and can be a little selfish, but for Poland he works the channels well. He tends to play slightly left-of-centre, and often hangs around that position waiting for long crosses from his Dortmund colleagues from the right.

Conclusion

Poland are not a bad side. They have home advantage and are in the weakest group, plus have a genuine Golden Boot contender upfront. Expect relatively defensive football, quick counter-attacking, a strong static box of four in the centre of the pitch, and plenty of energy down the flanks.
Quick guide:
Coach – Franciscek Smuda
Formation – 4-2-3-1
Key player – Robert Lewandowski
Strength – the all-Dortmund right flank
Weakness – a lack of creativity and guile in the centre of the pitch
Key tactical question – how good will Poland's transitions be? They need to work the ball forward quickly to cause opponents problems.
Key coach quote – "Individuality is a player like Messi. We don't have such players, so we should do our best to be strong as a team."
Betfair odds -
50.0 (49/1)
Recommended bet -