A STORY
20th June 2005
In a sensational turn of events, Krassimir Balakov quit as manager of Grasshopper-Club Zürich by mutual termination, leaving the club in a state of poor morale & disbelief that there infuential manager as left the club. The board has denied any falling out with the manager, and that Mr. Balakov wanted to persue other intrests.
The board have also told the press that the search for new manager has started.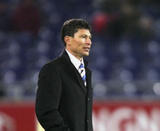 Balakov Resigns
June 25th 2005
Today in a the Stadium conference room, packed full of media & journalists waiting to who was going to be the new manager, with shocking rumours that Alex Ferguson was touted for the job. What was more shocking was that the club announced a relatively unknown manager in Jonny Ashby, an English-born Australian, had been appointed. Fans & media alike were shocked at this and where already asking for Ashby for the axe before the campaign has even started.
The clubs board of directors have told the press that they are fully behind Ashby, and that he'll be given a massive 12,25 million Swiss franc budget and a 220k wage budget too, which give Ashby freedom to spend on players for the push for European qualification, with Valter Birsa, Sergey Kisliy & Tommy Hoiland where possible targets Ashby said that he might buy. He also stated that he has a ten year plan for Grasshopper to be a major European force.
2 of Ashby's Transfer Targets -
Birsa
Hoiland
29th June 2005
Grasshopper seal Birsa move!
Grasshopper-Club Zurich has completed the capture of quick centre forward Valter Birsa for a sum of 650k CHF. Birsa has expressed his delight at moving too such a well-known team, but he thinks the language barrier could harm his development – The club have given him expensive language tutoring to help him cope. Ashby said, 'I'm delighted we've caught such a good, young talent for such a small price. I hope he becomes a hit with the fans." Ashby also expressed an interest in Lebohang Mokoena from South African team, Orlando Pirates.
Mokoena next to arrive at Zurich?
​
To Be Continued...
Last edited: