Introduction:
I thought I might bring Dexther Bolle back to answer Ezequiel Valls' handling of the team in my FM10 story, but since Bolle was left angry in the third season (in half) at the board selling without consent and, more importantly, the Valls story ended in 2022 with Burgos in La Liga, I thought it would feel rather odd. And while in one hand I wasn't too keen to repeat story, on the other I thought it worth to do it with a different char and different approach to see the differences in development, plus I made the database and I want to use it!.
I'll try to be more consistent this time with the format, and will go with an alternation between manager - board communications and news articles. And though ideally I would like to be again a pure Burgos, from the abyss to the stars tale, it mayend being a career that starts there but may move elsewhere. Though I had also started a journeyman career thinking on making a story of it.
********
This is an excerpt from the news:
«After the new failure of Álvarez de los Mozos to promote Burgos from Tercera, the board has decided to give the control of the team's destiny to the local José Cabello, hoping the youth will give the energy that the team lacked in previous seasons.
Some like to poke fun at the board making their choice based purely on the name, José Capello, mixing the name and surname of José Mourinho and Fabio Capello.
He's just finished his manager courses and doubts abound whether such a young manager, who has barely twenty years, could impose his authority over the squad.»
*******
To: Juan Carlos Barriocanal.
From: José Cabello.
Subject: Conclusions from squad and financial information.
Esteemed president of Burgos C.F. S.A.D.,
It is my belief, viewing the performances of the men in our first trainings, that the team has what can be considered as the key men to aim for success at our level in Nel, Jonathan Castro, Pablo Sierra and Hugo. However I have doubts that the companions have what it's needed to provide the team with the solidity that we need to really look forward to a successful promotion.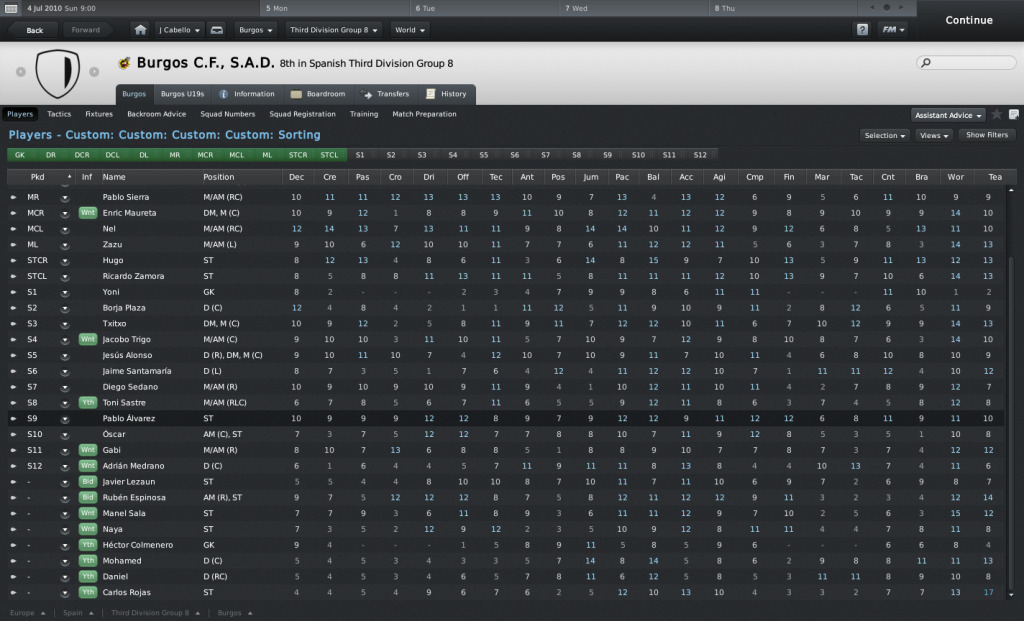 I do agree with the outstanding opinion among the supporters that we shall aim to step up to the front and make our way to 2ªB next season and we indeed have the quality for the task, though it will not be easy. Our defense is going to be vulnerable to pace and it seems that pace is not that short among the
competition
, though we compensate with an aerial ability that is on par what any team in the division could throw at us. But when I speak of successful promotion I am thinking on being in 2ªB the next season, our team can't hold its place up there and it can't be made up with few changes, specially because we will have injuries, our replacements are by far not up to our first team and as things are I can only fear that going up this year can well mean returning the next. I will, of course, do what I can to avoid that from happening.
The big problem is that I consider the manager has to be responsible for all in which his actions may have repercussions, so I have to look for the
financial
situation, and seeing how our balance is low and the wage budget is already
exceeded
, I think I can't but keep away from the market until we manage to lower our wages so we can get a look into the free agents available. As a result, I am start by offering Medrano, Lezaun and Sala, that should provide us with a near €30,000p/a wage margin to bring a pacey defender or a goalkeeper of guarantees. It is the only way I may be able to take the first small steps to be able to survive a next season in 2ªB, besides earning promotion.
Tactically, I will be working with a 4-4-2 formation, as it is the best suited to our squad, keeping a central midfielder to take a full defensive task (ball winning defence) and his partner to have some more offensive duty, without going too much ahead (adv. playmaker)