Before we start, this is a 1ST Person story. Also, This is my 1st ever story, so im open to constructive feedback.
​

​
​
Tottenham player Ledley King has retired from club and internatiol football after suffering constant injuries to do with his knee, after being ruled out for a further 6 weeks recently, he is now apparrently looking to do his coaching badges to become a manager, as football is his life and passion. He said that he wouldn't of changed anything about his time at Spurs apart form the injuries.
​
******​
Many fans think that footballers dream of that day of retiring, they are wrong! Im hating every minute of this but it was the right decision as I can only play like once a month with this current injury and besides I was another addition to Tottenham's wage bill, so that's certainly a positive for them. I'm already bored and have only been retired 4 hours, I need to do something that keeps me active and not turn out a boring old fart, Haaa ! Ive got it, im going to do my coaching badges so I can become a proffesional manager, as football is my passion and i have so much love for the beautiful game. So I headed down to the FA sign up at Cuffley to start my coaching course.
​
Yes !!, ive completed the course and have come out with a full set of badges in coaching, now the "fun" begins, getting a job ! However, I do have my repuation as being an international footballer so this puts me at an advantadge to fellow unemployed managers. Im looking for a job as soon as possible as it gets extremely boring laying around at home and having my wife constantly nagging at me. My dream job would obviously be to become Tottenham manager but that's not reality, so i am looking for a job in the BSP south or League 1/2. I don't expect to be on big money, but that doesn't bother me as i have 5 million pounds worth of savings spread over several banks, Tonight I will sit down and think about my preffered formation and my mentality in football.
​
After thinking about my preffered tactics etc, I realised that I am an attacking manager and want to score lots of goals, which was surprisng as I was a defender. I like the traditional 4 - 4 - 2 formation with attacking wingers, just liked we played at Spurs under Harry. I now also no that I want to give opportunites to the youth and not spends millions of pounds on so called "big named" European footballers who mostly turn out to be flops in the Premier league. When I get a job, I would like to bring in my oown staff and mates who ive met over my past 15 years playing football against and with.
​
Harry Redknapp Dies in Car Crash!!!
​
At 11:00 last night it was released that Tottenham Manager Harry Redknapp died in a car crash coming home from the cinema last night after watching "Paul", apparently a drink driver was doing 50mph through a small village road and Harry pulled out of a turning and BANG !!. This is a disaster for the nation and no doubt everyone is upset about this tradegy. Tottenham released a statement saying: "We absolutley devasated by this, the whole club is in complete tears, its an extremely sad day for everyone who was involved in the club and who knew Harry, he was a close friend of ours and will always be remebered as a legend. We will support his family for the rest of their lifetime by continuing paying his wages for the next 30 years. However, soo we have to move on and start looking for a manager but thats not the priority at the moment.
​
As a result of his fathers death Jamie Redknapp has resigned from being a pundit for football on SkySPORTS and has left his coaching role at Spurs to be with his family and help them pull through this catashtrophy. Harry Redknapp's funeral is said to be a private one which only family and close friends will be invited to pay their respects, However already there are thousands of flowers outside White Hart Lane, St.Marys, Fratton Park and of course his home were he frew up and the club he played for and managed Upton Park.
​
******
I am so upset over what ive just heard about one of my best friends, my hero, my role model and of course my gaffer. He was like another dad to me at Spurs, he supported me through the frustation throughout my career with injuries, I haven't stopped crying this morning and I never cry, so this shows how much he meant to me, however I only have positive memories about him and will always be my hero in management and as a bloke, he used to invite me round for dinner every thursday night, were we used to enjoy a delicous pasta dish by Miss.Redknapp and chat over a vintage bottle of red wine about the team and how we are performing and what could be improved etc and current affairs, Harry was a joker and used to crack a joke now and then in training which used to send the lads rolling about on the floor, like I stated earlier he was more than a manager to me. R.I.P. Harry ...
​
I was sitting on the couch watching Anchorman, a hilarious comedy about a newsreader falling in love with a journalist who gets the better of him, starring Will Ferrell and Steve Carell. Whilst munching on a meatfeast pizza from the one and only pizza hut, and the phone rang and the number was stated as Unavailable, so I ignored it thinking it would be a salesman wanting to sell me life insurance or something, but it rang again straight after, so I decided to pick it up and it was Daniel Levy the Tottenham Hotspur chairman who i hadn't dpoked to for about 12 months now and this is what he said to me:
​
" Hey Ledley, its Daniel Levy from Tottenham here, we recently noticed that you have completed your coaching badges down at Cuffley, and as you know Harry passed away a month ago now, so we still have no manager leading up to the start of the season. Anyway, getting to the point .... the reason im ringing you today in person is because I would like to offer you the job of becoming the manager of Tottenham Hotspur Football Club on a one year rolling contract worth £20,000 a week..."
​
I lept off my couch and so did the pizza and shouted Yes!!! so the whole street could here it and literally snogged my wife, I jumped for joy, It was the happiest day of my life, I couldn't believe it, I was being offered the job of the club I loved as a young boy and still do love now, this was the opportunity of a lifetime for me, I had to take it, I loved the thought of being reunited with the boys and standing on the touchline leading them forward to become a top european side ...
​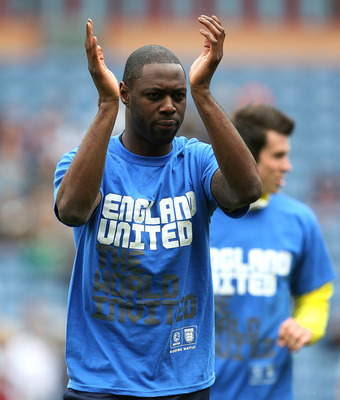 After about 5 minutes of celebrating and leaving Daniel on the phone talking to no one, I replied to him and said yes, it would be an absolute privilage and thank you so much for bringing me the happiest day of my life along with the marraige of me and my wife. I now promise you Levy, I will not let you down...
​
King Hired as Manager !!!​
Breaking News ! Former Tottenham captsin Ledley King as today been named as Harry Redknapp's successor and has become the new manager of Spurs after only recently retiring 1 year ago, after Harry Redkanpps death on the 2nd June, Spurs were left with no manager until they realised that Ledley King had completed his coaching badges,and instantly decided to offer him the job as they know that he was loved by the fans and the club. King has no experience in management but says that he did learn from his close friend Harry Redknapp and said that his approach will be very similair. Tottenhamk will be looking for another top 4 finish from King's side this year and said that they will enable him funds so hey can fulfil this target. King is now on a one year rolling contrat, meaning that if he impresses he will be offered another year and so on ... , these were Robbie Keane's words abou this close friend Ledley.
​
"I think it was an outsatnding decision for the board to bring Ledley King in as manager of the club as the players and fans needed a lift after the recent devastating death of Mr.Harry Redknapp so yes, a really smart bit of thinking by the chariman. Unfortunately, I wont be around to witness his management in his first year as im currently on loan at West Ham, but will be seeing him next year at the club. It will seem so weird for him when he enters Spurs training ground and seeing nthe boys again but knowing that he is in charge of these boys now and he has to be strict and disciplined with the players as they are his mates and vice versa. I wish Ledley all the best ..."
​
Last edited: