Stumbling out of yet another bar, former combative American fullback Troy McArdle declared his intentions to enter the management game. His cohorts merely laughed. 2 hours later, McArdle was on a plane to Nailsworth, to enter talks to take over stagnating BSP side Forest Green. The rest, to put it simply, was history. This is how his story goes...
(I'm migrating this over from the closed blogs section, I have had an amazing run with Rovers in FM 2010, and want to tell this story, however long it will take. I'm going to combine a bunch of blog posts into a long winded first season.)
---------------------------------------------------------------------
[h=1]Bringing Forest Green to European Glory!!!![/h]
Rover's Appoint Unknown American as Manager

By: Roy Beckwith


This morning, opinionated American manager Troy McArdle agreed to terms with Forest Green to become their new manager. McArdle, unknown to most of the Forest Green fanbase, brings with him a wealth of tactical and scouting knowledge, honed from his days playing in the MLS. When asked about his expectations for the upcoming season, McArdle confidently stated "I expect Forest Green to win the Blue Square Premier this Season". McArdle has also announced he will be appointing Grenadan midfielder Craig Rocastle as captain. In short, the fans seem mystified by the shock nature of McArdle's appointment as manager, but optimistic that a new foreign presence could potentially bring the club greater success. McArdle has already made clear his intent to start overhauling the club, including players, coaches, and facilities. We can only wait and see to discover what the young American will do.
-------------------------------------------------
[h=4]Forest Green Reveal Flurry of new Signings, Highlighted by Kuduzovic[/h]

By: Arnie Jenkins
Troy McArdle appears to already be flexing his power as the man in charge of Forest Green's fate in the upcoming BSP season.
McArdle has signed no less than 3 players, both senior and youth. The switch that has the fans most excited was the free transfer of Fahrudin Kuduzovic, the influential and skillful Bosnian striker, who is equally adept playing in an attacking midfield role. Kuduzovic is expected to contribute in overhauling the Rover's typically mediocre attack, along with the on-loan dou of Birmingham winger Daniel Powell, and Aston Villa forward Andreas Weimann.
McArdle also brought in experienced midfielder Jeff Whitely from Norwich, who is expected to help a relatively inexperienced bunch in the midfield, aside from Rocastle. Lastly, McArdle brought in Kilian Elkinson, a previously unheard of player, hailing from Bermuda. Only 18 years of age, Elkinson is expected to compete for minutes at left back for the Rovers.
Before the first preseason game has even kicked off, McArdle has obviously made his intent clear, and pundits are starting to back his audacious title claims
-------------------------------------------------------------
[h=4]Rooke McArdle Discusses Tactics, Aspirations With Non-League Paper[/h]
By: Jamison Harvey
In an exclusive sit-down interview this week, our own Jamison Harvey got the unique oppurtunity to sit down with young tactician Troy McArdle, put in charge of reversing Forest Green's fortunes and bringing the club to glory. Here are a few choice excerpts from their chat.
Harvey: So Mr. McArdle, what type of formation do you intend on employing this year in the BSP?
McArdle: From what I've seen in training so far, it looks like we are most dangerous running 3 up top. So I plan on lining up in a 4-3-3, with a flat back 4 and a triangle with point back in the midfield.
Harvey: Who do you intend on using as that lynchpin in the defensive midfield?
McArdle: I know [Jeff] Whitely has the experience to patrol the area well, but I'd also like to see [on-loan Birmingham midfielder Jordan] Mutch get a run back there.
Harvey: And, what is the side looking like up top? Who will be the goalscoring threats?
McArdle: All signs point to Fahrudin starting as the center forward. He has superior touch and finishing ability, and is establishing himself as a leader on the team within days of arriving. He looks like pure class. Powell has obviously impressed as well, and the third spot will probably be a bit of a mix, with Weimann seeing time, as well as club youngster Tomi Amoebi, and Kylie Walker.
Harvey: How is the back line looking?
McArdle: Young, and strong. Imudia and Elkinson are looking like they could both be outside backs for this team in years to come. Irish central defender McCarthy is also impressing, and youngster Ollie Thorne may push for a first team spot.
Harvey: Who would you say has really came up and surprised you in training thus far?
McArdle: It's no surprise, but Rocastle is playing like he wants this title, on and off the pitch. Arnarson has also impressed in the brief glimpses we have seen so far, but it's still early on. Every player has a chance to impress me and the staff.
Harvey: Before we go Mr. McArdle, any parting thoughts?
McArdle: Yes, Forest Green for the treble in 2020!
------------------------------------------------------------
[h=4]Forest Green Demolish Kettering in McArdle's debut[/h]
In his first game in charge, McArdle's young and enthuiastic squad really took control of the game, slaying Kettering 5-0, behind 2 goals each from Rocastle and Kuduzovic, and a goal coming from the latest of McArdle's signings, on-loan Arsenal youngster Sanchez Watt, who joined the Rover's so recently that news of his transfer had not even reached the press by the time he opened his account for the Rovers.
Daniel Powell recieved man of the match honors after his stellar performance, including 2 goals and an assist. David Wilkinson was credited with the shutout.
----------------------------------------------------------
[h=4]Forest Green Suffer First Loss in BSP Play[/h]
Forest Green Are Victims of a Superb Comeback and Suffer Their First Loss.

by: Daniel Hernandez

Ollie Thorne headed home a corner in the 38th minute to give Forest Green the lead in what would have been their third win on trot, after successive season-opening victories over Kettering and Crawley by a combined score of 8-0. However, York caught fire in the second half and scored two goals to take all the points at The New Lawn today. McArdle was disappointed with the loss at home, but encouraged by the courageous performance by young defender Ollie Thorne, and previously uncapped Jack Winter, who started due to a training ground injury to Elkinson.

Ollie Thorne handling the ball for Rovers in the second half.

---------------------------------------

[h=4]In Wake of First Loss, Forest Green Reel Off an Unbelievable 11 Wins[/h]
Rovers Pile up Victories in Historic Fashion
Forest Green have catapulted themselves to first in the BSP with dominant defense and dazzling attacking play.
McArdle's side are off to an unbelievable start to the season. With some time to gel, the attacking trio of Kuduzovic, Powell, and Weimann, with Watt as a fourth option is proving to be too much for Blue Square Premier opponents to handle. The Rovers are 10 points clear at the top of the league partway into the fourth round of matches. Rocastle has been in fine form, and has been the architect of many goals.

The young backline for Forest Green has also been very impressive, recording 7 shutouts in their 11 consecutive victories. McCarthy has secured a spot in the center, and Imudia is beginning to attract interest from other clubs around the Blue Square Premier with his inspired performances.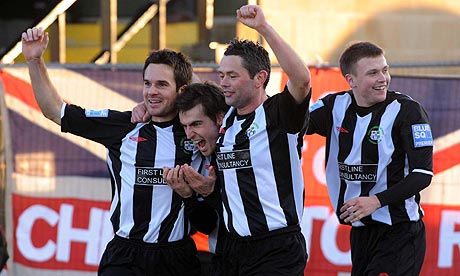 The lads, celebrating yet another goal

-----------------------------------------------


[h=4]Forest Green Qualify for Third Round of FA Cup in 2-1 Victory Over Wycombe[/h]
McArdle's boys will be rightfully celebrating following a
monumentous comeback victory over league 1 opponents Wycombe. Rovers, down 1-0 at half, where led to victory by goals from Powell and Birmingham youngster Jordon Mutch, respectively. Vice-captain Terry Burton was solid in net to deny Wanderers a number of goalscoring oppurtunities. Forest Green will be starting their FA trophy campaign on a high note, as they take on Stevenage in their first round game next week. Injured Irish center back Joe O'Ceaurill is expected to make his return to first team football soon.
-----------------------------------------
[h=4]Historic result for Rovers over QPR[/h]
Forest Green made another stride towards becoming a force in English football today, beating Championship side QPR 1-0, on a powerful 68th minute header by center back Ollie Thorne. When asked what he thought of his team's performances at The New Lawn, Thorne had only one word to reply with: "Magical". Forest Green fans will surely be anticipating the draw for the 4th round, which could see The Rovers pitted against any number of premier league opponents.
--------------------------------------------------------
[h=4]Transfer Window Open; Midway Season Review[/h]
Today, January 2nd, marks the second day of the transfer window. It has been relatively quiet thus far, apart from outspoken American Troy McArdle bringing in English striker Kyle Wilson to bolster his already deep attacking corps. Wilson arrived for a fee of $1,000, making this the first and most expensive transfer the young American has ever partaken in. McArdle stated that although it seemed like Wilson would be starved of chances to start, his recovering from an ankle injury should coincide with the end of Arsenal youngster Sanchez Watt's loan spell, and Wilson definitely has a place in McArdle's first team fans.
At the halfway point of the season, we typically give each BSP side our version of a report card, starting from the top, and working our way to the bottom. Today we start at the top, with McArdle's men.
Goalkeeping: B+ Terry Burton has been impossible to get by. His high number of shutouts have saved Rovers multiple times. The only thing preventing me from giving them an A here is the surprising lack of depth behind Burton.
Defense: B While the defense has performed well over the course of the season, they have also showed their lack of cohesion and experience together on occasion. Thorne and Imudia in particular have been a joy to watch, and are both young enough to try to stake a claim on this side for a long time in the future.
Midfield: A- With captain Craig Rocastle seemingly doing it all, and influential attacking mid Kuduzovic masterminding nearly every goal, it is hard to fault anyone in their midfield. Only when they lost both Rocastle and Canadin Jeff Whitley to injury did the Rovers show any signs of faltering in the midfield.
Forward: A Daniel Powell is on pace to break every goalscoring record Forest Green has ever had. The pace of Watt is unstoppable, and Weimann has played above his years. When he gets healthy, Kyle Wilson will have some big boots to fill.
Overall: A. There is a reason they are 10 points clear.
--------------------------------------------------------------------------
[h=4]Rovers put Exclamation Point On 12-Game Unbeaten Streak With 7-0 Thrasing of Crawley[/h]
by: Razi Akpan
The cold winter months at Nailsworth seem to have ironically lit a fire under Forest Green, and their performances have definitely mirrored that. Throughout most of January and February, the Rovers racked up over 30 league points, distancing themselves at the top of the league. With the recently healthy and revitalized midfield play, Canadian Jeff Whitley has secured the January Player of the Month. Whitley, speaking exclusively with ESPN soccernet, stated "This is a tremendous honor, and I am looking forward to every single game, because we all feel like we can beat anyone at the moment". The 31-year old is a recent signing at the New Lawn, and also let ESPN know how pleased he was to be working under McArdle, who Whitley believed to be a force that could one day change English football.
At the New Lawn this weekend, 850 fans were treated to some magical football from the Rovers, who put 7 by hapless Crawley town. That man Kuduzovic was the man culprit, chipping in 2 goals and adding an astonishing 3 assists. Powell continued pushing for the Forest Green all time seasonal goalscoring record with a superb hat trick, while Rocastle and the newly signed Kyle Wilson each contributed one.
As hard as it is to believe, Rovers could clinch the Blue Square Premier with over a month left if they keep up their torrid pace. When McArdle was asked if he knew about their potential early league championship, he simply responded, "Yes".
-----------------------------------------------------------
[h=4]McArdle Guides Men Past Tamworth, into FA Trophy Semi-Finals[/h]
By: Mark Malt
A cold evening of cup football here at The New Lawn saw 450 fans come out to support Forest Green as they overcame a first half deficit to comfortably beat Tamworth, 3-1.
Captain Craig Rocastle praised McArdle's inspirational team talk at half, when they boys were down by a goal. He was also happy with the inspired late substitution of Kyle Wilson, who managed to score the game winner in the 76th, and grab a brace off of a Rocastle corner deep in injury time. Rovers will face Rushen & Diamonds in the semi-final. McArdle bemoaned McCarthy's injury, blaming the young center backs bad luck on a dodgy, late tackle from former Rovers winger Conal Platt. Platt was not available for comment.
----------------------------------------------
[h=4]Rovers Ease to Blue Square Premier Title; McArdle Talks Trophies[/h]
Colin Reptilio
After a remarkable bout of goalscoring, high-flying football, McArdle's men appear to have run away with the title. With, remarkably, 9 games to go, Forest Green have clinched the Blue Square Premier League Title. This historic result is setting the town alight in Nailsworth, and they are hailing McArdle as a veritable messiah. With an absolutely astounding +65 goal differential at the moment, and 101 league points, McArdle feasted on what he called the "leaky" defenses of the BSP.
Daniel Powell has 32 league goals, and is looking forward to getting more, and hopefully securing another loan with the club. Kuduzovic has been an inspiration, chipping in 18 goals, and a remarkable 25 assists. Rocastle has hailed the American manager, and his ability to seamlessly integrate old and new players into his attacking, cohesive team mentality. The performances of young Nigerian right back Jeffrey Imudia, and center back Ollie Thorne provide hope for the future, and McArdle intends to fulfill that hope. Recently I got the chance to chat with McArdle about his feelings on his upcoming FA Trophy final match with York.
"Does anything in particular worry you about this York side? They have showed a capacity for attacking soccer as well this year, and were one of the very few sides to get the better of yours this year"
"No, Colin, I wouldn't say anything in particular worries me about this game. I have a tremendous amount of respect for York, but the lads and I are preparing for this game like any other.
"Mr. McArdle, this could be your last chance to field on-loan prospects Weimann, Powell, and Mutch. Do you intend on playing them, and trying to secure deals for them down the road?"
"With Daniel [Powell} on the field, we always have a chance of winning. I would love to make him a part of my side if the oppurtunity ever arises. On that note I will take my leave, as the allotted time is up"
-----------------------------------------------------------------------

Historic honors for Powell, Kuduzovic, Rocastle
by: Harry Llamas
This season, Daniel Powell made a mockery of BSP defenses. To the tune of an absolutely astounding 37 goals, far eclipsing any goalscorer in Forest Green's history. The league bestowed upon him the honor of player of the year. The youngster showed he definitely has a bright future in the world of football
View attachment 207042
Fahrudin Kudozovic was integral to each and every goal that Forest Green scored, which McArdle won't hesitate to tell you. His performances, including an unbelievable 25 assists (to go along with 24 goals) have earned him the honorable accolade of fan's player of the year.
View attachment 207043
Craig Rocastle's undying determination and spirit inspired not only his teammates, but players, fans, and managers around the league. Seeing him dig deep at the end of close games, or seemingly come out of nowhere to score timely goals was a joy to behold. He is a testament to hard work, and the antithesis of the stereotypical, pretty boy modern footballer. His teammates, and players from around the league selected him as player's player of the season
View attachment 207044
Whew! More to come later...