Barcelona head coach Pep Guardiola has agreed to extend his contract at Camp Nou until the end of next season, the club have confirmed.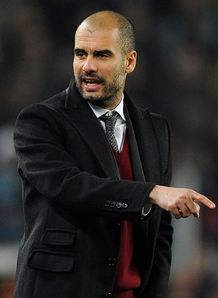 Spaniard Guardiola, whose current contract with the Primera Liga champions was due to expire at the end of the campaign, will put pen to paper on a new deal in the coming days. The 40-year-old, who took charge at Barca nearly three years ago, led the Catalan club to consecutive league titles in 2009 and 2010
The club said on their official website: "FC Barcelona announce that they have reached an agreement with Josep Guardiola to renew his contract with the club for another season, until 30th June 2012.
"The signing of the contract will take place in the next few days."
http://www.skysports.com/story/0,19528,11827_6741635,00.html
Interesting stat about his time at Barcelona compared to Frank Rijkaard:
From OptaJose: 80 - % of league matches won by Barcelona with Pep Guardiola as manager, compared with 59% under his predecessor Frank Rijkaard.
Last edited: