Royal Antwerp - The Revival
I have tried a few stories in the past but none have really been great, and they haven't really interested me, so I thought I'd move into a fresh story and travel to Belgium, to Antwerp.

I have played as Antwerp before in FM15 and I played for two seasons but in that save I was testing the editor and etc and it wasn't fun, so I have decided to go back to them and see how I do without cheats. So where do we start.



Royal Antwerp



Royal Antwerp are a club playing in the Belgian Second Division or the Proximus League as it is now known as. Despite being one of Belgium's best-supported clubs, Antwerp have been under-achievers for several years. They have not won a league title since 1957, and have spent several seasons in the second division. They were last promoted to the top flight in 2000, only to be relegated in short order in 2004.

Interestingly Royal Antwerp have along term partnership with Manchester United, often taking their young players so their development can be adided with first team football. Some of these players include Ryan Shawcross, Jonny Evans, Sylvian Ebanks Blake and Danny Simpson. Also many Man Utd players go to play for Antwerp because of Belgium's relaxed laws on work permits. Futhermore current Manchester United boss Louis Van Gaal used to play for Antwerp.


Honours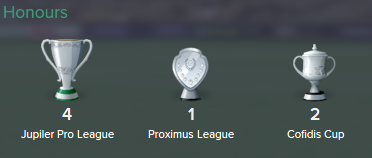 Belgian First Division
(Jupiler Pro League):

Champions (4) : 1928/29, 1930/31, 1943/44, 1956/57
Belgian Second Divison
(Proximus League):

Champions (1) : 1999/2000

Belgian Cup
(Confidis Cup):

Champions (2) : 1954/55, 1991/92
Also Antwerp came runners up in the UEFA Cup Winners' Cup in 1993 after a loss to Parma in the final. The CWC was a cup (for those who weren't around when it was around - 1960 - 1999) held annually where the most recent winners of all European domestic cup competitions fought it out for supremacy. The most recent winners are Italian club Lazio in 1999.


Facilities
The Bosuilstadion, the official stadium of Royal Antwerp.
Capacity: 16649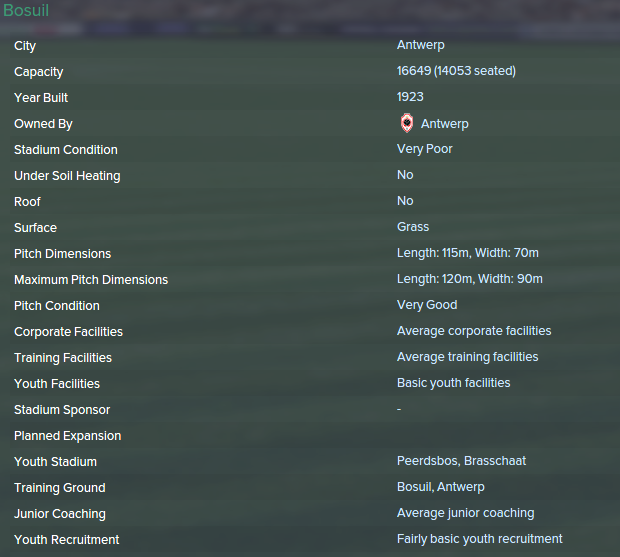 The facilities are pretty poor especially the youth facilities. The youth recruitment and the facilities will obviously have to be a priority as I would really like some good Belgian regens and for them to be able to develop to their full potential.
Team

Goalkeepers




Only two goalkeepers which is a bit concerning, we did have three but the other one was very bad so I demoted him to the U21's and put him up for loan and transfer. Frank Boeckx will obviously start but I will be giving Jordy Huysmans a chance as he is only 18 years young.


Defenders



A bad area for us, we don't have much cover in any areas any when we do the players are just rubbish, it's a bit concerning but it's something to think about when I head into the transfer market with my great big budget of £0.


Midfielders



We have some very good attackers but the central midfield is terrible, with Joren Dom being the only good player in that position, and even he is terrible. This is another valuable insight for the future.


Strikers



We have a alright sole striker but the backup isn't very good as Seid is a winger and the other one is relatively new and relatively ****.


Key Players

1. Seid Khiter - Winger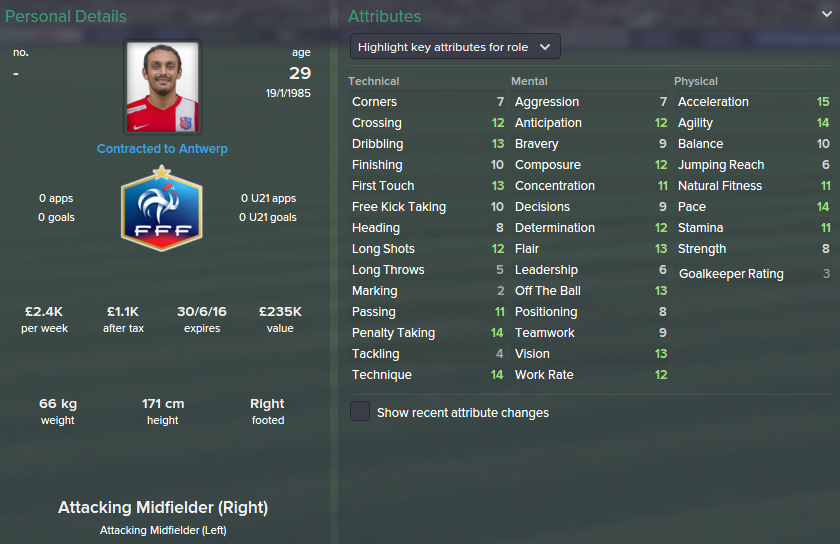 Khiter is a very good player for this level. On my previous save this guy was the best player on the pitch almost every time. He's pretty old but he can do the damage and that's all that I'm fussed about.


2. Emrullah Guvenc - Attacking Midfielder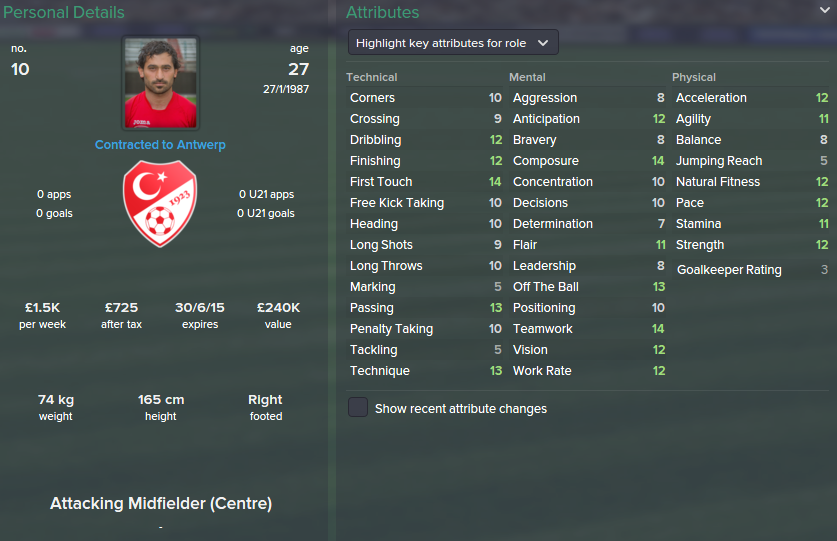 Emrullah is the player most people want as a attacking midfielder. He has pretty balanced stats and has quite a lot of time left on his hands, he shall be key in out promotion push.

3. Umberto dos Santos Carvalho - Defensive/attacking Midfielder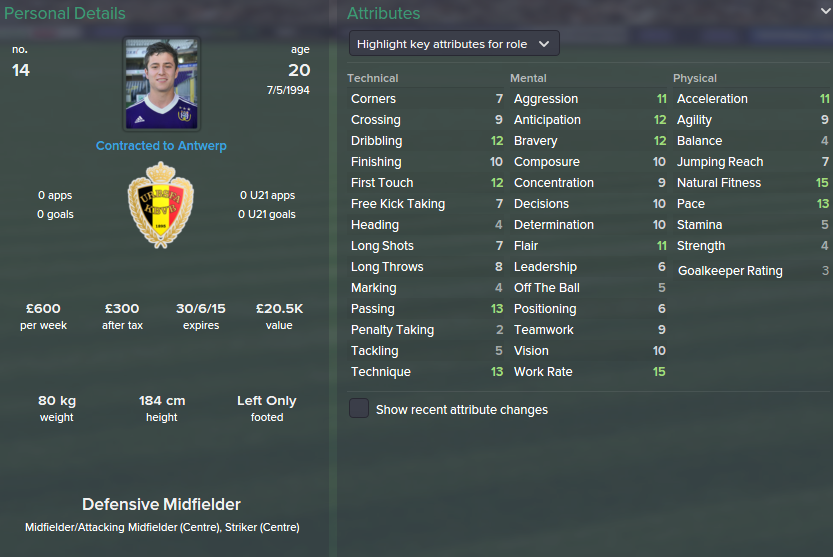 This boy has probably the least Belgian name in the history of Belgian names but he has a lot of potential at the age of 20. He is very versitile and he will fit in my first team nicely.

Tactics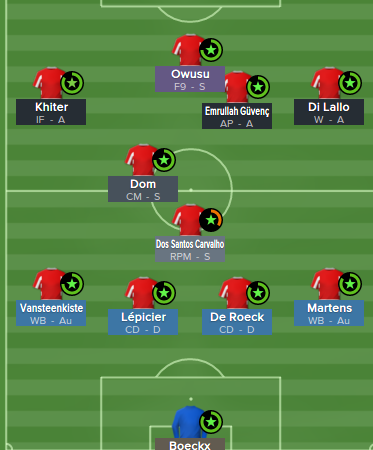 This is my main tactic with the whole monty of positions ie: wingers, a defensive midfielder, attacking midfielders and strikers. So in hindsight this is a balanced but attacking tactic aimed to catch the team out. It's a conservative but liberal tactic.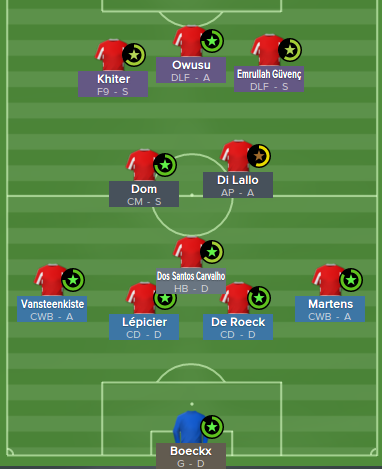 This is the attacking tactic. Three strikers to do damage. I would use this tactic on open defences and weaker teams as when it works it's capable to destroy any team!

Looking forward to the season, we are predicted third in this league but I think we should be able to get promoted in the first season and I've also told the board the same thing, call me optimistic. I'm starting with the recommended badges and coaching which is a continental B license and national footballing.

That's it for now, thanks for reading.
I intend to make this save long term.
​
Last edited: