Member
Joined

Dec 9, 2008
Messages

629
Reaction score

0
Points

0
"Please Mr. Lerner, I'm begging you to think this one through, This could undo the great progress we made last season."
I am Michael Clince, a football manager in the English Premier League, where I've recently been making a bit of a name for myself as the coach of Aston Villa.
The man I am pleading with so strenuously with is Randy Lerner, American business man and chairman of Aston Villa Football Club.
The date is
June 24th 2012
and this is the conversation I've just been having with my employer;
Lerner: Good morning Michael.
Me: Morning Sir
Lerner: Nice work on the Stewart Downing Deal, I thought we'd never be rid of him with that wage around his neck.
Me: Thanks sir, just doing my job.
Lerner: Yes indeed, and of course tying up the acquisition of Owen Hargreaves when he's performing so well at the Euros has not gone un-noticed by myself and the board either.
Me: Yes, I was surprised with the lack of competition we had for his signature to be honest sir.
Lerner: Well Michael I won't keep you in the dark any longer. We've had another offer for Edin Dzeko from Chelsea.

Me: What is it this time 17 million? I mean really did they honestly expect they would get him with that measly 15 million bid a couple of days ago?
Lerner: Quite right Michael, however this time around they've been a bit more persuasive with the cash their throwing at us.

Me: Well they can offer whatever they want Mr Lerner but Edin is far too important for the future of this Club to hand him away after just one season with us, I'm sure that without him we would not have done quite as well as we did last season, I mean after coming 9th the season before, 2nd was really a great showing for our fans,
Lerner: 33 and a half million Michael! You're right, Edin put in a great shift last season, however that is not the kind of cash we can afford to turn away at this club. I'm afraid......

Me: Mr Lerner, tell me you haven't..... you haven't accepted the bid??
Lerner: The board was unanimous in it's decision Michael, we will provide you with half of the funds of the transfer but thats it. Dzeko is on his way to Stamford Bridge as we speak.

I was gutted! I had a sick feeling in my stomach for the rest of the conversation, Even leaving the room knowing that my transfer fund now stood at over 50 million did nothing to disturb the sinking feeling going right through me. Right up until I somehow got to sleep that night, I contemplated resigning from my post.
I was now in charge of a club that as far as the fans, football lovers world wide and the general public would see it, did not have the dedication to push on from where they were. And the players, would this unsettle them in a big way, was this transfer to be the first of many. Who could blame them for becoming at least the slightest bit disillusioned - in fact I would be worried if there was no reaction.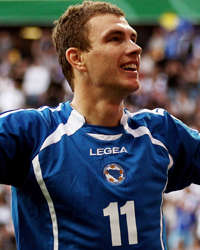 Chelsea had finished 6 points off us last season and scored 33 less goals than us. Why would the board agree to sell to them of all clubs, surely Madrid or Barcelona would have been a better option. Gabby(Agbonlahor) had been superb last season but In Dzeko we were about to lose 19 goals and 15 assists over one season and the player who seemed to bring all the play together.
Eventually before I slipped off into stop start sleep, I decided that as manager of Villa, I must step out as a leader and begin a search for a new charismatic front-man straight away tomorrow morning.
All was not yet un-salvageable.
​
Last edited: