Thought I'd do a Wolves guide as everyone seems to be doing one, so I thought I'd be the first to make a Wolves guide, the team I love :wub:. Enjoy the essay
​
​
BRIEF HISTORY
Wolverhampton Wanderers Football Club is a professional football club representing the city of Wolverhampton, in the West Midlands region of England, and currently playing in the Premier League. Commonly referred to by its nickname "Wolves", the club was founded in 1877 and since 1889 has played at Molineux. Historically, Wolves have been highly influential, most notably as being founder members of the Football League, as well as having played an instrumental role in the establishment of the European Cup, later to become the UEFA Champions League.
Having won the FA Cup twice before the outbreak of the First World War, Wolves consolidated their reputation as a top side under the legendary management of ex-player Stan Cullis after the Second World War, going on to win the league three times and the FA Cup twice between 1949 and 1960. It was at this time that the European Cup competition was established, after the English press declared Wolves "Champions of the World" following their victories against such top European and World sides as South Africa, Racing, Spartak Moscow, and Honvéd in some of football's first live televised games.
Wolves have yet to match the successes of the Stan Cullis era, although they did contest the first UEFA Cup final in 1972 against Tottenham Hotspur, and won the League Cup in 1974 under Bill McGarry and again in 1980 under John Barnwell. However, a decline set in and they found themselves in the Fourth Division by 1986, before a revival and back-to-back promotions under manager Graham Turner and record goalscorer Steve Bull saw them finish the decade in the Second Division, winning the Football League Trophy along the way. Their 19-year exile from the top flight ended when manager Dave Jones guided the club to promotion to the Premier League for a solitary season. A new approach under former Republic of Ireland manager Mick McCarthy saw the club promoted back to the Premier League in 2009 as Football League Championship Champions.
Nation: England
Year Founded: 1877
Status: Professional
Reputation: National
Chairman Status: Loves the club
Legends: Jack Hayward, Stan Cullis, Billy Wright, Steve Bull
Icons: Derek Parkin, John Richards
Favoured Personnel: Matt Murray, Ron Flowers, Robbie Keane
Derbies: Black Country Derby (Vs West Bromwich Albion)
Fierce Rivals: West Bromwich Albion
Other Rivals: Birmingham, Aston Villa, Stoke
Finances: Secure
Average Ticket Price: £22
Average Season Ticket Price: £425
Season Ticket Holders: 20,000
Estimated Value: £48.5 million
Continental Competition: None
Media Prediction: 17th
Squad Personality: Professional
Captain: Karl Henry

Stadium Name: Molineux
Location: Wolverhampton
Capacity: 29,303 all seater
Year Built: 1889
Owned By: Wolves
Stadium Condition: Good
Under Soil Heating: Yes
Roof: No
Surface: Grass
Pitch Dimensions: Length: 106m - Width 69m
Maximum Pitch Dimensions: Length 112m - Width 74m
Pitch Condition: Perfect
Reserve Stadium: New Bucks Head - Telford
Corporate Facilities: Good corporate facilities
Training Facilities: Top training facilities
Youth Facilities: Above average youth facilities and youth academy
Youth Recruitment: Average youth recruitment

ADMIN AND OTHER IMPORTANT STUFF
SEASON EXPECTATIONS
As Wolves manager, at the start of the game, you have to make your season expectations. You have plenty of choice, as you have six. However, none of them really give you enough transfer budget, which is a shame, as the board are quite money tight. What I would do is aim low first season, and say "Attempt to Avoid Relegation", which gives you £130,000 of transfer money, and £350,000 of wage budget.

THE BACKROOM STAFF
Assistant Manager – Terry Connor
1st Team Coach –
Coach – Steve Weaver
Youth Coach – Kevin Thelwell, Mick Halswell
Fitness Coach – Tony Daley
Goalkeeping Coach – Pat Mountain
Physio – Alan Peacham, Steve Kemp
Scout – Chris Kinnear, Ian Evans, Dave Bowman

There are plenty of excellent coaches around at Molineaux, everyone has pretty good attributes at the start of the game, however, you will need to get some more coaches to increase specialisation, and just to get some more coaching depth. The board often reject first time, but then say that "you will be left behind by rivals", and then they always accept for me. Another thing – try offering the two youth coaches, regular coach contracts, as they have fabulous stats and can handle both. Both of them are the definitely one of the best sets of youth coaches in the country.



Suggested In's and Out's
IN
Gary Brazil – Coach – A coach with reasonable attacking attributes, but make sure you offer the job as a coach, rather than a youth coach. Not the best coach, but a very good all-rounder.
Robert Prosinecki – Coach – A very nice all round coach, and on a free at the start of the game. Brilliant technical attributes so I'd use him as a Ball Control, and maybe Shooting coach as well, if you're pushed for numbers.
Paul Hardyman – Coach – Very good tactical coach, and fairly decent all-round attributes as well.
Tosh Farrell – Coach – One of the best free coaches out there, a very good all-rounder, and a must sign for any budding club.
OUT
Steve Weaver – **** poor attributes, get him out sraight away.
SQUAD ANALYSIS
Goalkeepers
Wayne Hennessey – In my opinion, the number 1 goal-keeper at the club. Wayne is a 3 star player with a little more potential to come, and he is definitely the best one at the club. He is very good in the air and has great kicking ability too.
Marcus Hahnemann – Very experienced goal-keeper in Marcus Hahnemann. He is always ready to step into the side and is great cover for Hennessey is injuries occur. Down side however, is that he is 38, so he only really has 2 seasons left in him, so a younger replacement may be signed sooner rather then later.
Carl Ikeme – Get rid of him. The assistant rates him 2.5 stars, but I think he's ****. I don't think he's adequate to be the third-keeper, and Sevilla usually cough up 1 million for him in the first window.





Full-Backs
Stephen Ward – Good solid left-back and will be your first choice after Jelle van Damme leaves in the January window. Good physical attributes and a good all-rounder.
George Elokobi – I would let him go, but as Jelle is leaving in January, keep him, he's adequate back-up. He's quite tubby, but his pace is very good considering his size, but his technical attributes aren't as good as they can be.




Jelle van Damme – First choice left-back until he leaves, this guy can play football. Very good in the air and good physical attributes, it's just a shame he leaves so soon .
Kevin Foley – The strongest right-back in the team is you play Zubar at centre-back which I tend to do. He's a good player, but I don't really think he's good enough to play first team football. I'd try to get cover for this position (see transfer section).
Greg Halford – He's on the team in .2.1 despite being at Pompey currently. He's ok again, but not Premiership quality, and I'd sell him.

Centre-Backs
Richard Stearman – A consistent performer, and can be relied on to perform as a back-up player for injuries. He still has some potential to go, so he could be fighting for a first-team place regularly in a season or two.
Michael Mancienne – Currently on loan from Chelsea, he has the potential to become the first choice in this department. See if you can sign him when his loan comes to an end in the summer.
Ronald Zubar – The best centre-back at Wolves at the moment in my opinion. Good all-round important abilities, everything that a good centre-back should have.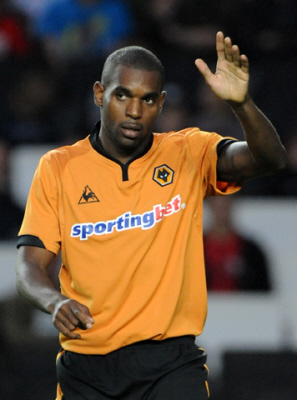 Christophe Berra – The second centre-back with Zubar at the heart of the defence, probably on par with Zubar. He has no real weakness, and some of his stats are amazing, with 20 determination, he can be relied on to give each match his 100%.
Jody Craddock – Ageing at the moment, a replacement isn't really needed, but you can probably get some money for him at 34 years of age.
Steven Mouyokolo – As the game begins, he is injured and receiving treatment for a torn hamstring and will be out until the start of the season. A consistent performer, and another who can challenge for a place in the first team.

Wingers
Matt Jarvis - A very good player, enough quality to challenge Hunt on the right-side of midfielder, but he will probably start the season on the right-wing due to the injury to Michael Kightly.
Stephen Hunt – The best left-winger at the club, since joining in the summer from Hull. He's out for a long-time when you start the game, but he's a great team player and has a brilliant work rate.
Geoffrey Mujangi Bia – On loan from Charloei (thanks ravenie for spotting this out), and I'd buy him when you can. He has loads of potential, and bags of quality at the moment. At the moment, he should act as cover for Jarvis now, and Kightly when he returns. Used best as an impact substitute in my opinion.




David Edwards – He's ok, not the best player, but as you have bags of talent on the right-wing, you should sell him when you can, as he only becomes ok, and I don't think he's good enough to be no.1
Michael Kightly – Injured for what seems like a generation at the start of the game with Owen Hargreaves-esque knee tendonitis. A very strong right-winger, the best at the club when he's fit.

Centre-Midfielders
Karl Henry – The captain of the club, and a very consistent determined player. Another good team player with strong stamina and natural fitness, so he can easily play 90 minutes every day.
Nenad Milijas – I like to play this guy as an Advanced Playmaker, definitely the best midfielder at the club. Very good stable technique but quite poor marking. Not great physically either, but his passing is brilliant.




David Jones – Back-up to the first two, not the best in the air, but makes up for that with his technique. Very good corner taker and decent all-round at set-pieces. Able back-up for the two main midfielders.
Adlene Guadioura – Consistent, and he can also play at the heart of defence should such crisis occur. Very clever footballer, he has the best brain on the field when he plays.

Strikers
Kevin Doyle – Stand out striker in the team, very determined and brave. Good physical attributes and a good dribbler of the ball. Best striker at the club.




Steven Fletcher – Able to play with Doyle, play him as a Deep Lying Forward so he can feed of this guys passes. Very strong physically and a good headerer of the ball.
Sylvain Ebanks-Blake – Decent back-up to Doyle and Fletcher. Very pacey forward and strong as well, makes him a great physical target man. Pretty poor heading however, but all-round a good player
Ashley Hemmings – Good solid youth player, and I like the play this guy up top in the less important cup matches. Very quick as well and with the right guidance, he can become the no. 1 in a few seasons.
Marcus Bent – Get rid of him, just terminate his loan contract. Average stats, and you have good enough back-up in Ebanks-Blake anyway.

THE TRANSFER MARKET
IN
Goalkeepers
Jonas Lossl - Definitely snap this guy up, a young 21 year old keeper from Kobenhavn. Bags of potential and on cheap side too, just under 1 million.
Stuart Taylor – Might be worth getting this guy to back-up Hahnemann's age, quite cheap, but he's nearly maxed out his potential so it's your choice between these two.

Full-Backs
Julien Faubert – This guy will become your first choice right-back a place on the field which needs some quality. Get him on loan with a low future fee, and this guy will be great.
Leandro Grimi – Transfer-listed at the start of the game, only sign him if you feel the need to, you already have 3 good enough full-backs.

Centre-Backs
Don't really need anyone here, if you sign anyone, Mark O'Brien is a good prospect for the future.

Wingers
Floyd Arite – Snap him up on loan, very good at the start of the game, with massive potential, can play either side too, definitely get this guy
Bjorn Helge Risse – Another transfer listed player, can either play in the centre of mid of on the right side, only sign him again if you feel the need to

Centre-Midfielders
Oriol Romeu – Fantastic prospect for the future, transfer listed at Barcelona, watch him develop, play him when you can as well.
Ignachio Camacho – Loan him if you want, you don't need him if you have Romeu, but definitely sign either one of them.

Striker
David Suazo – Not the best up top, only sign him again if you want to have someone to cover the main two guys. Not a necessary signing.

OUT
David Edwards - £2.6 million
Carl Ikeme –£1 million
Matt Hill - £1.3 million
Greg Halford – £1.2 million
Marcus Bent – End of loan contract



YOUTH ACADEMY


Wolves have a great youth academy, with plenty of prospects at the start of the campaign. Some of the best are Zele Ismail and Jonny Gorman, both right wingers, try to play these two as often as you can in cup matches. Aaron McCarey is a useful prospect between the sticks and Sam Winnall looks decent for the future.






USEFUL RESOURCES


FMF 2011 Logos
Simplicity '11 Faces
OPZ Skin
Premier League FbKit Pack
Dunc's Traning - Senior and Youth




THANK YOU FOR READING


Thank you to all who have the time to read this guide. I have enjoyed making it and I hope you also enjoy reading it, and that you start a save with Wolves, a brilliant club, as soon as possible
The GraiseleyWolf
​
Last edited: