Member
Joined

Jan 10, 2011
Messages

15
Reaction score

0
Points

0
"Good afternoon sports fans, today we have some exciting news for you on the vacant managerial position at Tottenham Hotspur. Earlier in the week we exclusively told you all about Harry Redknapps departure from White Hart Lane as he is to become half of what the English are calling the national dream team. Harry Redknapp will now become the manager of the English national team and will be working with none other than the icon that is David Beckham."
​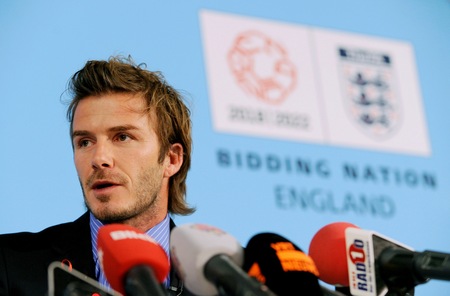 One half of what the English are calling their nations new dream team.
​
"Today however Tottenham have announced that they will unveil one of five potential candidates as the new manager
, there may be some suprise candidates in there but were sure that whoever Tottenham Hotspurs chairman Daniel Levy chooses will be a great choice. The candidates include.."
​
Martin O'Neil
Deon Mclain
Sam Allardyce
Martin Jol
Felipe Scolari
​
"So there you have it folks one of these lucky five people will sleep easier tonight knowing that their application for the job was successful and will wake up tomorrow morning as the Tottenham Hotspur manager. Thankyou for listening to 107.2 Allsports FM, It's a beautiful Monday afternoon in California, the time is coming up to 17.30pm and we have Rihanna's new song 'What's My Name' coming up after the ads..."
​
The radio had just announced that Tottenham Hotspur were to unveil their new manager later today. The only downside though was that I was stuck in that rush hour the radio had warned us about. I did however have time to mull over who I thought would be the most ideal out of the five managers announced on the radio.
​
First they announced Martin O'Neil who would be probably the most obvious choice. His pedigree is immense and his calibre of coaching at times is second to none. He did a great job at Villa far exceeding their expectations at times. A good choice to select.​
Deon Mclain who is a young manager learning his trade in the good ol' U.S of A. He has been popular with the fans in Kansas, as he has excelled in his role as Kansas City manager. He has been touted as a future USA international manager by the media.​
Following on from there was...
​
Sam Allardyce who has been in the game forever and has always got the best out of his teams... With his only blip perhaps being his stint at Newcastle where he was controlled by what the Geordies can best describe as an evil tyrant running wild with their club. His Bolton team excelled extremely well and even made Europe. Blackburn who recently sacked Allardyce will miss Big Sam as he is a credit to any team.​
A familar face could return in the shape of...
​
Martin Jol who would probably feel like he was back at home. Unlucky to have been given the boot first time around. Probably feels like he has unfinished business within White Hart Lane and would love to take them further. A media favourite and a top guy.​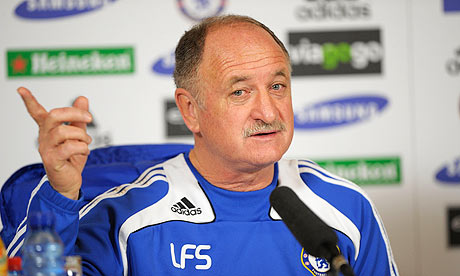 Felipe Scolari wasn't my first choice on that list.
​
The Brazillian who has fallen from managerial grace after his Chelsea team took a nosedive down the English Premier League table. Before too much damage could be done though Chelsea quickly dispatched of the South American and hired within Europe again.
​
Felipe Scolari please don't become Tottenham manager.
​
As I arrived home I jumped out of my pickup and into my flat. I was eager to see if they had announced who was Spurs new manager yet. As I swung open my door I nearly crushed Biscuit (my labrador puppy) who jumped out of his skin at the sight of the door coming straight towards him. I leapt over the kitchen counter and almost did a mission impossible style manouvre but failed as I tripped over the coffee table. I quickly got up however, dusted myself off and switched on the TV...
​

​
"In the last few minutes it has been reported that Tottenham Hotspur have selected their manager, we will cross over live in a few moments to see who has been given the job. Daniel Levy has said that he thinks he has chosen the right man and that he is extremely happy. The fans who are yet to see their clubs new manager await on tenderhooks to see who it is.. Oh I'm hearing that we can cross over live and see who the new boss is... and it's none other than..."
​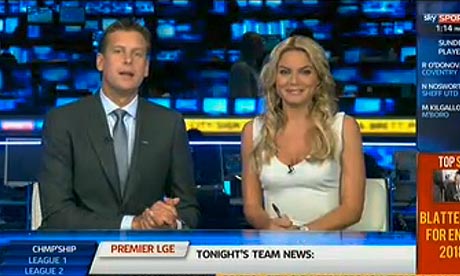 Just then the T.V went off, I was left stood there dazed wondering what the heck was happening. Biscuit then emerged from behind the TV stand with a wire in his mouth. Luckily dogs can't understand the American language as he would have been stunned with the words that came out of my mouth.
​
I grabbed the wire and started shoving it in any crevass the back of the TV had to offer..
​
**** Dog
​
I lay back against the sofa Biscuit leapt up onto the coffee table. I sighed, "Come on Biscuit maybe the pubs got the footy news on"
​