May 10, 2018
1,604
264
83
VfB Stuttgart - The Fifth Largest Club In Germany?!


Verein fur Bewegungsspiele Stuttgart 1893, more commonly known as VfB Stuttgart - that's where my new FM19 save takes me, based on your votes from my most recent poll!

Now where do I get the title from, claiming that VfB Stuttgart are the 5th biggest club in Germany...quite a bold claim considering their relegation from the Bundesliga last season in real life! Well, they are a membership based club with 64,000 members making them the biggest sports club in Baden-Wurttemberg and the 5th largest in the whole of Germany! According to Wikipedia, four clubs that are more famous internationally are Bayern Munich, Borussia Dortmund, FC Schalke and Hamburger SV.


If we have a look at the trophies won in Germany, then it actually has Stuttgart sitting in 8th place in the all time leaderboard (as of the start of last season where we begin our journey)...

1. Bayern Munich - 28 league titles, 18 domestic cups, 6 super cups, 5 Champions Leagues, 1 Cup Winner's Cup, 1 Europa League, 1 European Super Cup, 3 Club World Cups

2. Borussia Dortmund - 8 league titles, 4 domestic cups, 6 super cups, 1 Champions League, 1 Cup Winner's Cup, 1 Club World Cup
3. FC Schalke - 7 league titles, 5 domestic cups, 1 super cup, 1 Europa League
4. SV Werder Bremen - 4 league titles, 6 domestic cups, 3 super cups, 1 Cup Winner's Cup
5. Hamburger SV - 6 league titles, 3 domestic cups, 1 Champions League, 1 Cup Winner's Cup
6. FC Nurnberg - 9 league titles, 4 domestic cups
7. Borussia Monchengladbach - 5 league titles, 3 domestic cups, 2 Europa Leagues
8. VfB Stuttgart - 5 league titles, 3 domestic cups, 1 super cup


Now considering VfB Stuttgart's stature in the German football world, they've been considerable underachievers for a while now, finishing in the bottom half of the table 4 years in a row from the 2012/13 season and eventually being relegated to the second tier for the first time in their history! They went on to bounce back immediately and returned to the Bundesliga in 2017/18 with a respectable 7th placed finish! However, in real life they finished 16th last season and were relegated again following the playoffs against Union Berlin! I will be trying to avoid the same fate!!

Instead, what I'll be looking to achieve is establishing Stuttgart again amongst the elite sides in Germany and hopefully dethroning the big boys in Bayern and Dortmund! Although there are plenty of other quality sides for me to overcome along the way before we worry about those two, with RB Leipzig, Schalke, Gladbach, Werder Bremen, Wolfsburg and Leverkusen all trying to accomplish the same feat as us! There's no doubt about it...this is one competitive league!


I'll also be looking to lead Stuttgart into European competition again and if I could deliver the club's first European trophy at some point in my career, that would be awesome!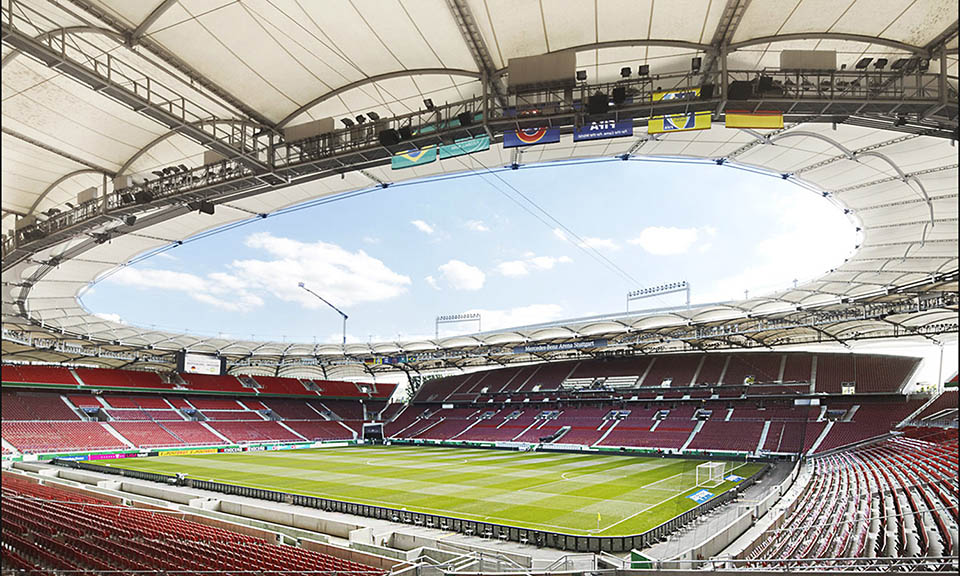 My new home is pretty impressive to say the least. Welcome to the Mercedes-Benz Arena, with a capacity of 60,441 it is the 5th biggest in the division!
​