Member
Joined

Dec 29, 2010
Messages

44
Reaction score

0
Points

0
Menezes in Shock Retirement
​
​
Brazil Football Confederation President Ricardo Teixiera called a press conference early this morning to announce the departure of Mano Menezes. The former Corinthians man remained speechless for most of the entire press conference and when asked he told the press how his relationship with Teixeira was one of the key factors
for his departure.
​
The question that remains now is who will be the man chosen to bring samba back to the Brazilian National team with Luis Felipe Scolari thought to be everyones favourite to return to Brazil.
​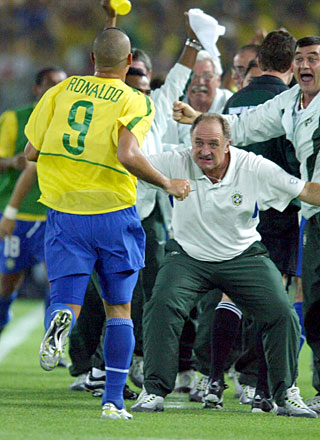 Scolari celebrating during the 2002 World Cup final
​
---------- Post added at 07:51 PM ---------- Previous post was yesterday at 08:35 PM ----------
After days of speculation that Luis Felipe Scolari will be returning to the Brazilian National Squad, Brazilian Football President Ricardo Teixiera has finally called another press conference to confirm who he has finally chosen to take over Brazil. Alongside Scolari, other names have been mentioned such as the legend Zico, Fluminense Manager Muricy Ramalho and even Vanderlei Luxemburgo.
Muricy Ramalho after winning the Brazilian Championship with Fluminense
​
Last edited: