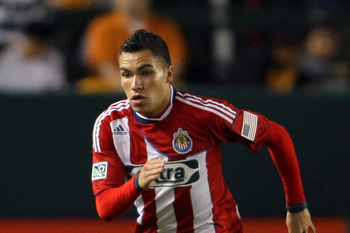 Erick Estéfano Torres Padilla (born January 19, 1993 in Guadalajara, Jalisco, Mexico) is a Mexican footballer who plays as a Striker for Club Deportivo Guadalajara of Mexico.
He's one of the young promises of the Club Deportivo Guadalajara, but has played only a few minutes with the first team. He's the current captain of the Chivas U-17 team and took his team to the championship game of the Copa Bicentenario 2010. In the final with the U-17 of São Paulo FC, he scored twice in a 2-4 loss for Chivas. He made his debut on November 14, 2010, when in he entered at 77 min mark of the second half between Chivas vs Monterrey.
Name
- Erick Torres Padilla
Club
- Club Deportivo Guadalajara(Chivas)
D.O.B -
19/01/1993
Nationality
- Mexican
Position
- Striker
Agent
- None
Personality
- Balanced
Description
- Young Striker
Strengths:
Finishing, Technique, Anticipation, Off The Ball, Natural Fitness.
Weaknesses:
Long Shots, Positioning, Team Work, Strength.
Suggested Roles:
Poacher, Advanced Forward
Screenshots
Will upload some later screens when I get them
Anyone signed before?
​