So it's Friday night and I have nothing but time, I haven't written anything in years so a FM story seems like a good thing
to write because I lack the imagination to write a real story. I have chosen my starting country as Sweden and plan on
moving along to a bigger job when the opportunity presents itself.
Leagues:
Sweden - Allsvenskan
Holland - Eredivisie
Italy - Serie A TIM
Spain - La Liga
England - Premiership
I numbered the teams in 1-14 in alphabetical order and used a random number picker to decide my team. 14 was the number I was given so örgryte is the club i'm taking charge of.
From Sverige and on.
ö
rgryte IS hire *** as manager.
http://i79.photobucket.com/albums/j150/Craven85/FMStory/***-hired.jpg
'I know the media are questioning the boards decision to appoint an inexperienced manager and I understand that, but I am very confident in my ability and I can take this club forward.'
When asked about his concerns the only response was non-football related. 'Concerns? No, none. The only problem i'll encounter is the language, but my staff are very fluent in English, especially Sören Börjesson so this will help a great deal.'
'I look am very much looking forward to the season ahead and cannot wait to get started in preseason training and of course, exploring the options available in the transfer market.'
Comments courtesy of Sky Sports News.
Anders Lundberg announce transfer and wage budget.
The chairman of örgryte Anders Lundberg has informed me that the transfer budget for this season is a very low
£75,000 and the wage budget follows suit with a cap at £19,250. It's looking like loan deals and free transfers will be
the only way of bringing in new faces.
Changes to backroom staff at Gamla Ullevi.
*** has wasted little time bringing in 4 new faces to the örgryte staff. Swedish fitness Thomas Gustafsson and dutch pair
Luit Zwaneveld and Arthur Bennink join the rest of the coaches. The only suprise inclusion is the role of assistant manager, recently filled by Angelo Antenucci. In an interview with Angelo he discussed how ***'s ambition convinced him to make the switch. There is yet to be any new player signings at örgryte but they have been heavily linked with former U21 international Stefan Ishizaki who is out of contract and actively seeking a new club. Leandro Gioda of Lanus is also a reported target for ***.
Ishizaki set for Lens. Stefan was widely expected to join up with *** at örgryte. Man City, Chievo and Trabzponspor also held an interest but the 22 year old opted for a move to France. There is some good news for *** however, Argentine starlet Leandro Gioda arrived at Gamla Ullevi today for a fee of £60k. Leandro signed a 3 year deal on £600 p/w and only has 2 games of preseason to impress and win his place in the starting 11.
End of preseason report.

We've not played any big names in our preseason matches but we've still came out on top and had the better of all four matches, the players that impressed the most were left winger Angelo Vega, Centre-back Johan Anegrund and 19 year old striker Ola Toivonen who scored 4 in 3.
Preseason at örgryte is now over and the starting eleven are believed to be in ***'s mind, the pundits believe the starting line-up for the GIF Sundsvall season opener are as follows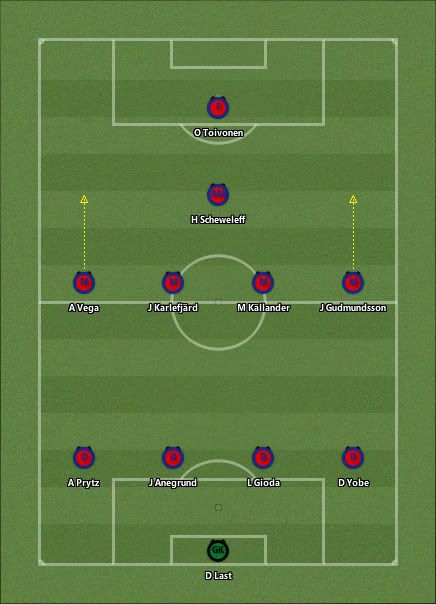 In other news *** has brought in young goalkeeper Tom Lannoo on a free transfer. Lannoo is ***'s second signing and with £15,000 left in the kitty it doesn't look like there will be many more arivals in this transfer window.
I'll update it after every 5-8 games if people are going to read it, if not i'll just carry on with this career game normally.