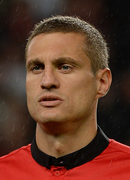 It was Tottenham midfielder Luka Modric who walked away with the man of the match champagne after Sunday's 0-0 draw with Manchester United, but the man who really deserved to be supping the bubbly was wearing a red shirt.
Nemanja Vidic stood firm against the waves of Spurs attacks, typifying the steely spirit that is ensuring United remain first in line for when the real rewards are handed out at the end of the season.
The towering Serbian defender was in imperious form for the Premier League leaders, who were reduced to 10 men when Rafael was sent off midway through the second half but barely flinched defensively.
Two moments in the second half perfectly encapsulated the pace, brain and brawn that Vidic brings to United's title aspirations.
On the hour mark, the nippy Aaron Lennon had gotten the better of Patrice Evra down Spurs' right flank with a canny pass down the line towards Alan Hutton. As the full-back shaped up to whip a cross into the area, Vidic chased the Scot down, stole the ball off him and then bought his side a goal-kick with a simple, and intentional, flick off him.
Then in the 92nd minute, Spurs laid as much of a siege on the United goal as they managed all afternoon, Vidic, suffering with cramp, with ball after ball being pumped towards the towering figures of Peter Crouch and William Gallas inside the United penalty area.
Time and time again the Serbian international was equal to every single lofted, drilled, whizzed and whistled ball in his direction to preserve his side's unbeaten run and send them back to the top of the Premier League.
It may not have been visually spectacular, but it was flawless. Simply, Tottenham found themselves banging their heads against the human brick wall that is Vidic.
Indeed, unspectacular yet resilient pretty much sums up United's league season to date. The only remaining unbeaten side, they have repeatedly found a way to win or draw when others would have had to settle for less.
Vidic's performance at White Hart Lane showed the other title contenders exactly what they're missing. It was United's ninth clean sheet in the league this season - Vidic has been present for every single one.
For all their riches, Manchester City have not (yet) been able to lure Vidic across town to ply his trade at Eastlands. That they continue to hold out hope of pulling off another cross-city coup by signing Vidic a la Carlos Tevez says it all about how they rate him in comparison to the options they already have. Losing three goals at home to Wolves reinforced the thought that there is a fragility to City's title challenge that could yet prove pivotal.
Arsenal manager Arsene Wenger has made no secret of his desire to sign a centre-back in January to shore up the Gunners' own title hopes. With Thomas Vermaelen now ruled out until March, Wenger will have to continue pairing two out of Johan Djourou, Laurent Koscielny and Sebastien Squillaci together. It is hardly a solid foundation - Koscielny and Squillaci even managed to clatter into each other during the 2-1 win over Fulham in December, giving Koscielny concussion.
Chelsea are enduring their worst run of form in 11 years, a stretch that has coincided with injuries and suspension at the back. John Terry, Alex and Branislav Ivanovic have all missed time, and a familiar refrain from Blues fans is a lament for the departed Ricardo Carvalho.
Likewise Spurs have had to mix and match at the back. After losing arguably the best defender of last season in Michael Dawson for three months, they have had a multitude of central defensive partnerships as Harry Redknapp dabbled between William Gallas, Sebastien Bassong and Younes Kaboul. Indeed, arguably Spurs' most talented centre-backs are Ledley King and Jonathan Woodgate, who continue to watch from the sidelines injured more often than not.
All the title contenders have attacking talent in abundance. Redknapp even suggested before Sunday's game that Sir Alex Ferguson would look enviously at the squad at his disposal.
Manchester United do not have a clear advantage in attack or midfield as was once the case. If they are to claim title No.19 this season, it will be thanks to being the most difficult side to beat. And maybe then Vidic will taste the champagne he so richly deserved at White Hart Lane.
Last edited: