Niall's West Ham Guide
​
​
Background and History
​
West Ham United play in the English Premier Division and are based in East London. They were founded in 1895 and settled at their current stadium, Upton Park in 1904.
West Ham have had some success, but not a great deal, winning the FA Cup three times (1964, 1975, 1980) and almost won the trophy against Liverpool in the famous final of 2006. West Ham have never won the top flight of English Football.
One highlight in the history of West Ham was the 1966 World Cup; the club supplying three key players to England: Bobby Moore the captain, Geoff Hurst who scored the only hat trick ever in a World Cup final and Martin Peters who scored England's other goal in the final.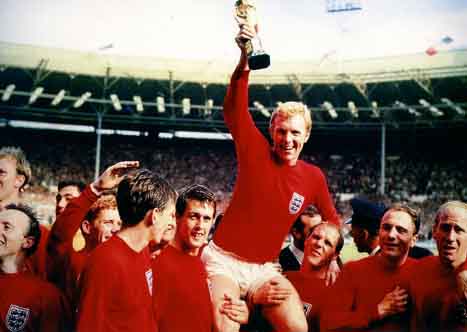 ​
More recently the club has had mixed fortunes. West Ham played in the Championship until they were promoted to the Premiership for the 2005-06 season and were impressive, finishing in 9th place in the league and reaching the FA Cup final.
In the 2006-07 season there were the controversial signings of young Argentine stars Carlos Tevez and Javier Mascherano, but despite these signings the club struggled near the relegation zone for most of the season, though Carlos Tevez gained the fan's aplomb with some impressive performances.
​
In 2007-08 and 2008-09 the club consolidated their status in the Premier League, finishing respectively 10th in 07-08 and 9th in 08-09.
The 2009-10 season was less enjoyable for those involved in West Ham, the club began experiencing financial difficulties and again had a relegation dogfight on their hands, eventually surviving in a lowly 17th place.
Over the years, West Ham have gained a reputation for being the foremost club for developing young British Talent. Various international players including Rio Ferdinand, Joe Cole, Michael Carrick, Glen Johnson and Frank Lampard first came through the ranks at West Ham.
​
The Club
​
Finances
Due to the present poor financial situation of the club, no matter what expectations you choose, you will always have no transfer budget at all and a maximum wage budget of £775,000. The current wage bill is £733,000 so you have a little leeway there, you'd probably be best to try and sign a couple of players on loan if possible and work on a sell-to-buy basis. There is a fair bit of deadwood in the squad and some player earning way more than they are worth so some will definitely have to move on, but more about that later.
There is a relatively healthy bank balance of nearly £15 million, but this will soon be eaten up by the three loans the club has which total £76 million and will take £830,000 out of the club's coffers each month.
Facilities
Upton Park has a capacity of 34,980 and West Ham benefits from a very loyal set of fans (26,000 season ticket holders in the first season) so if you have decent successes you will quickly outgrow the stadium and be selling out most games, the stadium will expand up to 40,500 which could be a little help.. A new stadium will probably be required in the future but the financial situation may damage your chances of this happening.
​
Training facilities are good, they will do fine for now but is something you can look at developing in the future, the youth academy is very strong but the youth facilities have a lot of room for improvement. Youth recruitment is decent, but again is something you can look at investing in later.
Staff
Zeljko Petrovic is your assistant manager. He is decent but not anything special and is not to be relied upon if you take a hands-off approach or ever holiday. On the plus side he is a four star coach for tactics and defending and is pretty cheap at just £5k per week. It's down to you whether to keep him or not.
​
Your first team coaches are Wally Downes and Paul Groves. Downes is a four star defending coach so is worth keeping but Groves is not of such use, his strongest category also being defending but he can only coach at three and a half stars.
Kevin Keen is a coach who can coach at three and a half stars for ball control, attacking and shooting. You are currently short on coaches and short on cash, so although he isn't great, I would keep him, at least until you can afford to bring in top quality staff.
The goalkeeper coaches are fine, David Coles is quality and can coach either category at four and a half stars. Jerome John is ok, being able to coach either category at three and a half stars. Replace John when you can afford to.
You will need at least one new fitness coach. Presently the club only has one fitness coach, Alex Dyer, who is rated at three and a half stars. West Ham definitely need a new fitness coach.
Of youth coaches, only Tony Carr stands out, being a good all round coach and a four star ball control coach. Carr also has some other strong attributes and his player reports are to be relied on. If you chose to get rid of Petrovic, Carr would not be a bad candidate for assistant. The other youth coaches are all quite good and worth keeping for now.
​
Your physio, Dave Singleton, is decent, but there are definitely better physios out there.
Of your scouts, Jimmy Hampson is an absolute gem, Roger Cross is also a good scout and definitely worth keeping, Ian Bishop is not up to the job and should be let go.
​

Overall, there a few good staff among your ranks, I would keep hold of most of them for now. West Ham currently have 9 coaches and the board will allow up to 11 so be sure to fill up those 2 slots with coaches who can fill the weakest categories.
I recommend the following staff who are all free, willing to sign for West Ham and will be of benefit to the club:
Paul Winsper (Fitness)
Andy Renshaw (Fitness)
Brian Horton (Tactics)
John Owens (Attacking)
Robert Prosinecki (Shooting)
Tosh Farrell (Shooting)
Marco Frigerio (Physio)
The Squad
​
Goalkeepers
Rob Green is a solid enough and will do for a few seasons, he is pretty dependable and will never give you any trouble off the pitch either. For want of a better term, he's a keeper.
​
Ruud Boffin is a backup and will never be anything more, he will do as a substitute but if Green suffers a long term injury you will be up the creek. Be on the lookout for a new backup keeper.
Marek Stech and Peter Kurucz are in the reserves and with good reason. Neither are any good now, nor will they ever be any good. Offload.
Sam Cowler is in your youth team. He isn't good enough at the moment but has the potential to be your future first choice keeper – with the right training and tutoring (from Green) of course.
Deniz Mehmet and Jake Larkins are not in the same league as Cowler. They are still young and are not without a little potential, it could be worth keeping one of them to train as a future backup for Cowler.
Defence
Matthew Upson is your best centre back and will get the job done, he is 31 and won't be getting any younger but he will do for the first season or two will be a good tutor for Jordan Spence as well.
​
Daniel Gabbidon, Manuel Da Costa and the on loan Tal Ben Haim should compete to be Upson's centre back partner, there isn't a great deal between them but for me Ben Haim would probably edge it. James Tomkins isn't far behind your more experienced defenders and has decent potential so give him quite a few run outs and he should develop nicely. Winston Reid isn't up to the grade at the moment, a loan could do him good.
Lars Jacobsen and Jonathan Spector should compete for right back. Both are good all rounders, I would have Jacobsen as first choice and have Spector on the bench where his versatility will be useful.
Herita Ilunga is your only first team natural left back. Ilunga is a solid player but you will need to bring in backup on loan.
Jordan Spence has the potential to be a star. Have him tutored, give him some first team action and in a couple of years he will be your star centre half and will one day be captain of the club.
​
Take Tony Carr's advice when it comes to Holmar Eyjolfsson, Matt Fry, Paco Craig, Sergio Sanchez and Callum Driver. It is touch and go as to whether they will make the grade. These guys will only become squad players at best. Offload any youngsters I haven't mentioned.
Midfield
First things first. Scott Parker. He is a superstar and will be your stalwart. I would recommend you play him as box-to-box midfielder to make the most of his attributes. He will give his all for team, do not sell at any price.
​
Thomas Hitzlsperger is a write off during most of the first season because of injury. He is decent but nothing special, has some tasty long range shots on him though.
Could do a job as deep lying playmaker.
Radoslav Kovac is solid and should be your first choice defensive midfielder. At 30 years old you should look to find a replacement sooner rather than later.
Valon Behrami is an interesting and indeed a useful player. He is one of the best players in the West Ham squad and to boot is also versatile. He is naturally a right midfielder but is also accomplished as a left midfielder, centre mid, right full back or right wing back. I would advise that you also train him as a defensive midfielder (he is already unconvincing there). I would recommend playing him as a ball-winning midfielder (now) or a defensive midfielder or anchor man (when he is retrained as a defensive midfielder), though he could perform equally well as a right back I feel that this would be a waste of his talents.
​
Mark Noble has come through the ranks at West Ham and is the kind of player you wish you could have more of; good enough for the first team now but still with room to improve for the future. He doesn't fit ideally into any of the central midfield roles so look to train him to do the job you want.

Jack Collison has a long term injury but don't let this put you off. He is only 21, once you get him back to match fitness he will be a useful player and he has a lot of potential. Add this to the fact that he is on a paltry £8,000 per week wages means you can't really go wrong with him. Strongest at central midfielder (support). When he is fit start training him as an attacking mid central.
Julien Faubert is a good player and can play anywhere down the right flank, being natural at right midfield. He has a lot of pace which is something that your squad as a whole lacks. On the transfer list at the start of the game and there should be interest, but I would keep him if you intend on using wide midfielders or wingers.
If you play with wing backs or attacking full backs Faubert is also of use there as he is accomplised as a right back/right wing back.
If any club makes any offer for Kieron Dyer sell, sell, sell. He is over the hill, injury prone and eating £70,000 of your wage budget. Waste of space.
Luis Boa Morte is below calibre and at 32 isn't going to get any better. Only worth keeping if you intend on playing wingers as West Ham lack depth in this position, otherwise sell if you can.
Pablo Barrera is a good player. He can play well on either wing and is one of the better players in your team. Has very good potential and at the age of 23 still has time to improve.
Junior Stanislas is perhaps not quite ready for the first eleven. He is a decent player, is only 20 and is very versatile (and versatile players are always useful to have around). Keep him in the squad, chances are he will break into the first eleven at some point and is only on a contract of £5,000 per week.
​
Currently in your reserves are youngsters Oliver Lee and Anthony Edgar. They will probably never be good enough to benefit West Ham so unless Tony Carr gives them rave reviews let them go. If Carr thinks a lot of either of them it might be worth loaning/tutoring just to see how they develop.
Of your youth team I would recommend keeping George Moncur, Dominic Vose and Blair Turgott. Train them up, have them tutored and send them out on loan when they are ready and they may one day break into the first team squad. Eoin Wearen, Sebastian Lletget and Matthais Fanimo are less likely to be of use to you but still have a slim chance of one day being squad players, again take Carr's advice. Any players I haven't mentioned are not good enough. Release them.
Forwards
Your strongest forward is Carlton Cole. He is strong and decent in the air, I would recommend playing him as a target man but have heard of others having success with him in other roles. He is determined and loyal to the team so he will get the job done.
​
Frederic Piquionne is a decent striker, he will do a job for West Ham in the first season but at 31 you will be lucky if his physical attributes do not begin to falter rather soon. He is on a long term £40,000 per week contract so you should probably try to offload him at the end of the first season. Play him as an advanced forward or poacher alongside Cole and he should do alright.
Benni McCarthy is undoubtedly a talented player but unfortunately is 32 years old, slow, lazy, unfit and costing you £40,000 a week. Could do well as a Trequartista but his poor work ethic and lack of pace mean that unless you are dominating he will most likely be a burden for the other players.
Zavon Hines has a long term injury at the start of the season but look beyond that, he is a decent youngster. He has a decent work ethic and some potential which could lead to him being a useful player, if you work on his pace he could be a menacing poacher in the making. Currently on a £1,500 per week contract.

Victor Obinna is at West Ham on loan (unfortunately West Ham are paying his wages for the duration). Obinna is ruddy quick but his technical attributes are appalling. I would use him as an impact substitute to run at tired defenders. You could terminate his loan if you want but especially with Hines' injury you need strikers for the squad.
As for youngsters, keep Christian Montano and Robert Hall. They can have good potential and could one day be useful players. Fred Sears and Frank Nouble are better than Montano and Hall at the start of the game but don't have as much potential. I think all four of these guys are worth keeping for now, just to see how if they develop; as usual training, loans and tutoring will help them on their way. Any other forwards I haven't mentioned are not up to West Ham's standards and should be released.
Tactics
​
Every manager has their own preferred tactical approach. There are plenty of good tactics around FM Base so if you want to use one of those.
Personally, I would go for a narrow 4-1-2-1-2 or a narrow 4-1-3-2 as West Ham have plenty of strength in the middle of the park. I am not going to recommend in depth tactical instructions as these will likely need to change on a game by game basis depending on who your opponents are.
I heartily advise you to use Dunc's training schedules.

Transfers
​
Not a lot I can really advise you on here considering the financial state of West Ham. Try to get in free transfers and loans (preferably on a non contribution or partial contribution contract). GodCubed has made some excellent free transfer shortlists.
If you want to buy players you will have to sell first. Although the club needs money be careful not to oversell, West Ham's squad already lacks depth so if you are selling a first team squad player make sure you have a replacement lined up (unless someone wants to buy Kieron Dyer, in which case gleefully push his wheelchair all the way to their ground so you can personally deliver him and make sure nothing goes wrong).
Some critical advise I can give is make sure that on the 31st of December you search for players who only have 6 months left on their contracts. If their wage demands are reasonable you could snap up some bargains if you're lucky.
The Future
​
The main issue with the future of West Ham is the debts. The final loan repayment isn't until 2039 so you will have to be very frugal, at least for the first few seasons. As you start to have some success in the league and cups the financial burden should lessen and qualifying for Europe is always a bonus.
This thread has some useful tips for making money.
West Ham have a superb youth academy and some good young prospects. Focus on nurturing the youngsters you already have and when the new youth intake comes around next summer look very carefully at the prospects and see where they could fit into your team in the future.
I would say that as your financial situation does improve steadily, reinvest money into your facilities, youth recruitment and better back room staff before you look to spend big on players. Investment will stand the club better in the long term.

Thanks for reading Niall's West Ham Guide, I hope you find it useful!
Last edited: