Member
Joined

Jan 7, 2009
Messages

300
Reaction score

0
Points

16
Hi guys I've recently had this reviewed over on footballmanagerstory.com and it did pretty well so I figure I'd share it with you.
The review is pretty comprehensive so what will follow here is all copy and pasted from their site.
I give full credit for the review to Darren Smith
. The review can be found here
http://www.footballmanagerstory.com/2013/04/fm-2013-tactic-review-poobingtons-3-4-3/
Formation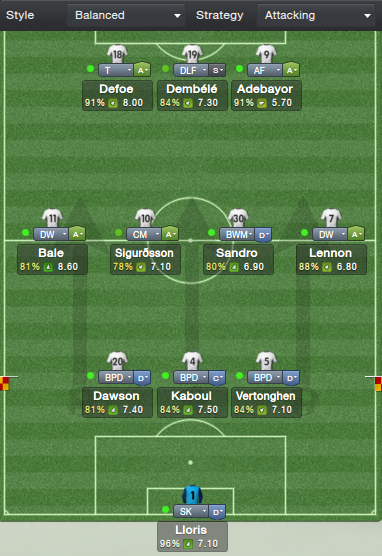 The formation is a 3-4-3, one I rarely see in action. The main reason for that is a lack of AM usage, most of the best midfield talent on FM13 prefer the attacking midfield positions.
We start from the back with roles and a sweeper keeper who will not only stop shots but act as the last defender when loose balls make their way towards the box. The back row of three are all ball playing defenders, so they will rarely hoof the ball clear John Smith style, calm and composed passing is more their style and even when going long, its a calculated effort to form some sort of counter attack. We have a ball winning midfielder at MC with a central midfielder enjoying attack duty, then the MR and ML are set to defensive winger, attack duty. They will hunt the opposition back and also charge forward, doubling up as wingers and wing backs. The front three consist of three roles, Trequartista in a Messi like role, deep lying forward to link up play and an advanced forward to run the the channels and get on the end of crosses.

Team Instructions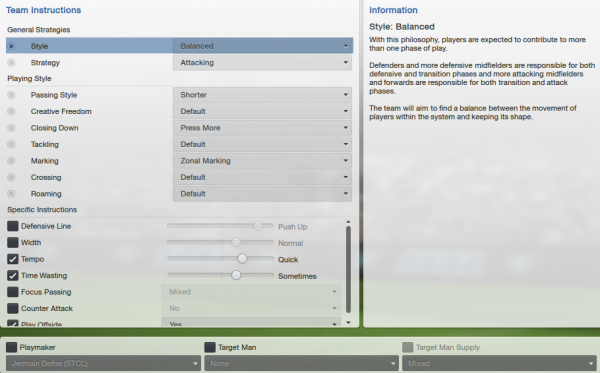 This tactic revolves around high pressure, the fluid philosophy and attacking strategy lead to some intricate play when mixed with a short passing style. Each player will hunt down the ball as closing down is set to press more and they also have the freedom to switch players during marking which is set to zonal. This is a very high tempo tactic with a very high defensive line to focus on winning possession back in the opposition half.

Average Positions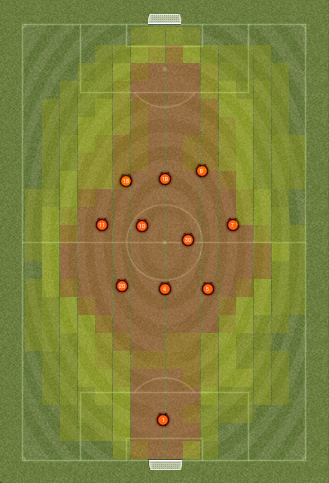 The average positions above make this tactic look very compact which it is but the two defensive wingers tend to add width when attacking and defending. Three flat lines are created, which can be tough to break down and also help press the ball high up. You'll notice the ball winning midfielder generally sits slightly deeper than the wingers and attacking MC, this is important to add an extra bit of insurance when the high closing down doesn't work.
Talking of insurance, you'll notice that there's one huge gap between the three defenders and goalkeeper, hence his role of sweeper keeper which is vital.

Defending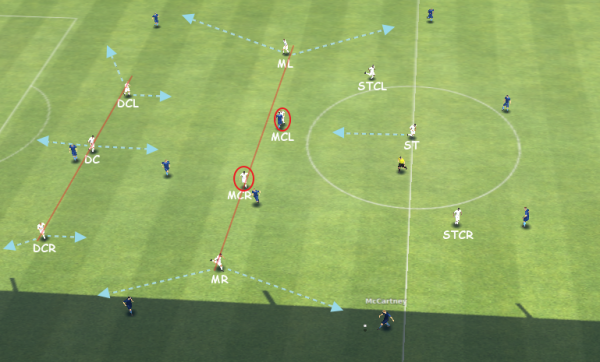 This tactic, with the right players works very well during the defensive phase of play. Your back three push up high, compressing the play, then there's a near flat line of four in midfield, this gives the opposition very little space to create chances and move the ball around. The two outer CB's can push out wide if need be, but all three will look to get on the front foot and stop an attack before it comes to them.
The defensive wingers will do the same, but they can also track back to cover a wide AM. While the two MC's tend to hold their ground and let everyone move around them, making these two the ideal candidates to receive the ball once possession has been regained.
While the three forwards don't track back much, they do pressure any opposition player with the ball in front of them, the very fact they hold their line makes for a quick and direct counter attack.

Attacking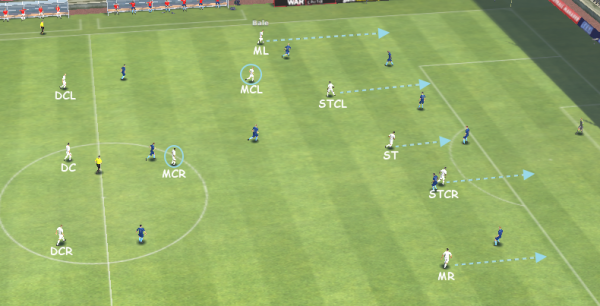 Once possession is back with your team, its easy to spark creative counter attacking football. The three DC's will always start this off and the three strikers make for a nice outlet if long ball opportunities arise. You'll notice 5 players making their move forward in the screenshot above, this happens with almost every attack. And due to the three ST's playing fairly narrow, the opposition defenders don't like to go wide, leaving tonnes of space for your defensive wingers to exploit.
Your two MC's offer that bit of insurance holding back somewhat, but the true beauty of this tactic is in the strikers movement. They can drop deeper to link up play if needed, but when the winger darts for the byline or cuts inside the three ST's just sit on the defensive shoulder waiting for a loose ball, through pass or cross. The goal below highlights this, there are so many players waiting to pounce on the loose ball that scoring is inevitable.

Results

Some good results there, we thrashed the lesser sides including what could have been 7 or 8 nil against Villa. If the game away at Chelsea taught me anything, its that this tactic can be exploited out wide in behind the defensive wingers, the likes of Mata and Hazard managed that time and time again. However, we more than held our own and deserved the draw at Stamford Bridge which speaks volumes for this tactic…16 points from a possible 18 is a joint best so far.

Statistics
Goals scored: 15 (2.5 per game)
Goals conceded: 3 (0.5 per game)
Shots on target for: 7.83 per game
Shots on target against: 2.33 per game
Clear cut chances for: 2.33 per game
Clear cut chances against: 0.67 per game
Half chances for: 3.17 per game
Half chances against: 1 per game
Ball possession average: 59.67%
I believe this tactic provided the highest average possession to date, just under 60% is an excellent figure. The CCC and half chances were fairly good too reading 2.33 and 3.17 respectably. None of the stats above leave alarm bells ringing either so very, very successful I guess. This tactics quality is proven in the FM13 Tactics Index table, this is used to compare the stats from all our reviews. Now lets analyse the main pro's and con's of Poobington's 3-4-3.
+
Excellent results.
Great possession and intricate play.
Strikers sit on defensive shoulder creating rebound opportunities.
For a short tactic this can be direct, winger crosses from deep to great effect (as shown below.)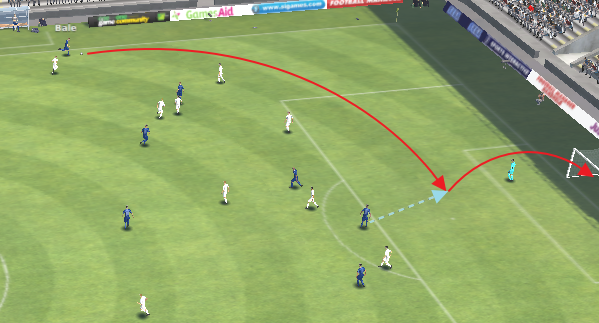 -
No attacking midfielders used so some quality players are a no go.
Superior AML and AMR's can exploit space in behind your defensive winger, leaving you vulnerable.
Suggested Tweaks
There's not much you can change here, the wingers work great, the MC's are set correctly and the tactic wouldn't work as well without all 3 DC's set to ball winning midfielder. I guess my main change would be the forwards, I'd be tempted to play with the roles a little, probably to suit your players. The Trequartista could be poacher and depending on your players the advanced forward could be a target man.
I would definitely consider the strategy though, for those really big games it may be worth using the counter strategy just to drop the defensive line back a little and combat that issue of superior wingers taking advantage of the hole in behind.
DOWNLOAD LINK:
Poobingtons 3-4-3 High Press v.3.tac
Match Preparation

Pre-Season

During pre-season set the Scheduling Slider all the way to the far lef
t, General Training to Fitness and very high, with your Match Training focussing on

Tactics Only.



Main Season

General Training should focus on Fitness; Scheduling should be in the middle.

For Home Matches match training should be Attacking Movement
For Away Matches match training should be Defensive Positioning
Against Big Teams always have Defensive Positioning

Last edited: