14th February 2012
The Darkest days in History
A period Rangers fans will never forget, 14th February, the day when Glasgow Rangers, one of the most successful Football teams in the world were plunged into the chaos of administration. There were times where it was looking very bleak for the club...times where it looked as if Glasgow Rangers would cease to exist! As the months unfolded men at the top blamed each other, star players left as Rangers were eventually liquidated and booted out of the Scottish Premier League. Was this the end of The famous Glasgow Rangers and there 139 years History?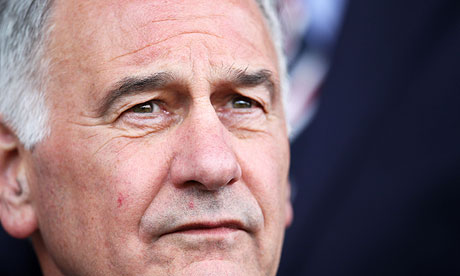 14th June 2012

Charles Green - The Saviour

After bids from the likes of Paul Murray, Bill Miller and a last gasp bid from Rangers Legend Walter Smith to buy the club were to fail as Yorkshire man Charles Green took over at Ibrox and vowed to get Rangers back into the big time after getting Rangers into the fourth tier of Scottish Football. There were many questions over this purchase from Charles Green, was this man really in it for the Club or for a fast buck? Many fans were left unhappy and wanted Green to hand the Club over to Walter Smith and his group, there were even reports Ally McCoist was set to quit over it all. Through out time the straight talking Yorkshire man won over many of the fans and seem to win over all the staff at the Club too including Ally McCoist, he even eventually appointed Walter Smith as a non- executive director at the club which many fans cheered about. Another thing about Green, he never let anyone bring the Club down he fought for the Club at every chance and many fans were happy to see him do that, eventually someone who was willing to stick up for the Club unlike hate figure Craig Whyte. So was Green really the real deal?




19th April 2013

Green's Downfall

Charles Green was a man of many words, through out time too much at time and fans began to notice this. Green never knew when to keep his mouth shut and that got him into trouble countless time with the men at the top. There was also rumours Craig Whyte still owned the Club and Charles Green was Whyte's 'puppet' as such. Fans became distressed again and yet again more chaos at Ibrox. Green left on the 19th April after he was fined £2,500 for a racist slur against partner Imran Ahmad. Imran has since said Charles Green is no racist.




24th April 2013

Craig Mather - Interim Chief Executive

After Greens departure the Rangers board moved to place Rangers Shareholder Craig Mather as Interim Chief Executive. Mather has since claimed his investment in Rangers was an emotional one. He has also stated he is 100% behind Ally McCoist and while he is at the top he will strive with McCoist to help the Club get back to where they belong! There are doubts the boardroom rifts are far from over but we can only concentrate on the footballing matters and hope everything will be resolved soon so Glasgow Rangers can get on with the important matters of returning to the SPL and dominating Scotland once again!



​
I will do my story with Ally McCoist and even though I've touched on some dates that are in the future in the real world from the game world I hope you's enjoy
...