Good man, hopefully you'll be able to win the league this time! One question for you - You seen any good Russians on there?
Maybe, im living in fear because this time last season we were in a great position aswell, only for a terrible run of a few games in Febuary/March took us off the pace. Hopefully now Cardozo dosent let up in his goal-scoring frenzy lol.
Unfortunatly I dont think many Russians play in Italy XD, if you were any other Russian club I would say the likes of Dzagoev an Akinfeev but you already have them :S.
---------- Post added at 09:33 PM ---------- Previous post was yesterday at 11:41 PM ----------
Man Utd come out on top
Fiorentina 0-1 Manchester Untied
Sebastien Frey's Own Goal has given the Red Devils a crucial away goal to take back to Old Trafford in two weeks time. Man of the Match Zoran Tosic claimed the goal at the time, after his cross Dainelli failed to deal with and it hit off the crossbar and boucned back off Frey and in to the goal. The goal has since been awarded as a own goal to Frey. The Red Devils were the better team and La Viola need to buckle up their ideas if they hope to progress to the Quarter Finals.
r
Man of the Match: Zoran Tosic (Manchester United)
Attendance: 46482
---------- Post added at 10:39 PM ---------- Previous post was at 09:33 PM ----------
La Viola's 36-game run finishes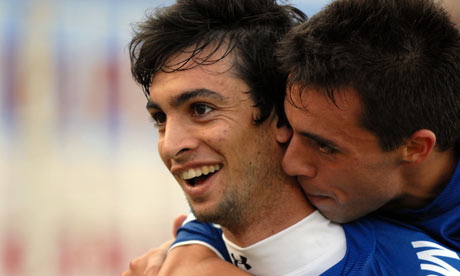 Fiorentina 1-2 Palermo
Argentinian Javier Pastore was the man responsible for ending Fiorentina's record 36-game unbeaten league run last night. Scoring a brace for victory to Palermo at the Artemio Franchi. La Viola were poor all over the park and despite having a perfectly good goal by Cardozo ruled out for offside, were the poorer side on the night.

Man of the Match: Javier Pastore (Palermo)
Attendance: 38775
A/N: Im scared now, the same time last season we fell apart aswell. Going to ring the changes for the next game, Ibisevic and Carlos Eduardo are back from long-term injuries and hopefully they can rescue me!
---------- Post added at 09:25 PM ---------- Previous post was yesterday at 10:39 PM ----------
Fiorentina progress after extra time battle
Manchester United 0-2 Fiorentina (After Extra Time)
Fiorentina win 2-1 on Aggregate
Fiorentina progress to face Real Madrid in the quarter finals of the Champions League after a extra-time win over the Red Devils in Manchester last night.
Fiorentina played a more attacking system at Old Trafford, playing the duo of Oscar Cardozo and Vedad Ibisevic up front, while Manchester United stuck with the same line-up that had won them the game in Florence a fortnight ago.
The teams batttled for a hour, both having chances but failing to convert them. Joseba Llorente came on for the poor Ibisevic and immediatley had a impact. The wonderful Carlos Eduardo took the ball by Wes Brown and played it through to Llorente and the Basque finished by Foster.
Extra-time was a dog fight. Both teams slugging it out against each other. Dimitar Berbatov thought he put his team ahead, only for it to be ruled out questionably offside. Replays shown that Nicolas Otamendi was keeping the Bulgarian onside. Joseba Llorente popped up again to score after Cardozo knocked the ball on and he beat the on-rushing Foster to score the winner for La Viola.

Attendance: 74,308

Man Of The Match: Joseba Llorente (Fiorentina)
---------- Post added at 09:58 PM ---------- Previous post was at 09:25 PM ----------

Its official, I have no followers. So im not wirting anymore updates for the time being as nobody seems to have a intrest in it. If any of you who actually follow the story please speak up now and say it because im not writing these updates if there isnt any.. This is my fourth post in a row on this thread XD.
Last edited: