Member
Joined

Jan 15, 2011
Messages

83
Reaction score

0
Points

0
Hi this is my first story so if you see anything that can be made better then please tell me. For you who have come to this thread from the recent threads list then I tell you that this is a game on the PSP and it is football manager handheld 10 however i will be starting the story from the start of the 2010/2011 season. I holidayed the first season.
Comments much Appreciated.​
Henry buys Liverpool and then sacks Hodgson.
​
5 days ago, Roy Hodgson was bought in as the manager of Liverpool. 4 days later John W Henry completed his takeover and today, just 24 hours later.
​
Hodgson is gone
Hodgson was quick to release a statement, then leave the club.
​
Hodgson's statement ​
"With regret i confirm the spreading rumors that I have been sacked by Liverpool's new owner John Henry. Personally I am hugely dissapointed. To be given 5 days in a job then sacked is disgraceful. However John obviously wants to make his mark and if I am not in his plans then I had to leave. I wish the new manager good luck and hope he is given more time than I was."
​
With Henry having a good knowledge of american soccer he is expected to look to bring in USA coach, Bob Bradley in as manager.
​
LFC manager odds.​
Bob Bradley 2-1​
Manuel Pelligrini 4-1​
Martin O'neil 7-1​
Guus Hiddink 10-1​
Frank Rijkard 12-1​
Rafa Benitez 16-1​
So all familiar names in the pot to become Liverpools new manager. Who will new owner John Henry choose. It is rumoured he wants to get a new man in quickly so the new manager can get some players in during the transfer window.​
Got a big opinion on who should be Liverpool's new manager. Email us

@www.skysports.com/LFCmanager
​
[COLOR=#00e0]---------- Post added at 09:16 PM ---------- Previous post was at 06:12 PM ----------[/COLOR]
Steve Heighway has just been confirmed by NESV as the new manager of Liverpool FC. The former Irish winger was a huge part of the succesful Liverpool team of the 70's.
​
Heighway also ran Liverpool's academy for over 15 years, winning 3 youth cups and producing successes like Steve McManaman, Robbie Fowler, Steven Gerrard, Jamie Carragher, David Thompson and Michael Owen.
​
Heighway in his playing days
​
Heighway has just held a press conference and here are the highlights.
​
The Sun: Steve, you have great a great knowledge of this club in general having played and coached the academy to youth cup glory here, however managing here will be very different, how well do you think you realistically can do?
​
Heighway: I think the club can excell in all competitions this season. With the right investment I think I can help the club to challenge for Domestic and Europa League glory.
​
FourFourTwo: Fernando Torres and Javier Mascherano have both expressed their concerns that the club are not currently challenging for the league and major cups. Do you feel confident they will both stay at the club?
​
Heighway: Well, I want players that will give me 100% commited and will give me everything. We will challenge if we have those players and players who do not try their best and give 100% every game will have no future at the club.
​
SkySports:

Steve what sort of players and how many will you be wanting to bring in?
​
Heighway: Talented players who will give everything for the club.
​
[COLOR=#00e0]---------- Post added at 10:55 PM ---------- Previous post was at 09:16 PM ----------[/COLOR]
Steve Heighway has confirmed that three players have left Liverpool, two have come in and one has commited himself to the club.
​
Torres - "Im staying"
Fernando Torres has confirmed that he is impressed by new Liverpool boss Steve Heighway and would like to stay at Liverpool. He believes Liverpool will go in the right direction under Heighway and NESV.
​
Masch goes to Munich
Javier Mascherano has ended all the transfer rumors involving him by sealing a £25,000,000 move to German giants Bayern Munich. He scored 3 goals from his defensive midfield position during his spell at Liverpool and played in the champions league final loss to AC Milan in 2007.
​
Dossena goes home.
Andre Dossena has gone home to Italy and joined Palermo for a fee around 5 million pounds. He never really got going at Liverpool and fans will not be sad to see the back of him.
​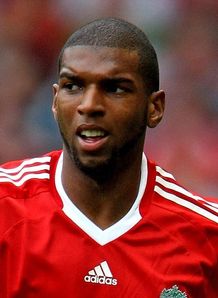 Babel storms out.
Ryan Babel has stormed out of the club and joined Dutch club Feyenoord for 14 million pounds. He never had a great relationship with either of his mangers at Liverpool. He managed to have 2 public rows with Roy Hodgson during Hodgson's 5 day spell. He was always on and off and more off with his performances and the fans never really took to him. He did manage to score a winner at Anfield against Manchester United in a 2-1 win in the 2008/2009 season.
​
Moutinho arrival confirmed.
Sporting Lisbon captain Joao Moutinho has moved to Liverpool in a deal worth 7 million pounds. The portugese club are desperately short of money and Liverpool were quick to swoop in their bid to land the playmaker. He penned a 4 year deal and he is on around £40,000 per week.
​
Agbonlahor completes "dream move"
Aston Villa have parted company with young England international Gabriel Agbonlahor in a move to Liverpool worth around 13 millon pounds. Agbonlahor has described it as a "dream move to a club deep in history that is going to grow again". Agbonlahor will be a strike partner to Fernando Torres. Heighway will enjoy nurturing this young starlet into a great player as he has done with so many others.
​
[COLOR=#00e0]---------- Post added at 10:56 PM ---------- Previous post was at 10:55 PM ----------[/COLOR]
By the way anyone reading you should just forget the poll now as I don't know how to change it or take it off. |)
Last edited: