The Secret Footballer: Why battle of Bernabéu sent me to bed cursing
What angered me was the way both sets of players, but particularly Barcelona's, kept hitting the ground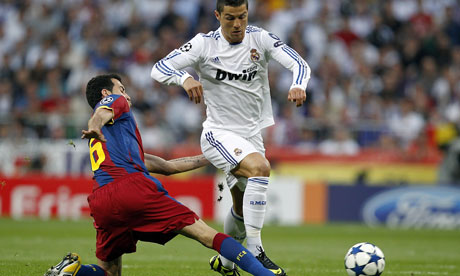 Sergio Busquets of Barcelona, left, deserved the Oscar for his theatrical performance against Cristiano Ronaldo's Real Madrid. Photograph: Angel Martinez/Getty Images​
If there is one constant beginning to emerge after Real Madrid and Barcelona lock horns, it appears to be that for as long as José Mourinho remains in charge at the Bernabéu, the term used to describe the most eagerly awaited fixture in Spain – El Clásico – is becoming at best ironic and at worst a downright lie.
At first glance it appears as if Mourinho is the man to blame for turning a once great game into a huge anticlimax, employing as he has some of the most negative tactics ever seen at Real Madrid and then rambling incoherently about red cards, phantom Catalan power and, most bizarrely of all, the charity Unicef.
I had been looking forward to two giants going toe to toe, which thanks to Madrid's approach was never going to happen. For a football club who pride themselves in having the best attacking players, this would have been hard to swallow. An open letter to Marca, the staunch Madrid paper, penned by the Special One, would have been an easier way to tell the world that Real, despite their spending power, are still light years behind their fiercest rivals.
That is not to say Barcelona played a fair game. Despite all of the above, what angered me intensely was the farcical way in which both sets of players, but particularly those in Barcelona shirts, showed an insatiable appetite to hit the ground like a three-year-old whose mum won't buy him sweets. It ruined the game and sent me to bed cursing what football is fast becoming.
Almost every player had a go at conning the referee. Carles Puyol and Sergio Ramos, who were vital to Spain's World Cup success, squared up with alarming regularity over the most innocuous of tackles. Both goalkeepers raced from their box to the scene of the latest flashpoint to pour fuel on the fire. Even one of the substitute keepers got involved and was sent off. Dani Alves, after a very heartfelt rendition of the dying swan, did for Real Madrid's Pepe, who arguably should have known better than to even breathe near the Brazilian, and Pedro was just as bad. One man, however, stole the show and his simulation and lack of shame were phenomenal. The Oscar went to Sergio Busquets.
I know the Premier League is far from perfect but imagine if we had to watch that nonsense every week. In England I like to think this behaviour remains something of a taboo, not least because our fans wouldn't tolerate it and neither would the players.
We have been blessed with many great foreign players in this country, and some came with reputations for diving, like Jürgen Klinsmann. Yet the way they performed once they were here left me thinking that the only reason their reputation was earned in the first instance is because their cheating was tolerated and even encouraged in the past. England players have, on occasions, been criticised for not being as "streetwise" in tournaments as other nations. Yet what we lack in technical ability we make up for with an unwritten ethical code.
Theo Walcott issued an apology in January after he admitted diving in an FA Cup tie against Leeds United, and a couple of years earlier Wayne Rooney apologised to Sir Alex Ferguson for doing the same in a Manchester United shirt. What chance Pedro, Busquets or Alves saying sorry?
I recall being punished for a foul on a foreign player a couple of years back. His English team-mate wandered over to me while surgery was being performed (there was a lot of spray used), put his hand on my shoulder and said: "You picked the wrong player there, a fly would put him on the floor. He'll be up and running about in a minute." There is a fine line between being streetwise and cheating. For example, a striker running through on goal with a defender in tow is taught to cut across the defender. This does two things: it buys the striker time as the defender has to check his step and it also means that should the defender clip him, the opposition will be left with 10 men and he'll also have the chance to convert the penalty.
That is arguably logical and clever play. Strikers that take the ball around the goalkeeper, over-hit their touch and then decide to take a tumble are cheating but occasionally there is more to this than meets the eye.
I played with a foreign player who was a master at winning free-kicks after minimal contact. Our manager loved him and would say to us: "You all need to be more streetwise like Paolo," which roughly translated meant we "should all cheat more like Paolo".
As far as play-acting is concerned Uefa has never really clarified its position on retrospective punishment but the European governing body is about to introduce new laws on financial fair play. For a player, an English player at that, fair play on the pitch is a more pressing concern.
Obvious sanctions would include banning players who writhe around in agony when cameras prove there was no contact. I would actually like to see a player shown his misdemeanour and be forced to explain it. "So, Sergio, you picked the ball up here, nice turn, and Pepe clearly takes away your legs. Can you just tell the viewers why you're holding your face at this point?"
In the end it was once again left to the greatest player on earth to provide the fireworks and restore a little bit of my faith in the beautiful game. One of his best attributes is that he doesn't dive; he takes the kicks, gets up and gets on with the game.
Cristiano Ronaldo once said that God put him on this earth to play football. We'll have to ask Lionel Messi if he remembers doing that.
Follow the Secret Footballer on Twitter
@TSFguardian