Zorak's Brave New World, 4-2-3-1. Wycombe win Premiership with 101 points.

Before we begin, this is not the tactic that I took Wycombe up through the divisions with, it is merely the tactic I have used for my current season that has brought about my best success in the Premiership so far. I would never use this tactic for Wycombe before I was able to adequately strengthen with quality. That being said, my current Wycombe team is never predicted to finish above third, usually fourth or fifth; and the team that performed so admirably this season had lost the top scorer and two top assisters from the season previous. So, it is not the strongest side I have possessed in the last few seasons, but it is the one that has performed the best, which I believe is the sign of a working strategy.
The Tactic, The Philosophy:

The philosophy of Brave New World is, at its core, is to play football in an adaptive and assertive fashion. It aims to take games by the scruff of the neck and establish leads through quick back-to-front football. Then sit back and invite teams to expand and leave gaps to be exploited.
The adaptive element of BNW is mastered through a number of shouts (that I will detail later) that allow a manager to not just react to tactical threats, but create their own. The assertive side of BNW stems from the emphasis of playing the game in the opponents half, with the Attacking Midfield providing a physical, driving influence through the opposition ranks. This is not a patient, probing exercise in ball retention. BNW encourages and implores adventurous players to force their way between defenders, through skill and physicality in equal parts. To describe it in another fashion, this tactic would take Fellaini, Ronaldo and Hulk over Iniesta, Fabregas and Silva.
Results, Tables, Analysis, Players used, etc.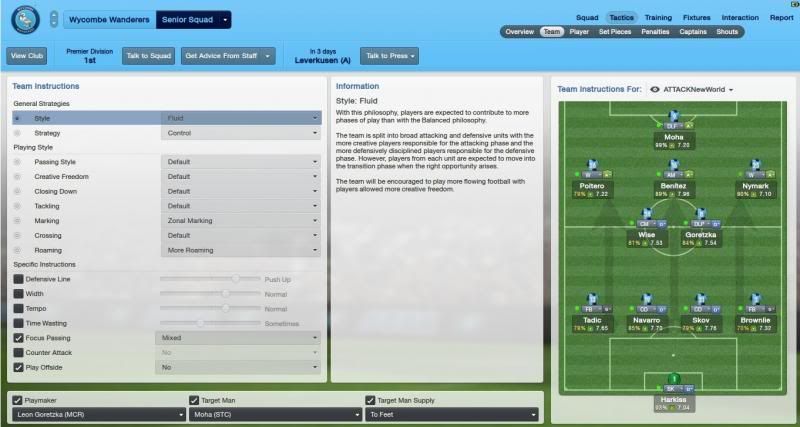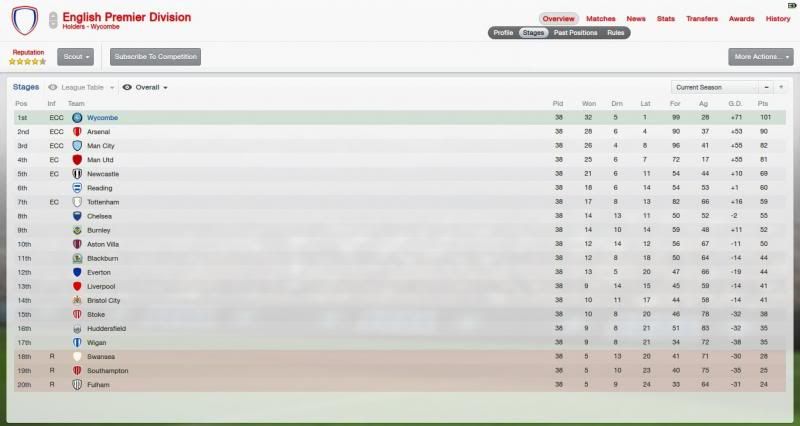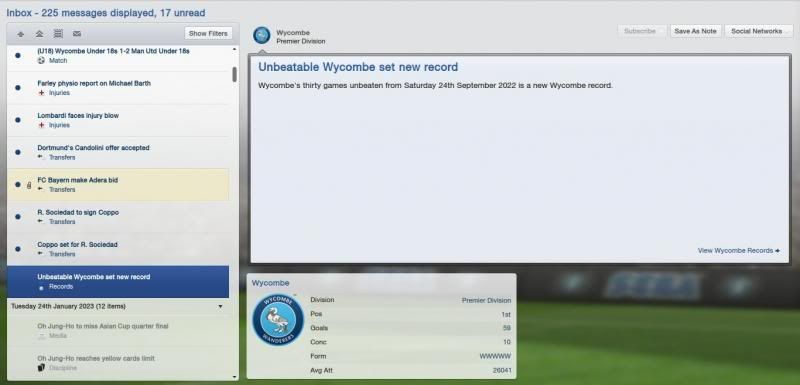 View attachment 352385
View attachment 352398
View attachment 352397
View attachment 352396
View attachment 352395
View attachment 352394
View attachment 352393
View attachment 352392
View attachment 352391
View attachment 352390
View attachment 352389
View attachment 352388
View attachment 352387
View attachment 352386
View attachment 352399
View attachment 352402
View attachment 352401
View attachment 352400
View attachment 352403
View attachment 352404
View attachment 352405
Note here the way play is focused in the opposing half, no faffing about in our own half.
Shouts: (SET THESE UP AND USE THEM, THIS TACTIC HAS MANY OPTIONS LEFT UNTICKED TO MAXIMISE THE EFFECT OF MULTIPLE SHOUTS)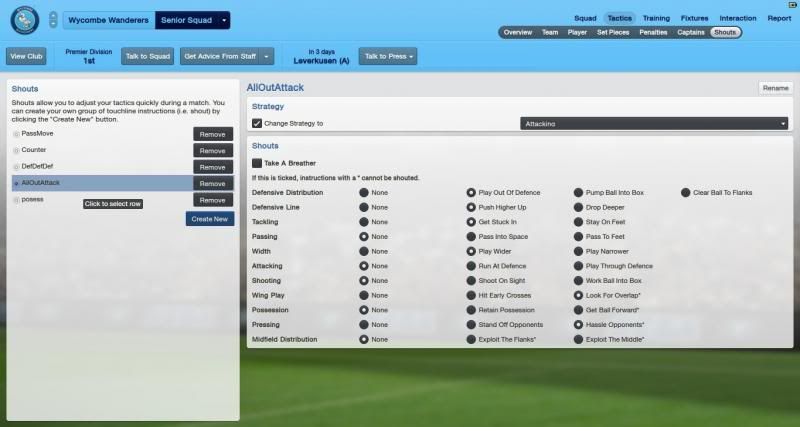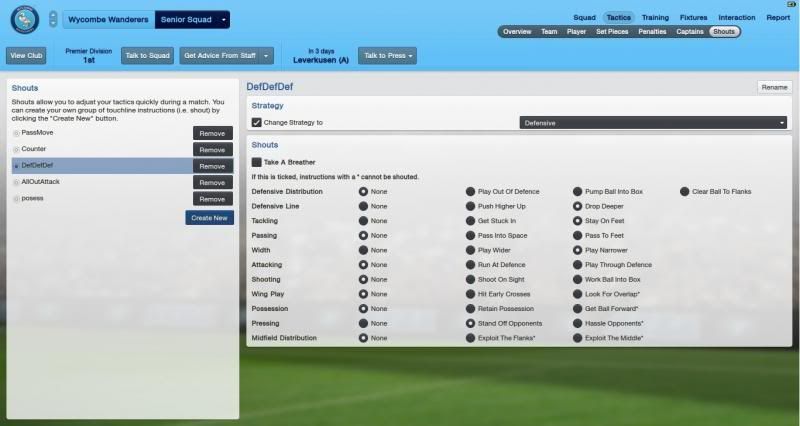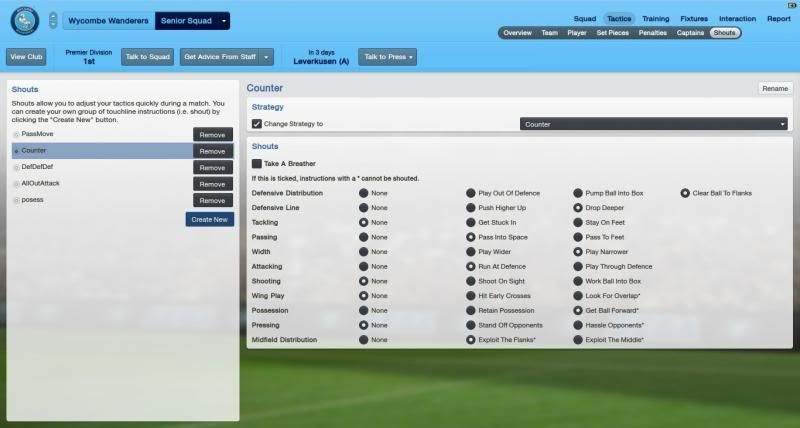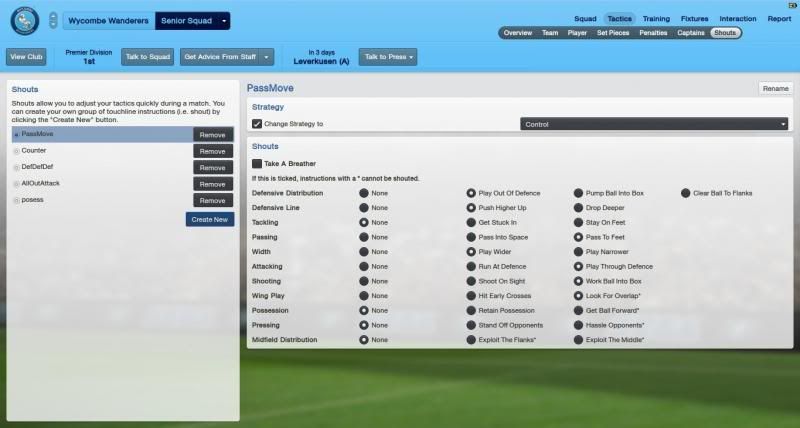 The shouts are setup to control and react to games and what unfolds.
Possess
is a possession based collection of shouts that will conserve energy and encourage ball retention in the name of defence, not attack.
AlloutAttack
will push the whole team further forward, widen the play, quicken the tempo and encourage more freedom. Will turn an already positive tactic into an almost foolhardy one. But goals are almost inevitable when using this.
DefDefDef
is the opposite. The team will drop way back and stop pressing and try and keep shape. Actually a very good shout to use to ride out storms or lull opposition.
Counter
will drop the team deeper, but aim to get the ball up the field quicker using the flanks and the pace of the attacking midfielders to advantage. Will catch all teams out.
PassMove
encourages an expansive passing approach to breaking opposition down, if you find in a game passing is proving more effective than dribbling.



Recommended player types:


Goalkeeper:
A sweeper keeper would be nice, but any solid keeper should do.

Full-backs
: Defensively solid, adequate in supporting attacks. Usually full-backs are the most important element of my strategies, but not here.
Primary stats: Positioning, tackling, Marking, teamwork
Secondary stats: crossing, passing, heading, jumping, stamina, pace\acceleration, Dribbling
PPM's: Any personal preference. I have had great success using a right footed left back and vice versa with "Cut Inside"
Elite example: Ivanovic, Zabaleta
Budget example: Courtney Meppen-Walters, Marnick Vermijl

Centre-backs:
No ball players here needed, they should be good all-rounders, or excel in a few areas.
Primary stats: Positioning, tackling, marking, heading, jumping, concentration
Secondary stats: teamwork, composure, anticipation, acceleration
PPM'S: Stays on feet, marks opponents tightly.
Elite example: Kompany, Nastajic, Vidic plenty to choose from
Lower –league example: Gary Doherty, Nicolo Cherubin

CM-Def:
The ball winner.
Primary stats: tackling, aggression, marking, positioning, anticipation, pace\acceleration
Secondary stats: passing, teamwork, stamina, strength
PPM's: Stays on feet, marks opponents tightly, plays short simple passes (if they're not great passer)
Elite example: M'vila
Lower –league example: Jason Lowe, Matt Spring, Matt Bloomfield, Stuart Lewis

DLP:
The deepest member of the midfield, pulling springs and spraying passes while offering defensive solidarity
Primary stats: passing, creativity, positioning, teamwork
Secondary stats: composure, first touch, tackling, marking
PPM's: Comes deep to get ball, Dictates tempo, tries killer balls, tries long range passes
Elite example: Alonso
Lower –league example: Jurgen Prutsch, Raphael Holzhauser

Wingers L&R:
Not out and out wingers in the traditional sense, but more like attacking midfielders, moving into channels and beyond the front man, they will both drive at the defence towards goal and towards the byline to cross.
Primary stats: dribbling, acceleration/pace, passing, finishing, composure
Secondary stats: strength, crossing, creativity, flair, off the ball
PPM's: Moves into channels, gets forward
Elite example: Hulk, Bale
Lower –league example: Shaun Batt, Joel Grant

Attacking Midfield:
This is the main man of the tactic. He should be your best player. He will score goals using a direct approach. No diminutive intelligent playmakers here. This guy is just fast, powerful and a dribbling machine, any more is a bonus.
Primary stats: dribbling, acceleration/pace, passing, finishing, composure, flair
Secondary stats: strength , creativity, off the ball
PPM's: Runs with ball through centre, gets forward, arrives late, knocks ball past opponent
Elite example: Bale, Goetze, Wilshere
Lower –league example: Ross Barkley
Striker:
I use a DLP on attack, but have alternated between Poacher and advanced forward too, doesn't seem to make too much difference. So any good forward should do. I used a decidedly average front man this season (2.5 stars) and he scored 20 league goals.

Final words and advice:

Set up the shouts as I have suggested, I generally use my Counter shouts after going 2 goals ahead, and against strong opposition I might use it from the start. Possess will attempt to choke the life out of the game by playing safe and holding onto the ball, a good tactic to see out games in a more measured fashion. The important part to using these shouts is sensing when to use them, sometimes you can tell from the way play is going whether it's worth adopting a different approach for 15 minutes to ride out some pressure. Sometimes the best defence isn't using Counter or DefDefDef, but getting on the front foot and forcing the game back in your favour.