THIS IS NOT MY TACTIC, ITS FROM PRUTTON (FMARENA)
]
This is Blue 3.0, a high intensity tactic that I have been using with great success. Other people have also tried it and confirmed the efficiency, consistently delivering good results with very entertaining football, from semi-professional teams to the crowd favorites. Without further ado, here is the tactic.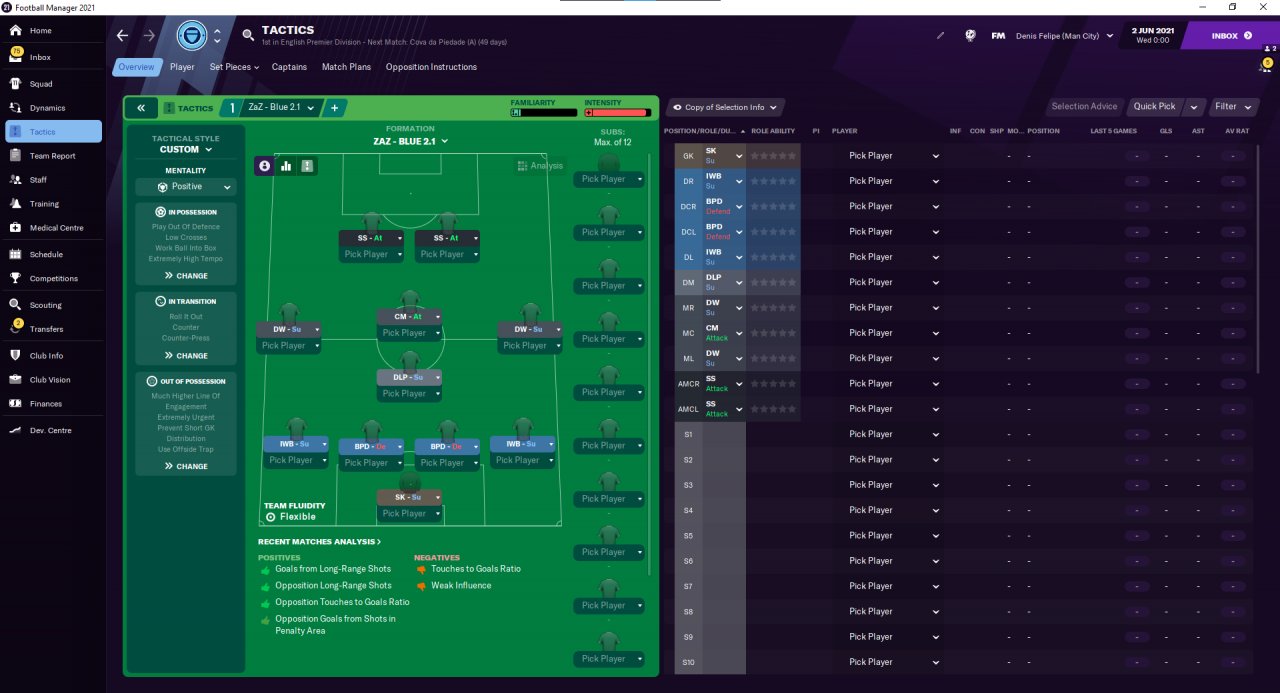 The formation is a 4-4-2 with Shadow Strikers instead of conventional forwards. When in possession, the Inverted Wing Backs become midfielders and the Central Midfielder becomes an attacker, working effectively as a 2-5-3. The Central Midfielder and Shadow Strikers score the majority of goals, while the assists are evenly distributed among all players, mainly using through balls to the center.
For player instructions, all player have Get Further Forward, Dribble More, Shoot Less Often, Take More Risks and Tackle Harder (except goalkeeper), when available. Other than that, Ball Playing Defenders get Stay Wider, Central Midfield gets Move Into Channels and Defensive Wingers get Cross From Byline.
There are no opponent instructions or set piece takers, and wingers should have the same foot as their side. Feel free to change DW for W or DLP to DM if it fits your taste, since it makes little difference as long as you keep the player instructions.
Main attributes for players are Pace and Acceleration. Agility and Dribbling come next in importance. More information in the link below.
Here are the results of a holiday test with Manchester City and Fulham, predicted 1st and 20th respectively. Manchester City also won the UCL. The stats of Best XI (picked by assistant manager) and performance analysis are also below.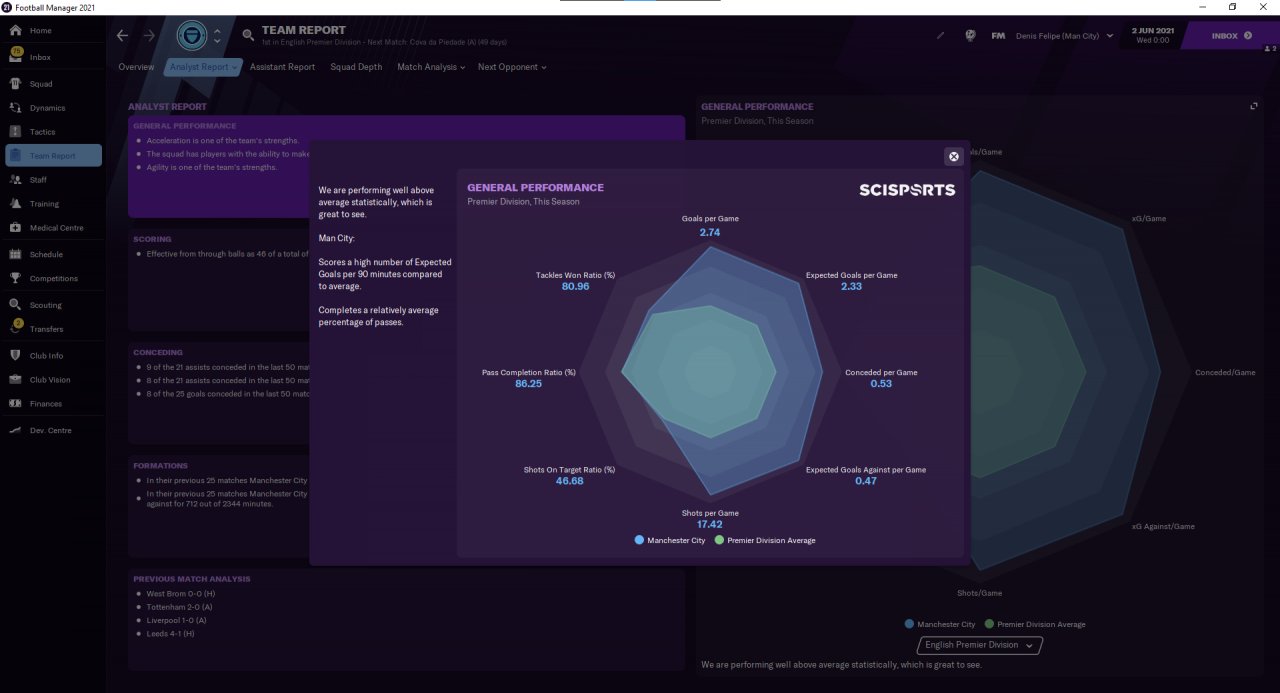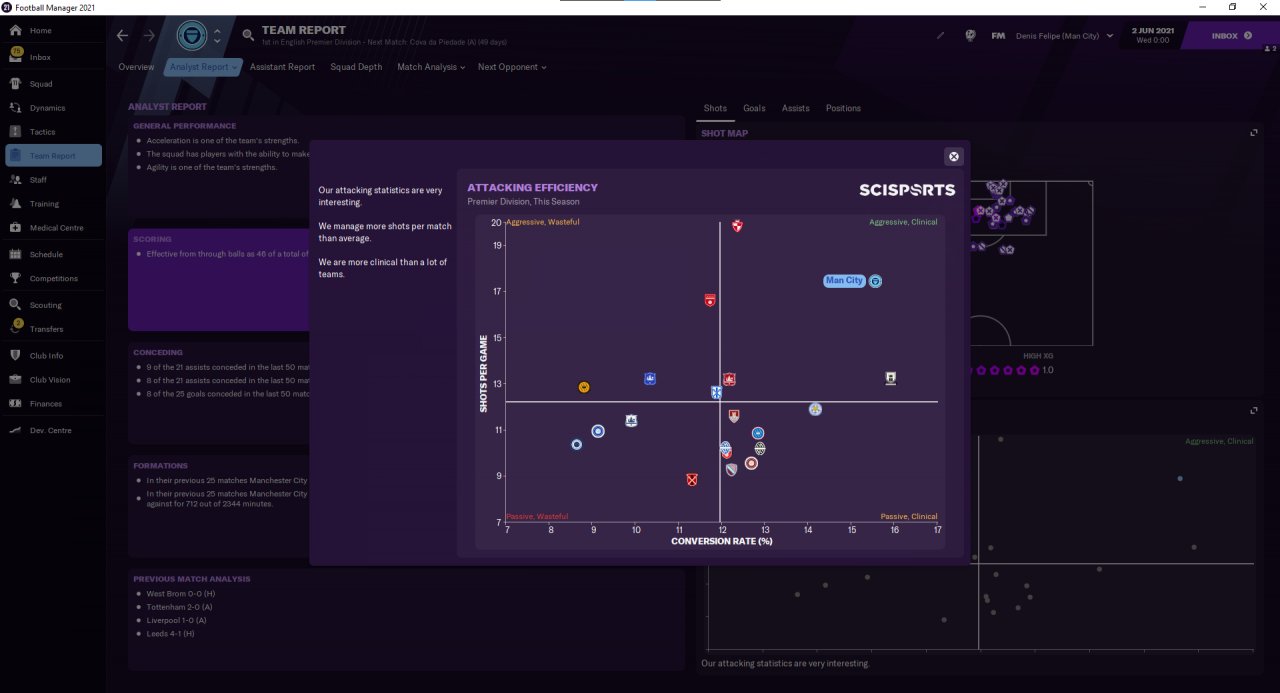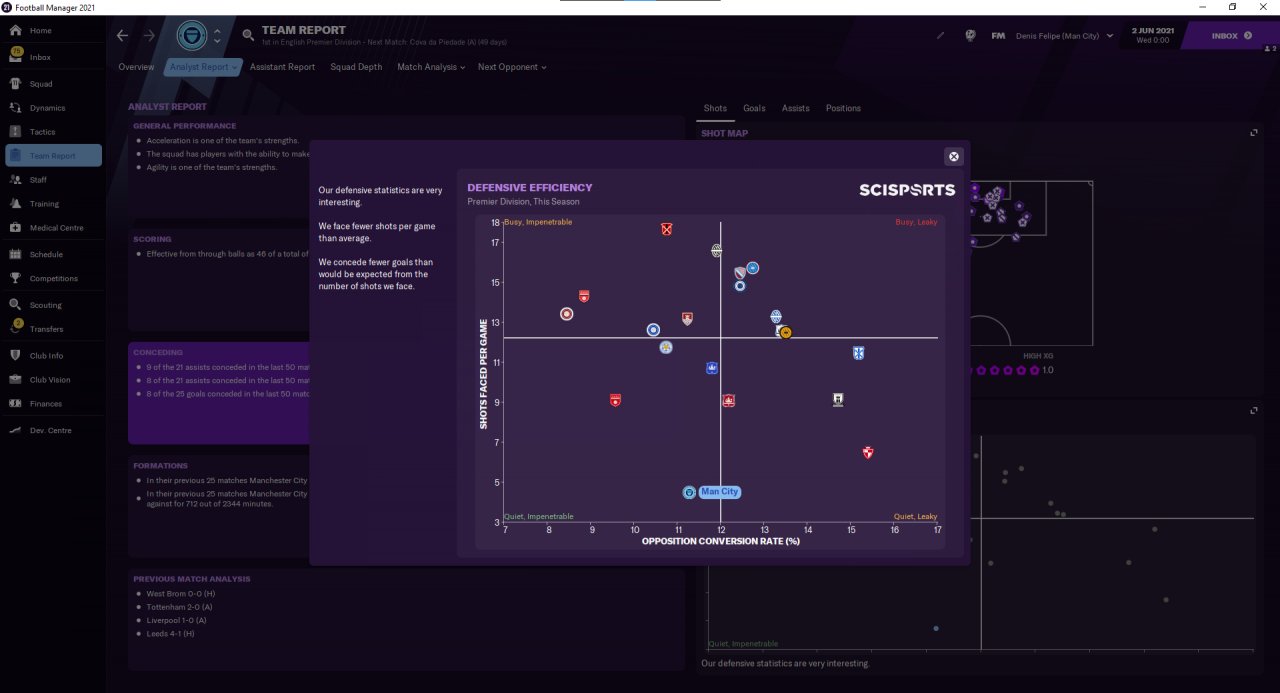 My training schedules are available below. You are not required to use them, but I put them there because people were asking about. These schedules consider two matches per week, at wednesday and saturday. Move training sessions if your match days are different. If there aren't two official matches to play in a week, I always add a friendly match to get some extra income and match sharpness. Feel free add something else instead of a friendly if you want to rest and train players instead.
Below are the set pieces, for those on consoles:
Changes
V2.1
- Improved set pieces
V2.2
- Added Use Tighter Marking
V3.0
- Removed Use Tighter Marking
Leave a comment below if you liked the tactic and make sure to share your results. Enjoy!
- Use
Light Blue 3.0
when you have a comfortable lead. It's a tactic developed to concede less goals, receive less cards and save some energy, at the cost of less scoring opportunities.
- If your only objective is to concede less goals, then change the mentality of Blue 3.0 to cautious, so it doesn't decrease your chance of winning.
- Use
Dark Blue 3.0
when you are desperate for goals. It's Blue 3.0 with very attacking mentality.
[/quote]