At the close of what was heralded as Fulham's "best transfer window" in the club's history and transformative summer. Owner Justin Casanova-Davis held court with reporters on a wide range of issues at the club's newly revamped stadium.


STADIUM & INVESTMENT IN THE CLUB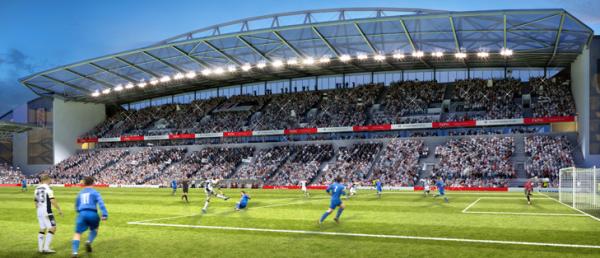 "I am absolutely thrilled to be sitting in this newly revamped stadium. When I took over this club, I promised to rebuild it from the ground up. During my time here, we have invested tens of millions of dollars into stadium revitalization, our training facilities, and junior coaching. It represents my commitment to Fulham and aspiration to bring long-lasting success to the club. We're sitting in a brand new section of the stadium that will now bring our capacity to 30,700. Most exciting of all is that we have received council approval for our plans for further Craven Cottage expansion. We are ushering in a new day for the community, Fulham, and Craven Cottage. As long as the support remains and our wonderful fans continue to support our club. We hope to add up to 3 new sections to the stadium and raise our capacity to over 45,000!"
​
MANAGER


In regards to the hiring of Mauricio Pochettino as Fulham's new manager.
​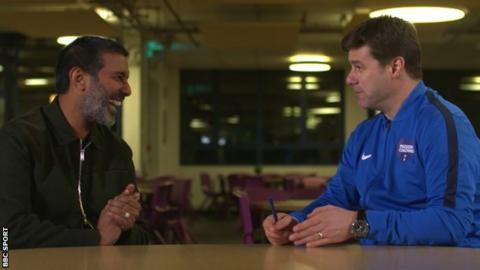 Mauricio Pochettino


"Look, I believe it is never easy to move on from a manager — especially someone like Thierry Henry who emulates class. I want to sincerely thank him for all that he has done for the club and fans. I know he will soon be on the sidelines again and any club would be lucky to have him. However, not every day do you have the opportunity to hire a world-class manager that so many clubs were interested in hiring. Mauricio has seen and done it all and most importantly has had Premier League success. After meeting with him, we quickly realized that our values aligned and this would be a mutually beneficial situation. We were able to agree to terms quickly, and I can't express how excited I am. I just felt like this was too good of an opportunity to pass up. The optimism around the club is just sky-high. With him at the helm, I believe anything is possible. Our ambitions have changed, and that is what I wanted in my manager. I don't believe we should be a squad that is fighting to survive or hoping to have a mid-table finish. We're going for the very top, and with Mauricio as our manager, I believe it is attainable."
​
TRANSFERS & SQUAD DEVELOPMENT​
"I'm obviously biased, but in my opinion, this is the best transfer window that Fulham have had in their history, and it has just opened. We have been calculated and precise in our targets, and we were able to get every single player that we targeted initially. We have secured some key acquisitions that will add depth to our squad and bring competition for places.

LOAN – Cristian Moral – Barcelona
Cristian came to us via Barcelona and was our primary loan target. Mauricio and I believe we needed some creative talent from our midfield and felt that was lacking a bit in the squad last year. We believe Cristian will partner well with Bernd in our midfield and help unleash the attacking prowess that we have within the team. His Barcelona roots and passing creativity will be an essential element this year.
LOAN – Abdelkader Mokrani – Man City
Abdelkader is a pacy striker that can play anywhere upfront. I felt we needed him to shore up any holes in our attacking front 3. I like that we're going to have a very tough battle to see who will emerge as our starting striker. Last year we couldn't buy a goal. This year there is a lot of optimism about the attacking element of the squad, and Abdel will surely help us bag more goals this season.

Transfer – Erik Siano – Juventus - £4.5mil - £690
What can you say about this lad? He is only 16 years old and is joining us from a club that did not want to give him up. It was a battle for his services amongst a few clubs like Southampton and Leicester for example. But, I believe our discussion with Erik about how we plan on developing him convinced him to buy into what we are doing here. I think Erik will turn into a world-class player and I can't wait to see what he brings to the squad. His signing addresses our concerns about our midfield dynamic capability and vision and gives us a long-term solution in that part of the field. He may very well be the best signing we make in this window.

Transfer – Mikhail Zaitsev – CSKA Moscow - £3mil - £30.75k
Mikhail is a tough young lad that we hope can challenge for a spot in our back four. Undoubtedly our defensive line remains a concern of ours. I expect that we will see further signings here and hopefully Mauricio can identify a target that can step right in. Mikhail may be more of a long-term project. But within this squad, if he trains and competes, he could step into the starting lineup very early on.

Transfer – Natie Sidibe – Espanyol - £3mil - £10.8k
I wanted to get a young, dynamic RB to line up across from our star LB. These two will bomb up and down the field and will cause fits for other clubs. Natie is someone that we have been monitoring for a while and felt like it was the right time to pull the trigger on a deal for him. We may end up having the best wingbacks in football in a matter of years. Natie will likely get opportunities to start early on and hopefully develops into the star that we believe he can be.
C2C – Cardo Ndongala – Everton - £100k - £24k
Cardo comes to us from Everton. Pledgey and I have a good working relationship, and we were able to complete a deal right at the opening of the window. Cardo is a very technical midfielder that further reinforces what was a weak area of the squad last year. I am intrigued to see what he brings and whether Mauricio can further develop him.
EXP – Jose Gaya – Arsenal - £30k
Jose will provide cover at our LB position. Something I wanted to see the club push on with was squad depth and competition. If one of our star players were injured last year, there was no one prepared to step in. Jose comes to us from Arsenal and has plenty of experience and capability. He's going to fight for minutes, and that will help our squad get better.

Richarlison – PSG
It's great to welcome him to the squad finally. We agreed to a deal in the winter window, and now he is a member of the team. His addition will bring some flair and creativity to a squad that lacked it last year. I hope he can win some points on his own. An area where we bereft of talent in the previous year is now full of talented players that can bag us some goals.
"I am pleased with what we have brought in so far. Mauricio and I will work very closely to add some more talent to the team. We need to add a couple more starting-caliber CB's for us to be truly competitive this year. We'll be on the lookout for the right deals and the right players that can help us achieve our ambitions this year.
This is going to be an exciting season!"
​