Member
Joined

Dec 25, 2010
Messages

211
Reaction score

0
Points

0
My first thread by the way.
And sorry for my bad english.
I'm just want to share my tactic and hopefully get some advice & feedback about this tactic.
This tactic is not 'Plug and Play', that mean you need re-tweak to make better adopted in your team.
Okay here we go.
My main target as this tactic created
:
1. Give some balance between Attack and Defence. So the result maybe just gap 1-2 goals different.
2. No Long Shot Allowed. I think Long Shot just wasted time.
3. More efficient if created chance to one-on-one with the keeper a.k.a CCC. Preffered with through ball.
4. Incredible Style of Play and Consistency performance.
FORMATION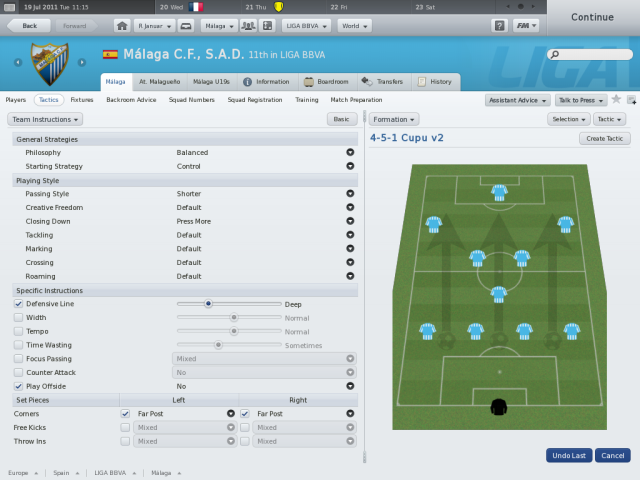 Remember, just Keep It Simple, Stupid! KISS!
Specific Role :
GoalKeeper
: Generally GK attribute. Reflexes, One on One, Agility, Jumping.
Fullback
: If you have pacey player in this section, maybe you can more pushing up the defensive line.
Centreback
: Make two model from centre back. First, Towering Defender (Height, strenght, jumping, header, etc). Second, Stylish CB (Agility, Decision, Anticipation, Pace, etc). Exp, Vidic-Ferdinand, Pique-Puyol etc.
Def. Midfielder
: As link between Defender-Midfielder. Simple Short Passing.
Adv. Playmaker Support (Primary Playmaker
) : Speed not needed. Passing, First Touch, Creativity, etc. Xavi style.
Adv. Playmaker Attack
: More speedy, Agility, Dribbing. Iniesta style.
Inside Forward (Left-Right
) : You absolutely need good dribbler-man on this slot.
Deep-lying Forward
: Fast to break ofside trap, off the ball, finisher.
LEAGUE TABLE (1ST SEASON)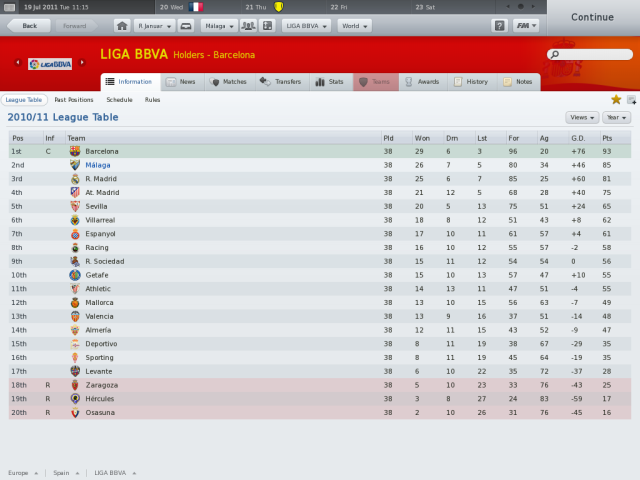 FULL FIXTURES
CURRENT TABLE (2ND SEASON)
SQUAD UNTIL 2ND SEASON

TRANSFER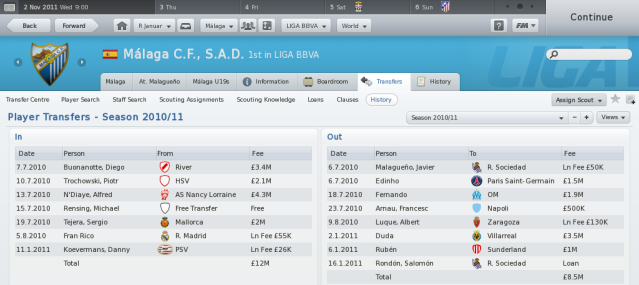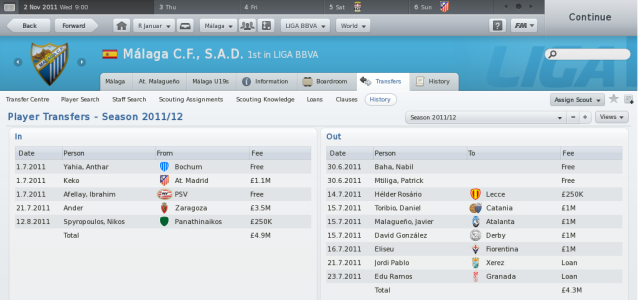 DOWNLOAD TACTIC :
MIRROR MEDIAFIRE :
http://www.fm-base.co.uk/forum/downloads.php?do=file&id=4575
http://www.mediafire.com/?fq8uf22ndfrk172
---------- Post added at 04:12 PM ---------- Previous post was at 04:09 PM ----------
CORNER SET PIECE
1. Put your
Best Header
player on
Attack Far Post
2. Put your
Strength
Player on
Challenge Goalkeeper
3. Set Team Set Piece at
Corner
section to
Far Post
Right & Left
4. Choose your best
Corner
attribute to take the corner kick
OPPOSITION INSTRUCTIONS
1. Striker : Pacey, High Flair, Tehnique
==> Tight Marking Always Only, (Weaker Foot Optional).
Strong, Good Header Ability, Slow
==> Tight Marking Always, Closing Down Always, Weaker Foot, (Hard tackling Optional)
2. Winger : Pacey, Dribbler
==> Tight Marking Always, Weaker Foot.
Good Long Shot
==> Plus Closing Down Always.
3. Midfielder : Playmaker Style
==> Tight Marking Always, Closing Down Always, Weaker Foot.
Deep-lying/Defensive Mid./Anchorman
==> Closing Down Always, Weaker Foot, (Hard Tackling Optional)
4. Defender : Ball Playing Def.
==> (Weaker Foot Optional)
MATCH PREPERATION
Set your primary tactic (just set 1 tactic as primary from 3 tactic field), set to Very High Workload. And focus on Team Blend. Do this until your pre-season end. Probably until 2 weeks to your first competitive match. And after that set back Workload to Normal. And focus to Attacking Movement.
For pitch I'm not really sure. Normal maybe.
Some Feedback This Tactic from My Thread in SIForum

WTF?!
i love this tactic!!
i downloaded and tested the mst rated tactic in this forum, but now, for me, this is the N°1!

i use Milan (yes, top team, and bla bla bla...i know...), and the style is so beautiful.

mtch prep: assistant
oi: assistant
oitch size: maximum

good job mate.
THIS TACTIC HAS BEEN FANTASTIC SO FAR!

I am with Sevilla!

I have two serious injuries: two CM's!!!

Spanish Cup: vs Barcelona at home: 1-2 ( this is my one defeat but it was first match), away won 1-0
League:5 matches 5 won 16-1,
CL qual: 2 won against Braga,
CL: won 3-1 at home vs Tottenham,

I HIGHLY RECOMMEND IT TO EVERYONE!!!
I'm really surprised not a lot of people discussing or giving credit to this tactic as compared to others even though this is ONE OF THE BEST TACTICS I've used for FM11..
This is the best tactic i have tried .

Well done mate

Any positive feedback would be appreciate.

Enjoy.



​
Last edited: