Dec 18, 2011
663
180
43
30
"Tranmere will never be able to compete with Liverpool and Everton. They're like big liners like the Queen Mary, but I see Tranmere as a Deadly Submarine" - Johnny King (Tranmere legend)
*Sorry for the lack of midseason update - I forgot to make a midseason save file!
2019/20 Season
What an incredible season! We are on our way to the Championship! We tried our best to bottle it with some inconsistent form in the second half of the season but we ended up going up as champions as the other teams faltered. Sunderland and Wigan gave it a good go though. Considering I was only expecting us to maybe push for the playoffs, this was an incredible season.
In the cups, we disappointed. We were knocked out of the FA Cup in the 3rd round by Scunthorpe and by Sheffield United in the 3rd round of the Carabao Cup. Both of those are in our league so to get knocked out by them was a big disappointment. It feels so much better when you get beaten by a higher league opposition. In the Checkatrade Trophy, we fared a little better. We reached the Northern Section Quarter Final, which was above my expectations, given that we weren't prioritising the trophy.
We only made one signing during the course of the season with Wayne Rooney coming in on a free transfer in November. I felt like the team could benefit from his experience and his versatility over the course of the season. Jimmy Dunne and Joe Fryer moved on during January. Dunne joined Lincoln for 18.25k and Joe Fryer joined Exeter for 3.4k. Both of them didn't really play so I wanted to cash in before their contracts ran out.
Speaking of contracts, I tried my best to get Denny Johnstone to sign a new deal as he was our top scorer up until January, but he flat out refused. Then I got this in my inbox.
What a ****** kick in the teeth that is. Of course me being me I relegated him straight to the youth team and he was never seen in the Tranmere shirt again. I'm not bitter......much. The blow of losing Denny was softened a little bit when my youth intake came in and this little gem popped up.
This guy looks like he's going to be a quality player and along with Alexander Eggert, we now have two potential first team strikers.


Matches Played
- 46
Goals Scored
- 108
Goals Conceded
- 62
Yellow Cards
- 61
Red Cards
- 5
Average Attendance
- 12,044
Top Goalscorer
- Kieffer Moore - 30
Highest Average Rating
- Denny Johnstone - 7.41
Most Assists
- Kieffer Moore - 15
Best Pass Completion
- Chris Dawson - 80%
Most POM's
- Denny Johnstone - 7
Most Yellow Cards
- Will Packwood and Connor Wood - 11
Most Red Cards
- Connor Roberts - 2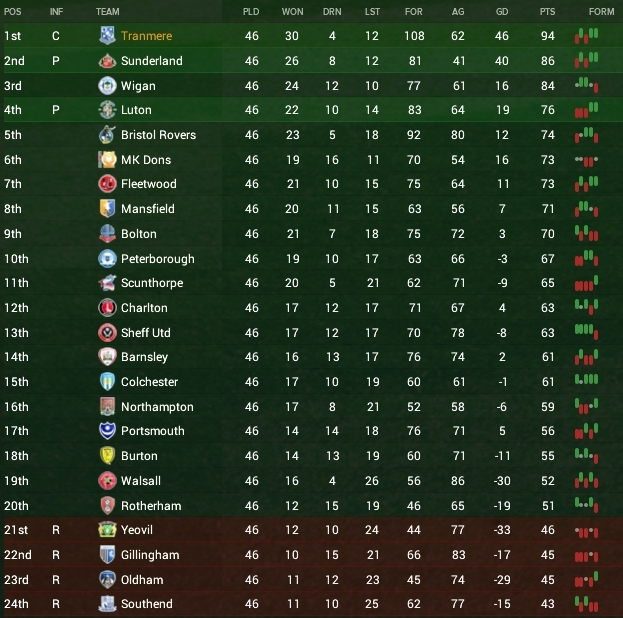 We had a pretty good season in terms of injuries so a lot of credit has to go to the medical staff. The most concerning injury was losing Connor Roberts for a month as he's been one of the first names on the teamsheet this season. Losing Wayne Rooney was also a bit annoying but I've been deploying him as a backup player so it didn't really have much of an effect.

John Warrington
Manager of the Month x2
Denny Johnstone
Player of the Month x1