Jose Mourinho says he did not attend January's Ballon d'Or ceremony as the vote had been fixed to allow Spain manager Vicente Del Bosque win the 2012 Coach of the Year award.


At the time, although one of the three nominees for the award, Mourinho said he did not travel to Zurich as he was preparing for his club's Copa del Rey second leg against Celta Vigo, which Madrid won 4-0 two days later. Spanish paper AS then published photos of the Portuguese watching his son's team play at the same time as the awards were being handed out.


Mourinho said in an interview with Portuguese TV station RTP aired on Tuesday night that his real reason for staying away from the FIFA ceremony was that he had been told by a number of people that their votes for him had been changed - presumably in favour of Del Bosque.


"One, two or three people called me to tell me they had voted for me, but another person's name had appeared in their votes," Mourinho said. "[So] I decided not to go. I am accusing FIFA of irregularities in the choice of the best coach in the world. There was a lack of transparency. FIFA knows about these irregularities, it knows they existed, and it did not avoid them."


Del Bosque won the 2012 award with 34.51% of the 505 votes cast by international managers, players and journalists, ahead of 20.49% for Mourinho, and 12.91% for former Barcelona and future Bayern Munich coach Josep Guardiola. RTP reportedly checked the accusation of irregularities with FIFA, and the governing body maintained the vote had been above aboard.


In a statement, it said: "FIFA confirms that the list of votes published on FIFA.com is accurate."
http://espnfc.com/news/story/_/id/1381794/jose-mourinho:-fifa-coach-of-year-award-was-fixed?cc=4716
During the time of the awards there were rumors that players who voted for Ronaldo was changed to Messi. It didn't gather any pace. Now Jose said it and recently Pandev said he voted for Jose but his vote was changed to Del Bosque.
Also,
Tancredi Palmeri
A possible huge twist in the Pandev-Fifa case:here a comparison between his signature(left)and the one under his vote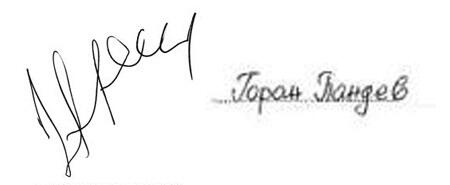 So: if that fax Fifa showed is true,and if the signatures are different,have the Macedonia FA faked the vote? And if yes, why? Who asked?
If true, really pathetic. Changing votes to elect winner.