2nd January 2017
4th October 2016, the offer came. Not from a team as high as desired, but one that seemed useful to try make one step: MK Dons, laying in nineteenth position when originally tipped to reach promotion play offs of League One. And a chance to learn English.
The board doesn't look very rational, as they still want for a top half finish, when keeping in the division comfortably is all that can be asked at this point.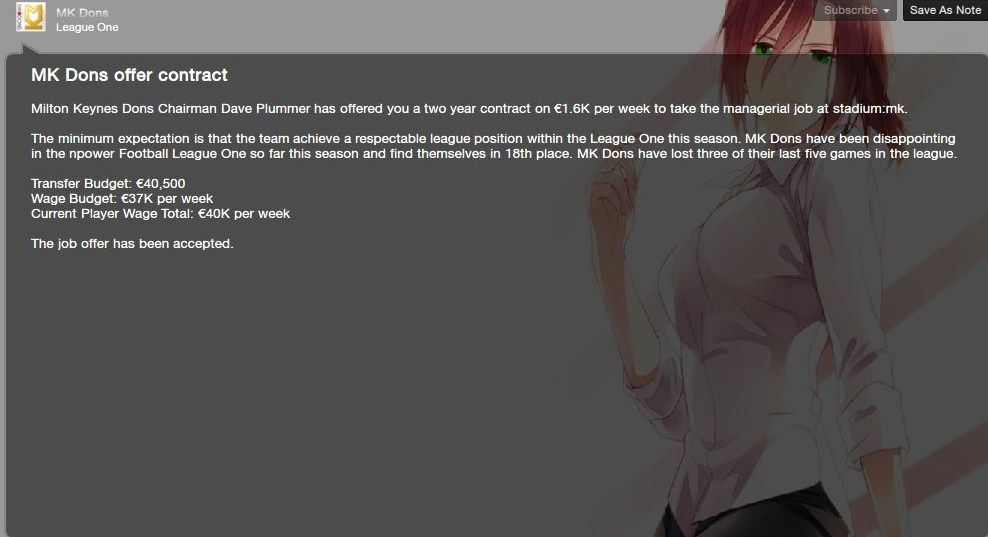 The squad looked pretty decent for the league and should be enough to avoid relegation comfortably; but there would be a big task ahead considering the low morale across the board. To make things worse, the starting goalie was out for some weeks through injury, forcing Schmied to play with not so good Cropper. Very few goals scored.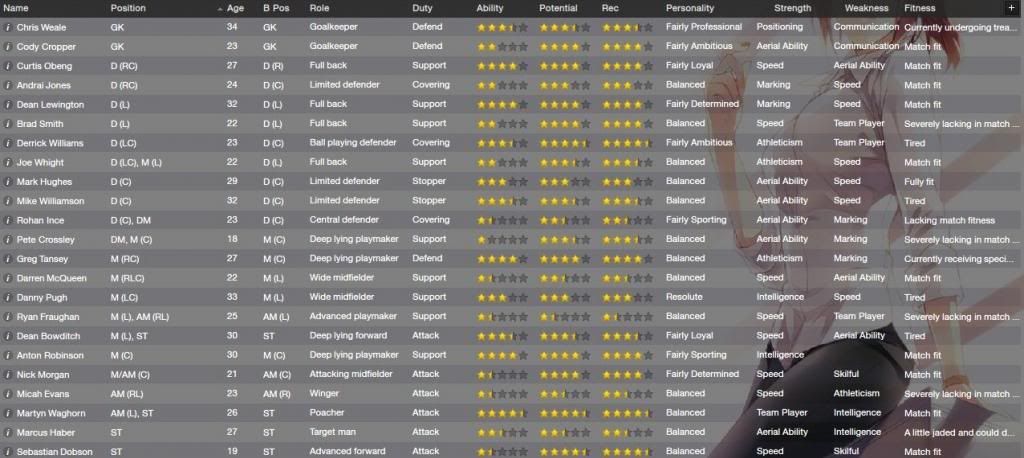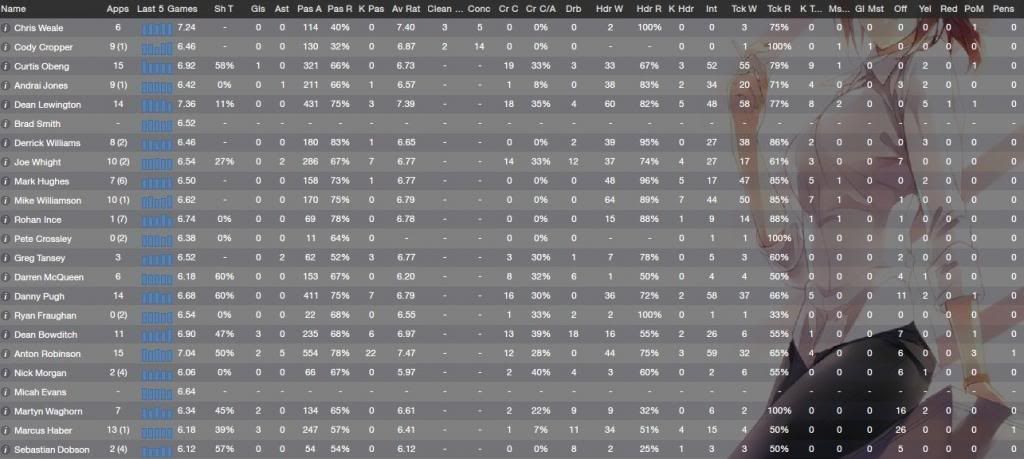 Stats at Schmied's arrival, 4-10-2016
And indeed, the start wasn't easy. Tweaking the tactics until finding the right settings, it took seven games to get the first win, with a balance of two draws and four defeats in the six games before. Since then, the team has scored an overall 6-6-3 in wins-draws-losses, in the league 6-3-3, with the best match being probably the last, where MK Dons dominated second placed Tranmere, though failed to score for the win. Those results have brought the team back to nineteenth position and given her the third place in December's manager of the month award. However, the board isn't as pleased as one think they should considering how the team was when Schmied took its helm and the injury crises, that has made the team play three games without the first choice centrebacks and the last two with only one of them.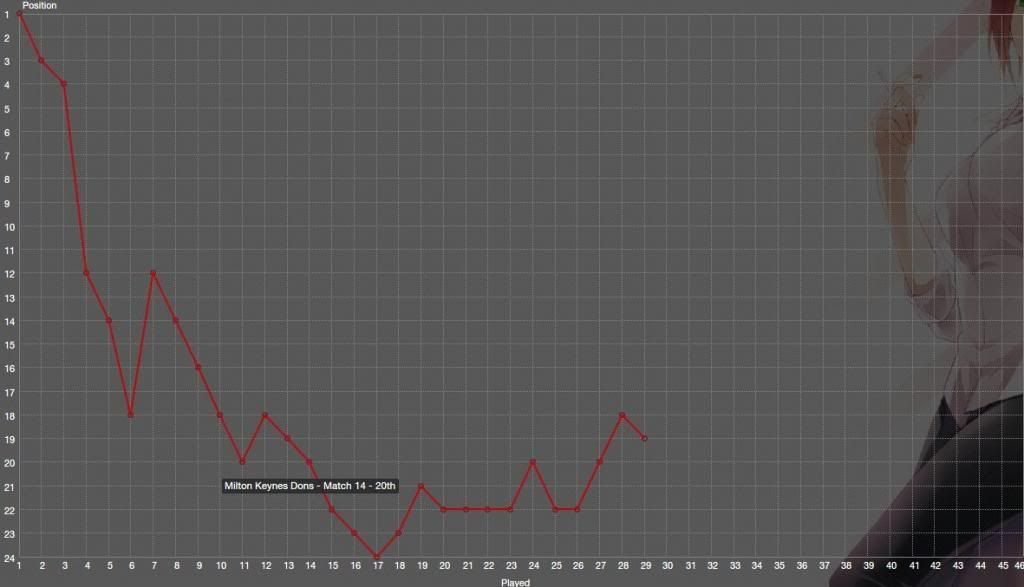 With the goals starting to flow and the defensive setup finally working as it should, there's no reason to fear what's to come in the remainder of the season. Surely the results will keep coming well enough to retain the position and hopefully increase Aurora's renown. There is one big cause of anxiety, though, that is the state of the finances, that prevents any transfer deal during the window, unless it's through the sale of important members of the team. That is worrisome, moreso because the situation is expected to get worse.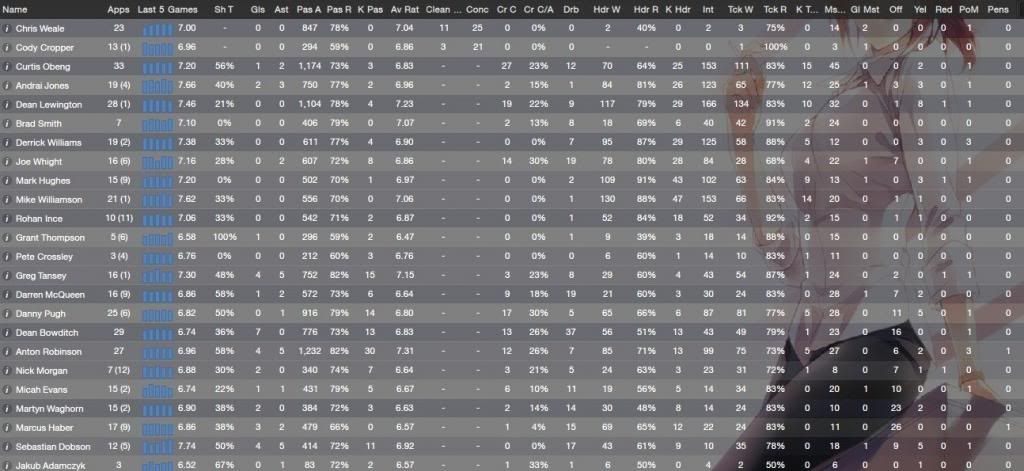 Just one injury at the moment, to a player who's important just because he's practically the only acceptable player for the right wing of the 4-5-1 formation used (V midfield, classic style).
On personal notes, Schmied has begun to speak English, though still in basic level.

____________________________________
Got to check how to set Photobucket again not to scale down my images