This is one of two stories I will be running in this version and is a special one in the ways I will be playing it.
I'm making a woman because I've been curious whether machism exists within the game or not, though my bet is in not, I think it would be good to see it (let's keep it out of reality and confined to fiction!).
I had a small peek with the beta to see what teams available would hire so I'd start in a low team that was a believable start.
But now to the point that makes it special: Knowing stats is something that would come with time working with the players, so the only way I'm looking at somebody stats is if they've played with my team enough time to make an estimation myself of what I expect them to be or in case of players to buy, if I go to watch enough games to do that... but then when the player has been signed.
Signings, selection and all that will be, in the meantime, done by scout/coach reports.
I start with having no other responsability than team selection and tactical direction of the team, with the ability to point to the director of football my interests or lack thereof about players. If I get enough success, some responsabilities may be taken into my hands, but it must be earned.
*******************************************************************************************
Aurora Schmied is a Belgian girl who's just got her manager certificate and is looking for a team.
She has applied to several teams, defying the looks of disbelief at sending her curriculum to even a Portuguese's second division team.
Two teams approach her: a professional team from England and one local amateur.
I don't speak English and I wouldn't be respected in a professional club, while Bleid-Molenbeek is only two divisions below top instead of four or five. English team?. I don't know, once I decided I threw the English letter away, it's absolutely meaningless. And I still have my regular job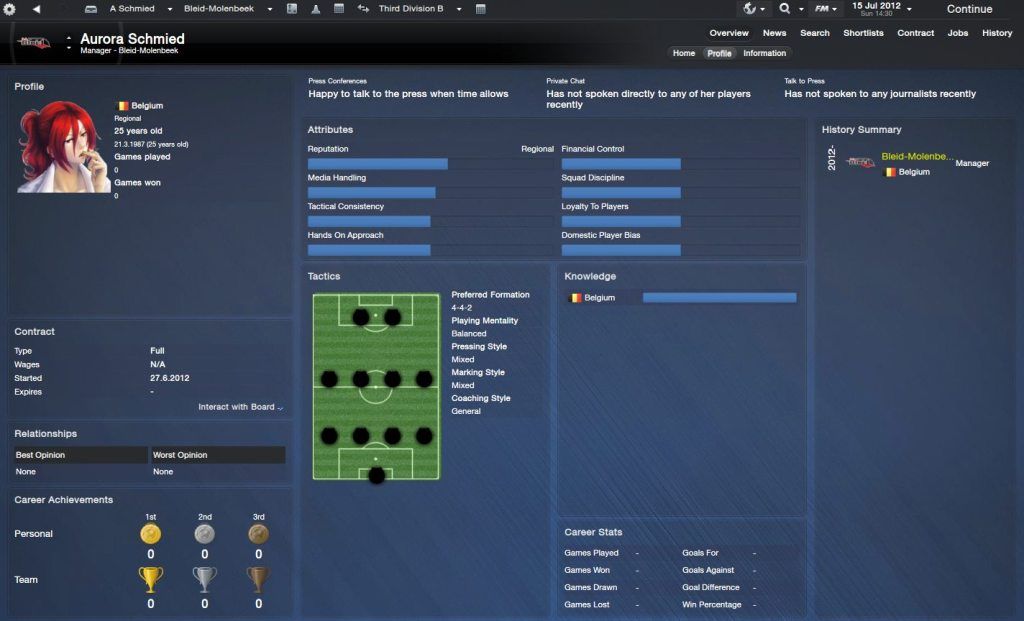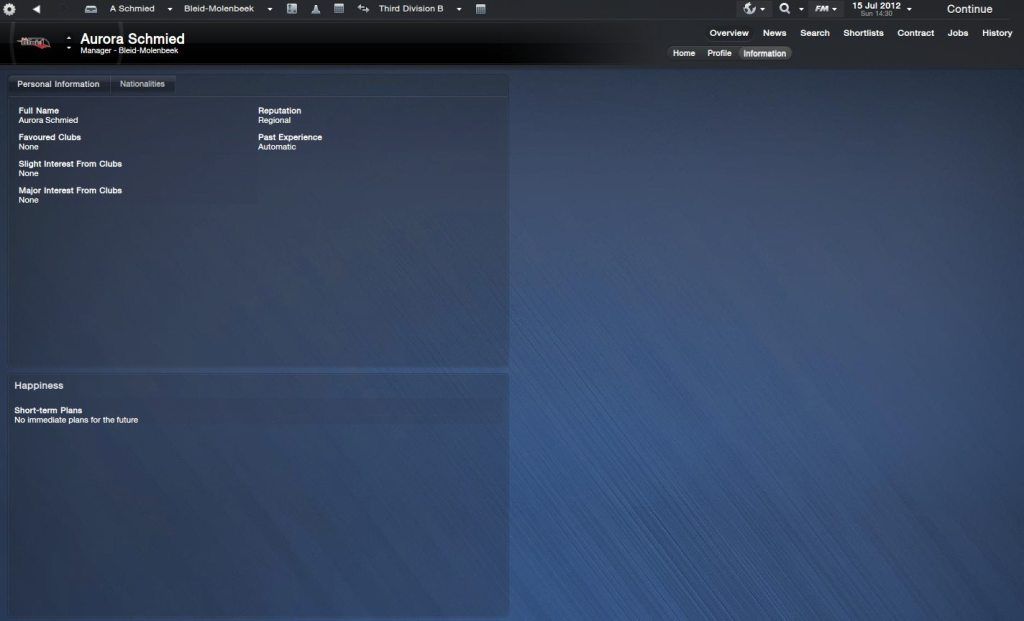 The team she finds is, according to the backroom staff, one of good quality for the division, having as weakness the leftback with just one player, which is quickly addressed by asking to hire their first choice of the shortlist they've presented her (Luyten) and weakness of central midfield. A loan report was asked for, without positive results, though there is one player that's being dealt with.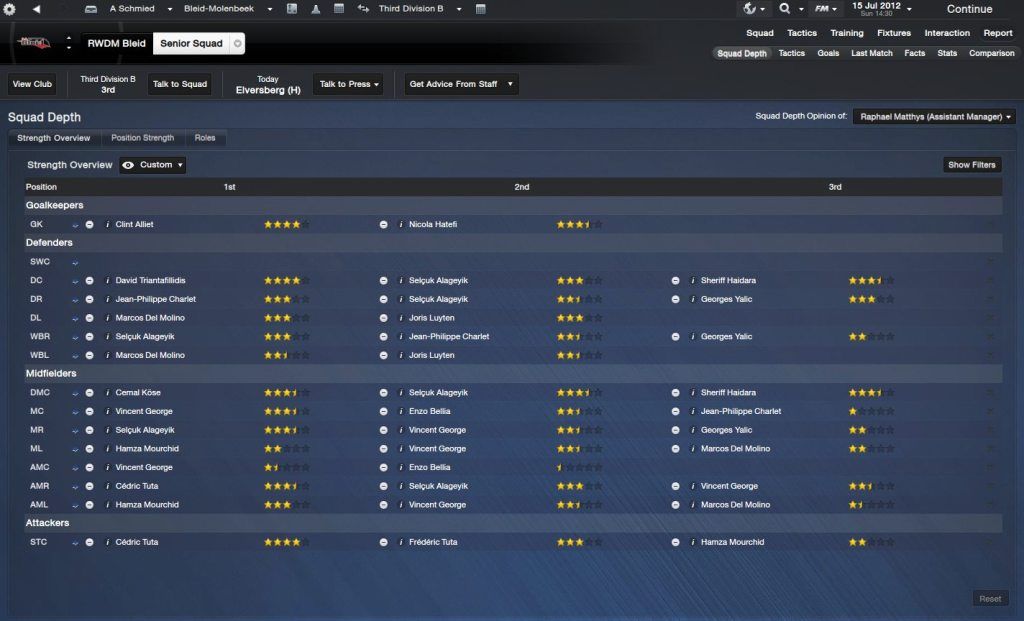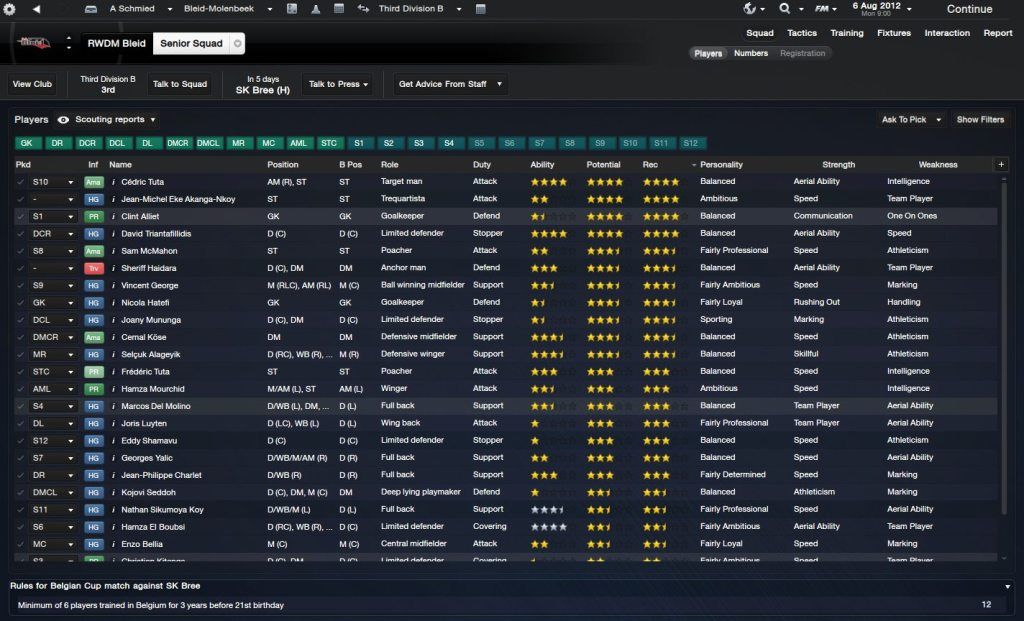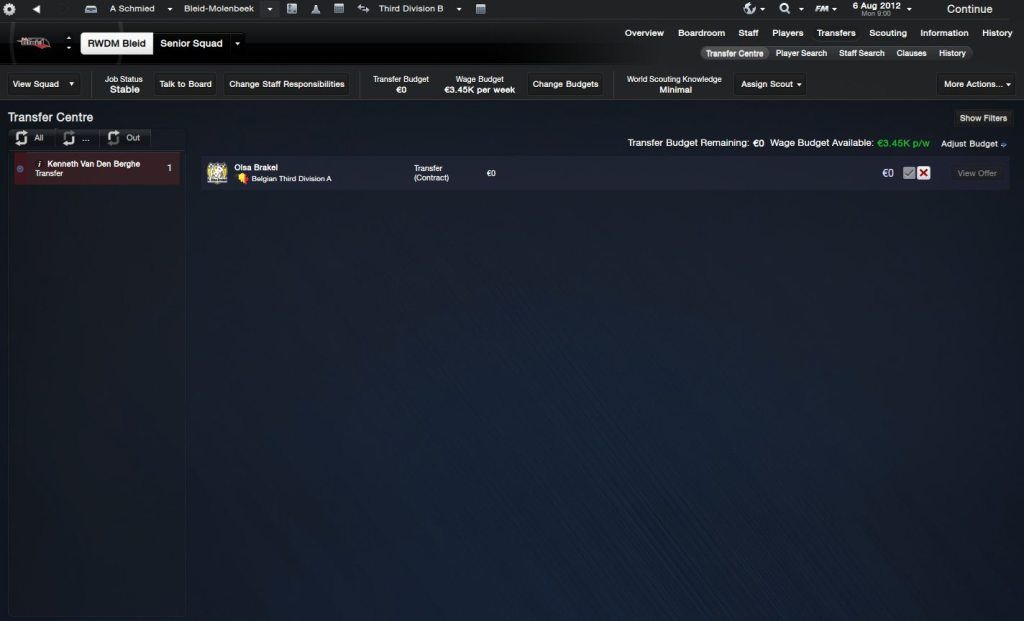 At first a 4-2-4 (defensive midfielders and wingers) balanced and standard, using counter attack is tried with fairly decent results, though in the end it is decided to use the coach reports as a guide and begin by tailoring the tactic to the players.
These guys will NOT trust a new manager who's both a novice and a woman, first get results in a way they'll like and then they'll be more willing to follow
With that thought, two alternatives are added: a lopsided 4-2-3-1, DMs, MC, MR, AML, ST in which depending on selected player can switch AML to ML and MR to AMR that is of attacking mentality and fluid, with aggresive closing down and man marking system. The second alternative comes from pulling the wingers up to the striker position to build a front three, set to counter attacking, rigidm standing back, zonal marking with fast tempo and little time wasting in which all but the front three are meant to defend, with a little leeway for the midfielder and less to the leftback.
The preseason, that is made of six matches against bigger opposition, sees the three systems utilized, the 4-2-4 giving one result of each kind, being the win against our youth side. The 4-2-3-1 provides us two comfortable wins. The 4-3-3 is played against giants Standard of Liege. It produced a heavy 0-4 loss, but the performance pleased me; we dominated the first 20 minutes, during which they had no shots at goal, they needed 43 mins to score their first goal, we were balanced and back to a little superiority in play for the last ten minutes and we got two shots narrowly wide and forced their goalkeeper to four big saves, having ours making two.
That was more than I could expect before the match. Still some left the stadium with shouts of "we had to be managed by a girl, this is pathetic". Pfffft, idiots, I'd like them getting that performance against a Champions League side with an amateur team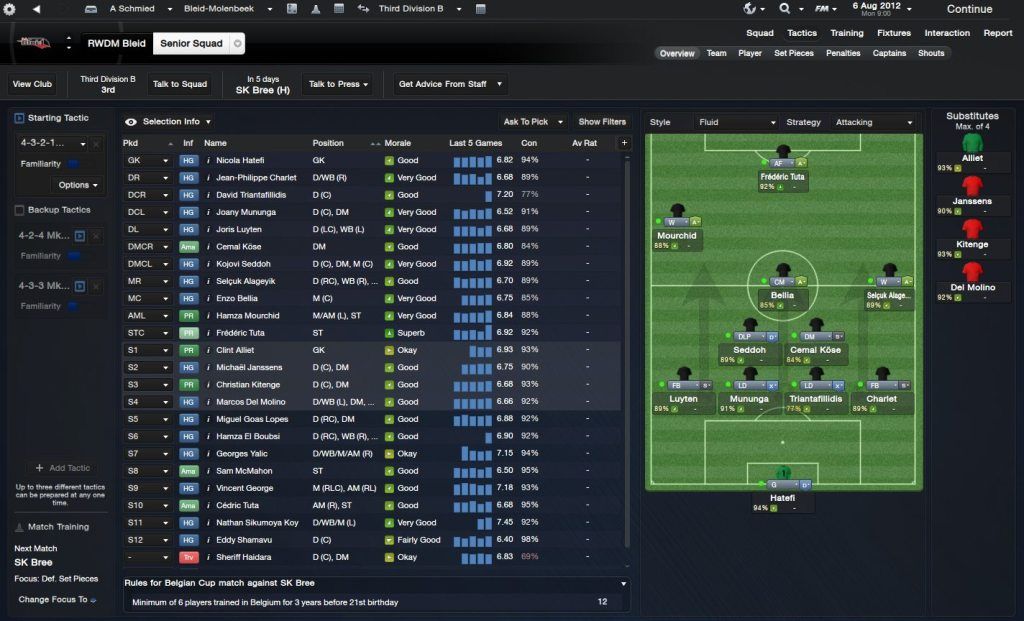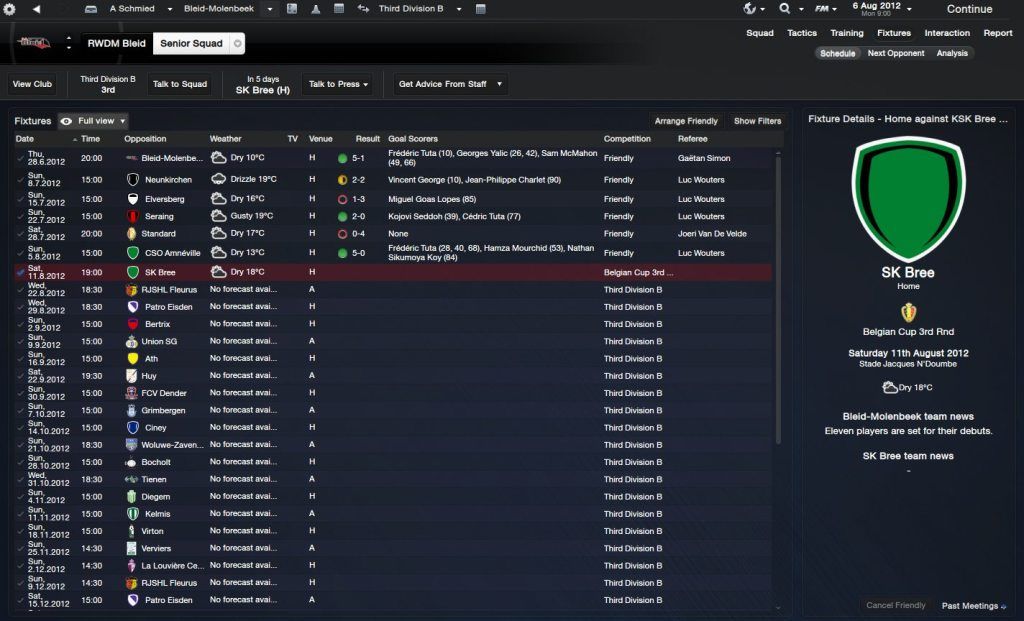 Finally I chose captains based on expected playing time I plan on giving and what I was told was their personalities. ((Actually I lost concentration and did it on the two I had chosen at the start when, during set pieces setup, I saw their determination and influence, d'oh!))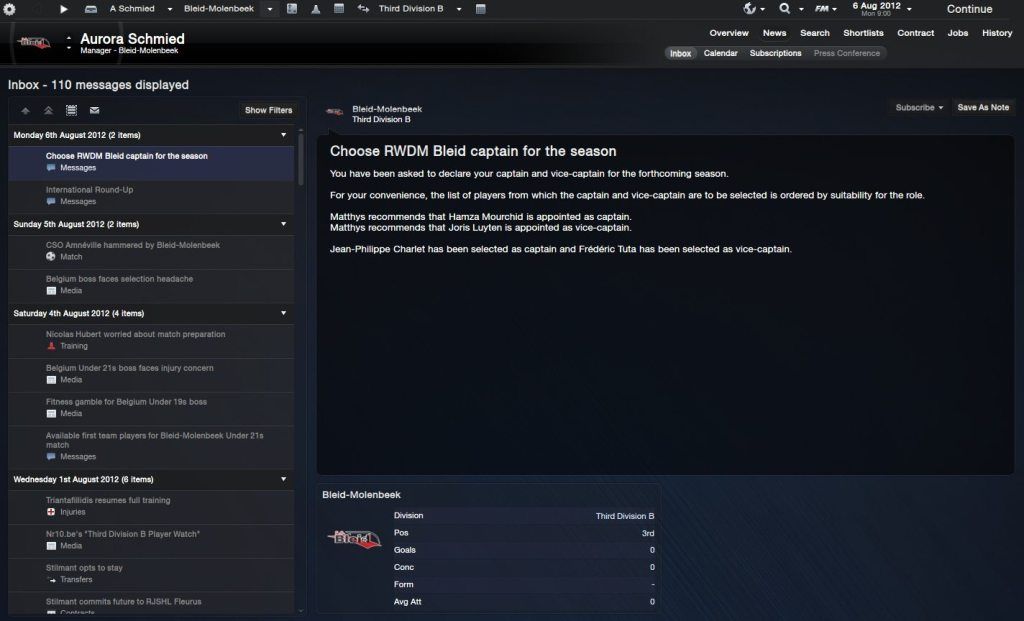 _________________________
Curiosities: The image is a drawing of "Kara no Kyoukai" character Aozaki Touko (surname name, which is the Japanese ordering). An anime thriller with supernatural elements, not for kids. It's good, though it would improve withOUT a few hollow pseudo-deep phrases.

The name Aurora Schmied was chosen because of vowel/consonant coincidence and because Schmied is German for smith and Touko is Japanese for Swordsmith.

In the beta peek I saw I could get job from the Portuguese or the Belgian, decided lower would be better and so made a Belgian. Don't find too believable for first job being chosen in a foreign country or for a second tier team.

Photobucket is away not working the best way, not autocopying, I may well look for anothe rimage host.
Last edited: