​
Hodgson Hired As Athletico Boss
​
​
Former Fulham and Liverpool boss Roy Hodgson has been hired as the new manager of Athletico Madrid, BBC understand
​
An news conference is expected to be called over the week where Roy Hodgson will explain his choice to join the Spanish team that he lost to in the 2010 Europa Cup Final​
Athletico have been searching for a new manager for a few days now since Sanchez Flores was sacked by the Athletico Board​
But BBC Sport understands former boss Anfield Boss Rafael Benitez turned down the chance to manage Madrid yesterday.​
Roy Hodgson is likely to bring in his own staff, likely his former Liverpool Staff, which could prove a difficult task as they don't know the Language.​
It is pubicly known that Roy Hodgson will be given a Transfer Kitty of 10million to work with and secure some signings to improve this Madrid squad.​
Roy Hodgson has today stated​
" I am absolutley delighted to be given the chance to come out and manage in spain with some great managers like Jose Mourinho and Pep Guardiola. I can assure the Athletico fans that we will still be playing attractive attacking football and i will be looking to sign players who fit in to that catergory. My first competive match will be again European champions Inter Milan and i am already looking forward to challenging those big teams, both in europe and la liga. My aims for this season are too qualify through to the Knockout rounds of the Champions League and to challenge the top two in La Liga!
Thankyou "
 ​
 
Manuel Almunia​
Sotiris Kyriagos​
Pablo Zabaleta​
Reto Ziegler​
Sotris Ninis​
Eden Hazard​
Christian Benitez​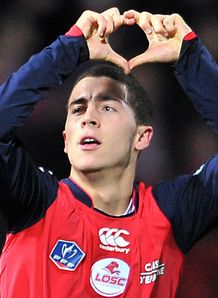 Will these two join Hodgson at Athletico​