As some of you may know I have tested lots of tactics in the past few months.
I have been searching for the "Holy Grail" of tactics but came to the conclusion that none of the tactics out there are 100% perfect (or maybe I should say, the game doesn't allow any tactic to be perfect LOL).
Let's call it a search for "near perfection" in this case.
I found that some tactics work better with lower placed teams, some work better with higher end teams, so it is all a matter of making the right choice.
In my testing I found the "Umbrella Pinball Tiki-Taka" tactic to give me the most beautiful football, however it was leaking too much with weaker teams (or against stronger teams).
I decided, with the permission of the creator of this tactic, to use the elements of this tactics, tweaked and changed some of them, but most of his work is still there and created a 3-5-2 which looks exactly like the "Antonio Conte 3-5-2 by ARTISAN", but with completely different roles and instructions (just the same layout).
The DM is an anchorman for example, where ARTISAN had a true Pirlo role as a "Regista" but that didn't work out as good in my tests.
I also found out that this tactic plays better with 2 MC with attacking roles instead of other roles like "box-to-box midfielder" roles.
I tested the tactic I created this way with the existing tactics in my test environment and it performed pretty good.
Especially the CCC ratio was very high (over 4 with my PSV Eindhoven team), meaning that you will get 4 times as many CCC with this tactic than your opponent will get.
You usually don't get 5-2, 6-3 etc results but more 2-0 3-1 etc, which I like better personally.
The full test results are in this thread if you want to compare it with other tactics out there:
http://www.fm-base.co.uk/forum/share-download-fm-14-tactics/164121-depth-tactic-comparison-thread.html
You will see the flow of the game is really nice, you are solid at the back with 3 CD, the mentality is "Control" with "Very Fluid".
OI are pre-set, I edited the "Umbrella" ones a bit as I got too many yellow/red cards with hard tackling, and I also edited some specific player instructions.
With the team I went for a more disciplined approach (instead of expressive), which cut out most of the stupid mistakes (which cost you sometimes games)
Pitch size at maximum. Don't let your assistant do the OI as they are already pre-set in the tactic ;-)
Your team will play aggressive football, high pressure, although it looks defensive on the overview you will see that especially your WB's will come forward often and score a lot, or cross dangerously in the box.
Good stamina, lots of energy needed. My PSV team is very young and has good pace, which helps to be successful in this tactic. I imagine it will be less effective with an older, slower paced, team of players.
Overall it looks like this: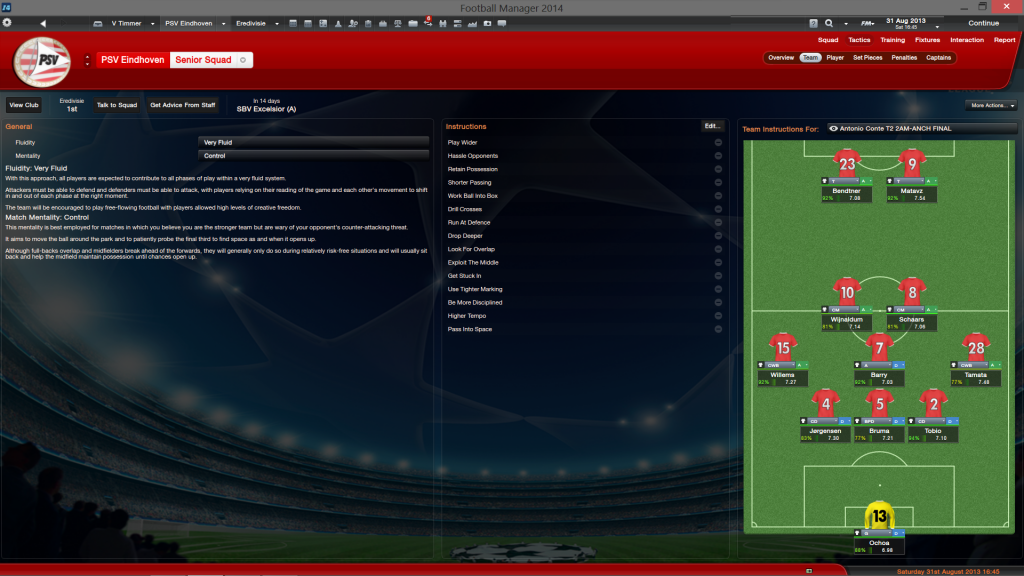 These are the results which were partly used in my comparison thread, I played a lot more matches with this one: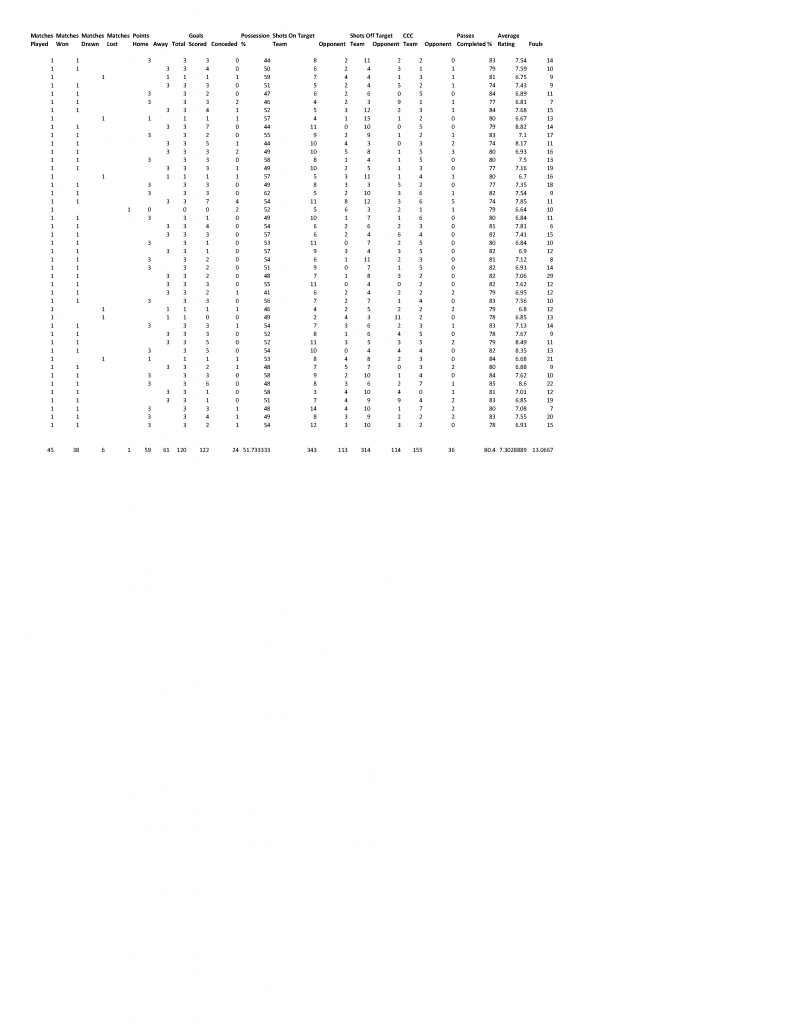 Other screenshots: (taken from a new network game I started recently with this tactic)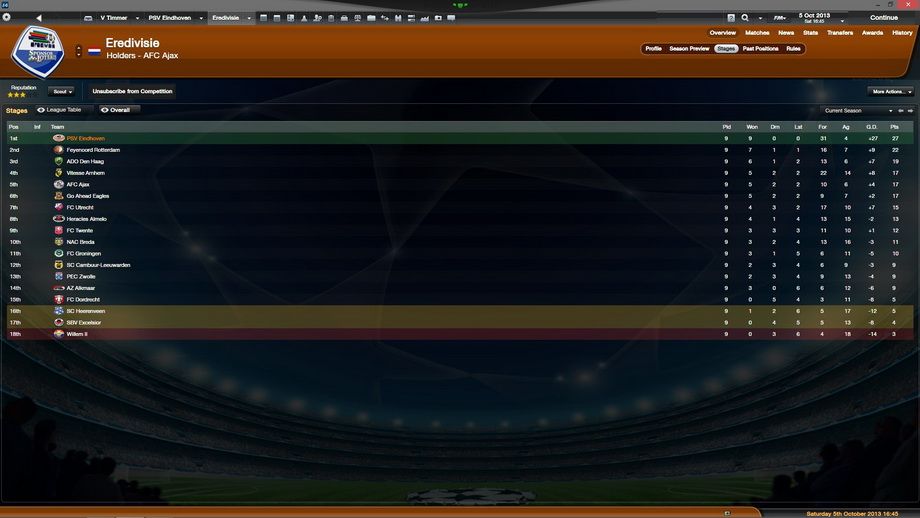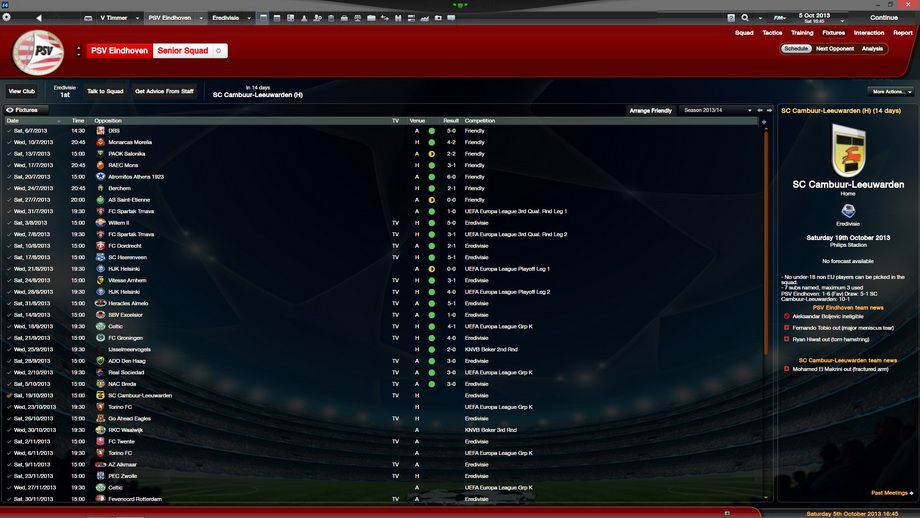 As I mentioned also in my comparison thread, not one tactic is perfect and I'm not claiming this one to be either.
Try it out and see if it works for you!
Here is the link to the tactic:
Antonio Conte T2 2AM-ANCH FINAL
Last edited: