After my old QPR tactic in FM12
http://www.fm-base.co.uk/forum/foot...ning-weak-team-qpr-2-3-2-2-1-steady-cccs.html
I'm now ready to share another great QPR tactic!
With this tactic your team will dominate the match with possession and other areas of the match most of the time. Even when losing the match commentary will praise the team stats!
The best part of this tactic is that your team's AMC will become a godly false 9! My wonderkid Hervin Ongenda won World Player/Golden Ball after his second season with QPR and he has grown into a killing machine with Finishing 20 and Composure 20!
Here's the deal,
Formation (2-4-3-1)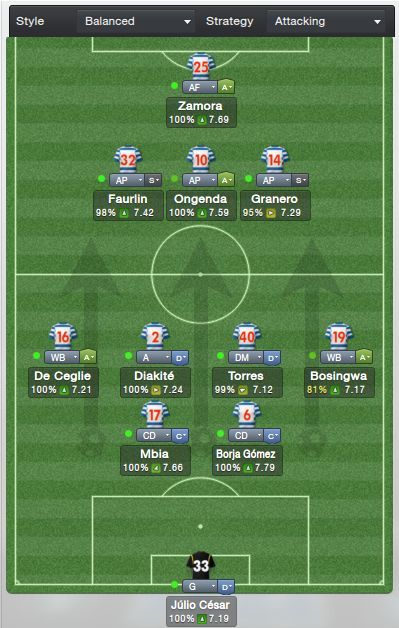 Opposition Instructions/Touchline
None!
General/Match Training
Attacking/Att. Movement
Player Stats and PPM
1 False 9/Advanced Playmaker (Attack)
The soul of this tactic!
Stats -
Acceleration, Pace, Dribbling, Composure, Finishing, Technique, Flair, Work Rate, Anticipation, Off the ball

PPM -
Runs with ball through centre, Comes deep to get ball, Place shots

IMPORTANT! Find a player who can play as Striker/AMC and train him as Advanced Forward but plays him in this AMC position.
Recommended player for this position
Hervin Ongenda.
2 Advanced Playmaker (Support)
Stats -
Creativity, Passing, Technique, Teamwork, Work Rate, Flair, Acceleration, Pace
PPM -
Try killer balls
2 Central Defender (Cover)
Stats -
Acceleration, Anticipation, Tackling, Marking
The other players and roles are pretty standard so i'll just skip them.
Team Talk
Follow this guide
Team Talks | Football Manager 2013 Guide
Results
Allow me to present the legend himself...





League Table



DOWNLOAD HERE View attachment 324960


V2 - April 29
- striker perform more consistent and scores more!
- gk made less careless passing mistakes and will make some offensive goal kicks.

Home match training - Attacking movement
Away match training - Attacking set pieces

Download here
View attachment 336286
Last edited: