Member
Joined

Aug 9, 2009
Messages

701
Reaction score

0
Points

0
First off this is not one of the inevitable, oh Roy Hodgson's been sacked i'll do a liverpool save for week forums that i suspect we'll see over the following days, i've been waiting for a new story since christmas or my first of the year after the success of my Young English lions story and Redknapps liverpool last year and i thought taking over the kings role as he now enters Anfield to the end of the season would be a good idea for a story, so here it goes ....
7th January 2011
I was stood on the 15th green with our kid, playing Donald Trumps scottish invetational tournement, when i had a called from John W Henry. 'Hi kenny, John here. The board have been having meetings over the last two days and we are sorry to confrm the latest reports that the board has voted 4-1 to let Roy go. The board also voted unanimously that we'd like you to fill in for the remainder of the season.'
'I'm sorry Mr Henry.' I said, 'This is a wee bit of a shock if i'm honest with you and im not sure if id be able to fulfill the role you want me too.'
'Kenny you have a phenominal repaul with the fans and we need to get this club all pulling in the same direction and working as one.'
'You're right Mr Henry but i'd need confirmation of Key players staying and backing in the transfer market.'
'Get yourself back here Kenny and we'll talk this over.'
'Alright then John i'll get the first flight back.'
'Thank You Kenny see you soon.'
8th January 2011
News began to filter through about the departure of Roy Hodgson.
I'd had a word with Roy on the phone to tell him my regret at the boards decision, and to wish him good luck for the future and he wished me the same in return.
I couldnt believe the nerves that came over me as i entered the Press Conference room once again, all those years after the heart breaking resignation press conference, but i put on a big smile and stood tall and was ready to face the press.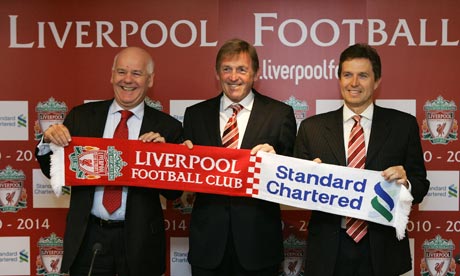 I was officially unveild as the clubs new manager before sitting down to do the press conference just hours after the scouse land had learnt of Roy's departure.
'Kenny can you some up your emotions today?'
'Well as you can imagine its a mixture, its never a good time at a club when a manager leaves, and i felt perticularly sorry for Roy as i know how willing he was to get it right here, but on a personal level to be back at the helm of my favourite club and what that has served me so well over the years is the biggest honour anyone could bistow on me.'
'Welcome back Ken, do you feel returning to club could in anyway impede your legendary status ala Kevin Keegan at Newcastle?'
'Well with the greatest respect to Kevin and Newcastle this is a different club and a different situation, and yes your point is valid. But i would never turn anything down for personal gain, i love this club and feel it a duty to do what ever i can to get it right and to me that means me being at the helm and thats where i am glad to be today and for the rest of the season.'
'I know you only returned from Scotland Yesterday evening but have you had a chance to discuss transfer targets or players leaving?'
'No, i havent had chance to sit down with the chairman and the scouting team including Damien Camoli, but i can promise the fans that i will be sitting down with all the key players and doing everything i possibly can to keep them at this club.'
With that the press conference was finished, i stood for a few more photos for the newspapers and with that i walked off down the stairs towwards the exit passing all the great images of the clubs past, my arms raised aloft as i won the Premier league as a player/manager scoring the decisve goal, and then the enormity of the situation hit me, and i was ready.
​
---------- Post added at 01:07 AM ---------- Previous post was yesterday at 06:55 PM ----------
I Pulled up to Melwood with an extroadinary sense of anticipation, i stopped off for a quick photo for the press and to sign a few young lads autographs. After this i drove into the car park, parked up, headed to the office got a brew and sat down in my chair. A huge smile sweeped across my face as i sat in that managers chair.
I called the squad and staff into the meeting room and sat the lads down. 'I know it's been a shaky few days around here, but i think it's imperitive that we all pull together and stay strong and really push forward towards the end of the season and give it our best shot.' 'This week we have a game that we can really go out and stamp our authority on the game and really show everyone what quallity we have and what we can be about.'
I concluded the meeting and left back to my office with Sammy Lee and Damien Camoli. We sat and discussed the squad for a good half an hour. The same name that we were all thinking of was Alexis Sanchez, there were other names but we were struggling to find players that were within budget and who we could attract to the club.
Myself and Sammy then continued to look over the squad, the league table and the match ahead, Lincoln in the 3rd round of the FA Cup.
​
The League Table January 8th 2011
​
(This is the real table to make it feel exactly like the situation Kenny is inheriting, the only thing missing is the real goal difference, the fixtures are real too)
​