Member
Joined

Nov 3, 2012
Messages

74
Reaction score

0
Points

0
IMPORTANT NOTICE
this tactic works amazingly both for 2 reasons: it's wonderful attacking system but especially the contribute of inside forwards to de defensive phase.
So, SINCE THEY ARE SET ON MAN MARKIN, MAKE SURE THEY MARK THE RIGHT MEN!

Examples:

-In formations who use
WING BACKS
keep the IFs on the wing backs as automatically set.
-In formations who use a
3 line defense line,
make them mark the midfield wingers!
-Beware! In formation who use
FULL BACKS
and
EXPLOSIVE WINGERS
, for example chelsea's wide 4-2-3-1, MAKE SURE YOU SET IFs to mark the
Attacking wingers
, not the full backs!!!!!
This will really make a huge difference. If you're conceding too many goals, make sure you're getting this right!


How does it work?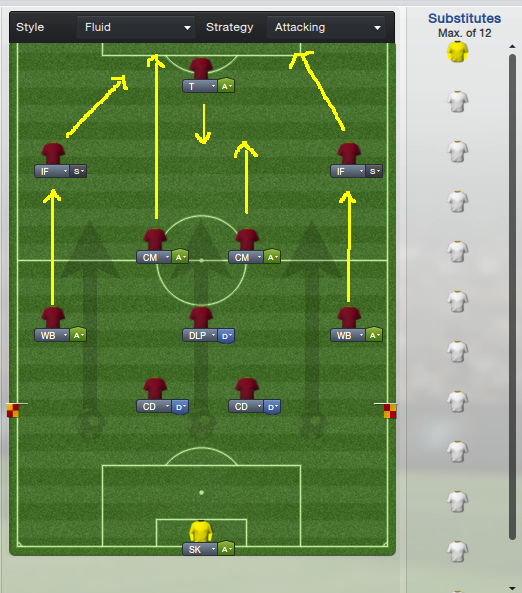 The offensive scheme of this tactic is extremely effective. It gives no reference points to the opponent's defense and it's what we have seen over and over many times in real football with Barcelona & Spain.
I saw people trying to emulate the tactic in wrong ways: putting no forward at all.
This tactic is different because the Forward is there and will move towards the midfield leaving the defense puzzled. This will give space to the constant "cuts" of the two Inside Forwards: Notice how they are in support mode to diagonally cut the area rather than attack the depth. To support the actions on the flanks wing backs are very aggressive and to provide an extrea man on the area one of the two Cms always gets to the box

How can it be solid?

What makes this tactic different from all of the others: A unique offensive style with no static wingers or forwards that will crush defenses and produce a wonderful first touch football, but especially it's incredible solidity.
This is achieved avoiding a common mistake i see when people do tactics: Wingers, Inside forwards are generally left to zonal marking. In this tactic they will ALWAYS follow the corresponding wing back.
NOTICE:
The Inside forwards are already set to man mark Full backs or wing backs. HOWEVER, when opponents play with a 3 man defense line, they will automatically man mark the DCs. ITS OBVIOUSLY WRONG! if the opponent plays a 3-5-2, or a 3-4-3, or any system involving a 3 man defense line, BE SURE INSIDE FORWARDS ARE SET TO MARK WINGERS, DEFENSIVE WINGERS ETC.!
Other elements that contribute to render the tactic extremely solid: The Deep lying playmaker does an extra defensive work and sits between midfield and defense, and especially the pressing is perfect: it's such that it effectively hassles opponents but it never exposes our defense. Furthermore, the line is pushed high and we play offside: thanks to the wonderful pressing, The inside forwards coming back and the DLP who aggressively marks, we never got caught between the lines. Most of the goals i got (8 or 9 in the season) were from corners, free kicks and long shots.

Something more about the Tactic


The tactic gives amazing results: an aesthetically pleasing and wonderful football yet a super defense. Don't let you fool by how the tactic "looks"-it's what players do in the field that matters! Each and every one of the players instruction has been tweaked: check if donwloading the tactic this does not "disappear"!
Fluid and attacking style, short pacces, normal/high tempo, pushed up line and single movements will make your team even obtain an important thing: posession.
The players


SK
: Never switch it to "defense" or to normal keeper. IF your gk is not good with his feet, limit his creativity in single player instructions
WBs
: One thing-you must have true wing backs, not full backs!
DCs
: Look for the common attributes for good defenders. nothing special here
DLP
: Ideal player? Daniele de rossi! Able to pass and with good creativity, yet strong.
CMs
: Must be smart players who are able to run to the box and pass a through ball. A decent player like Michael Bradley did marvels for me
IFs
: Look for fast dribblers-walcott would be amazing
Trequartista/DLF
: The most complicated role of the whole tactic-or he he is a very creative forward or you MUST switch him to DLF in attack mode. He will still make pretty much the same movements but his plays will be more focused on strenght and positioning.
Results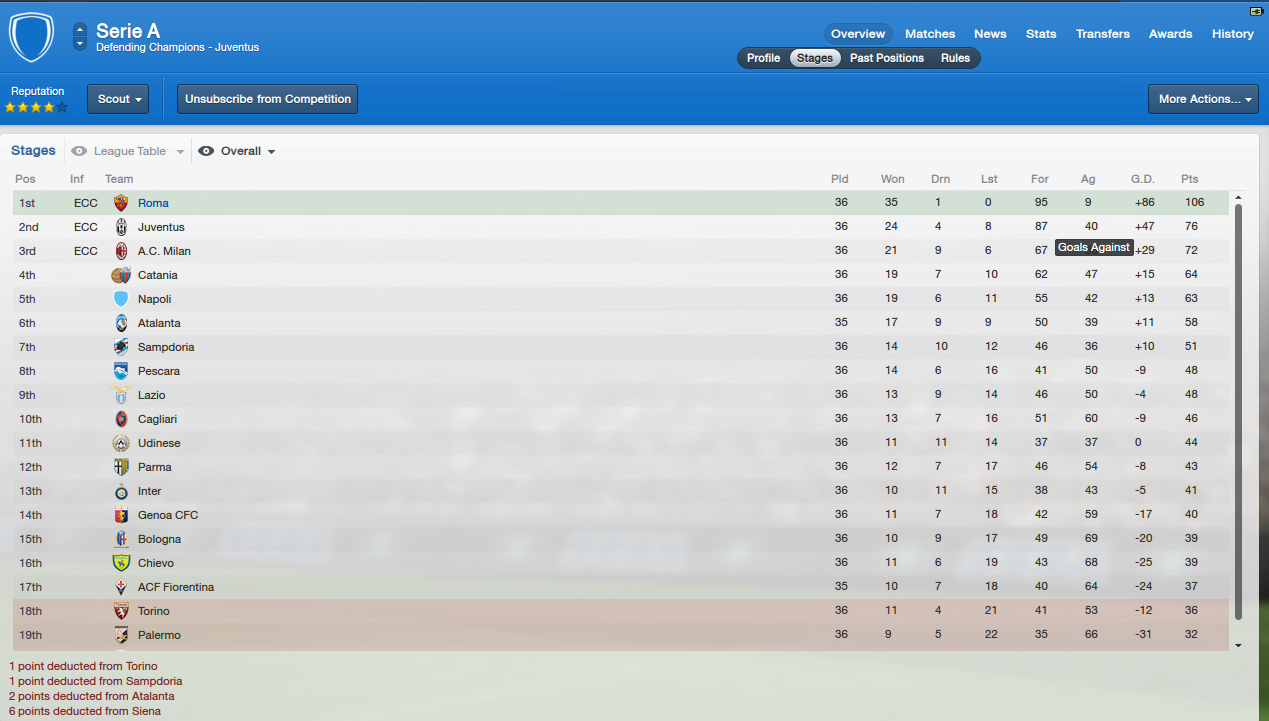 Is this a plug and play tactic?

Yes, except you
must
remember the following:


Notice: -
always check if IFs are marking correctly (as explained up)
-You may need to switch the trequartista to a DLF in attack mode (Download Tactic #No 9.5 DLF)
-Set pieces are left default. Feel free to tweak those as you wish (i left it default and score a lot).
-
Default mode is set to "attack". This really depends on how strong is your side. Feel absolutely free to switch to control!!!
I advice the DLF instead of the Trequartista when you have a more "classic" forward. If you have a forward like messi, totti, or benfica's rodrigo...you could use the trequartista too.
I'd appreciate any kind of feedback, critiques and comments on the tactic.
Cheers, and good game!!!

Last edited: