Member
Joined

Jan 6, 2010
Messages

131
Reaction score

0
Points

0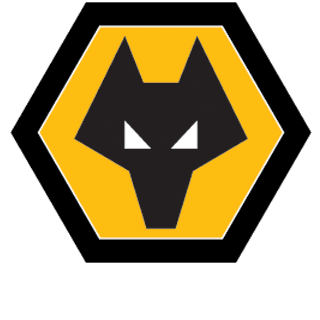 A new

face

at Molineux
After the recent press release, calling fans and press alike to Molineux, a new manager for The Wolverhampton Wanderers were going to be presented after the sudden resignation of Mick McCarthy earlier this week.
​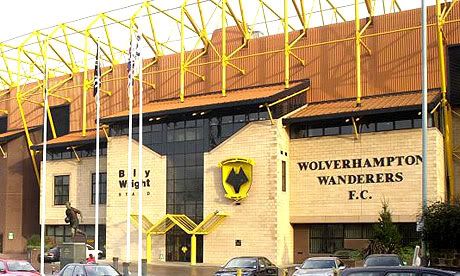 Press Conference
Good day, my name is Christopher Warås Harjo and from today I am the new manager here at Wolverhampton. This is mostly meant as a presentation so I will only take a few questions from the reporters.


Reporter

: Uhm, welcome to Wolverhampton. My first question is, as we have never heard of you before, what makes you qualified for this kind of assignment?


Christopher

: Well although I have never done any manager work at this level I have been active as a trainer at different youth clubs, as well as helped assisting the Gothenburg based clubs in Sweden's top divisions.



Reporter

: So why the Wolves?


Christopher

: To be honest I do not really know all that much about the Wolves. The reason I got this job, and got the support of Steve Morgan, is that he personally saw me work in Sweden when he visited earlier this year. I have unofficially been helping the club with scouting scandinavian players and we have kept a close contact ever since, and now that this opportunity arose, I just couldn't say no. I will do my best to keep this club away from relegation this season and hopefully start a good era for the club to return to its former glories.I am very glad to have joined here.



Steve Morgan

: Now that is all for today, six friendly games have been set up for the coming month, Christopher will not have much time to get to know the squad and make the changes he sees necesarry.
​
---------- Post added at 02:12 AM ---------- Previous post was yesterday at 10:20 AM ----------
The

Warm

-Up
So, being new at the club it's very important for me to get a good look at the team in friendly games. Now, before this season we had six teams to beat, hopefully.
I'll also try to strengthen the team by bringin in some new faces, mostly young players brought in to grow at the club.
​
Okey so over all we got good results except an unexpected defeat to Huddersfield, where although the game was a rather even affair, our two goalkeepers actually didn't save a single shot on goal. My gut instinct says that that might have been the reason for the defeat, not that our strikers were showing much killer instinct but

still...



I took the time to sign some new players in the pre season, as well as some had to go. The signing that made the biggest impact in the starting games was David Goodwillie who managed to score twice.

The complete transfer list is the following: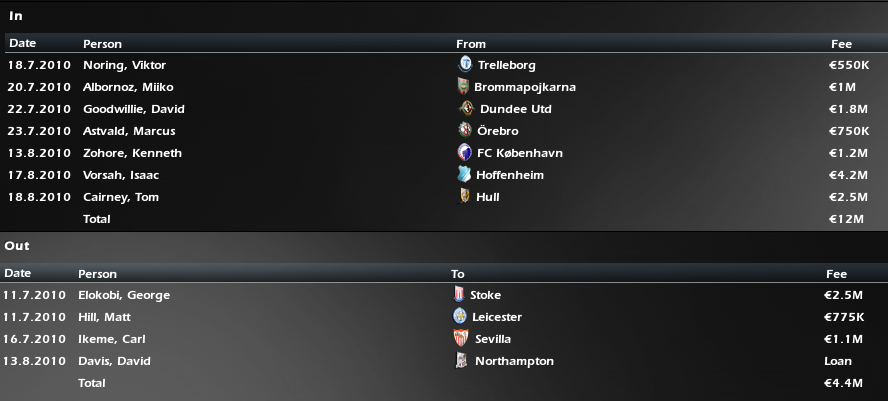 Four of these singings were made based upon what I had seen prior to me getting the job here, a few scandinavian youngsters who I believe have a good shot at the starting eleven already this season, bar Kenneth Zohore who's still exceptionally young.
Not much to say about the ones that were laid off, they simple weren't good enough to challenge for a spot on my team and gave us some much needed funds to use.
​