After dominating in my last save with Guernsey and finding myself at a slight dead end, with no real place to go after I had got them to be the biggest stage and won it all. I have decided to steal a march from the great San Marino challenge, But I will be using FC Andorra playing in the 5th level of Spanish football, And the Andorran National team possibly the only national team in Europe that are as bad as San Marino.
For anyone curious what i'm about here is a link to my Guernsey story.
http://www.fm-base.co.uk/forum/foot...11755-fountain-youth-discovered-guernsey.html
The basic idea is the same as the San Marino challenge in that i will use the fortunes of the club to improve the Andorra national team, Hopefully ending up in world cup glory for Andorra.
Unlike the San Marino chellnge i won't set myself any starting goals. I will point out things i think are significant.
If anyone wants to have a look at the San Marino Challenge it can be found here.
http://www.fm-base.co.uk/forum/foot...narios/107232-great-san-marino-challenge.html
I played a season using Deathballs Spanish database found here
http://www.fm-base.co.uk/forum/downloads.php?do=file&id=7327
However FC Andorra did not produce Andorran youth off this database so i had to re-edit it to ensure they did and it now works. It can be found attached here.
View attachment 310372
Also a medifire link for those having issues.
http://www.mediafire.com/?4ybmov3rlg24cpq
Credit to gogogo golem for telling me what to do regarding editing the database in this thread
http://www.fm-base.co.uk/forum/foot...scussion/114077-f-c-andorra-youth-intake.html
I have also loaded up
leto2626
's Andorran league to help with Andorran players. Here is the database link.
Andorra v1.0 - Downloads - Football Manager 2013 Tactics, Wonderkids & Cheats
FC ANDORRA
Futbol Club Andorra is a football & futsal club based in Andorra la Vella (Andorra), established in 1942. They play in the Spanish football league system.

Most of the Andorra national football team are typically selected from FC Andorra, which currently competes in the Primera Catalana at the 5th level of the Spanish football league system. Though the club are based in Andorra, they have competed in the Spanish league system since 1948.
This is how everything stands when I started.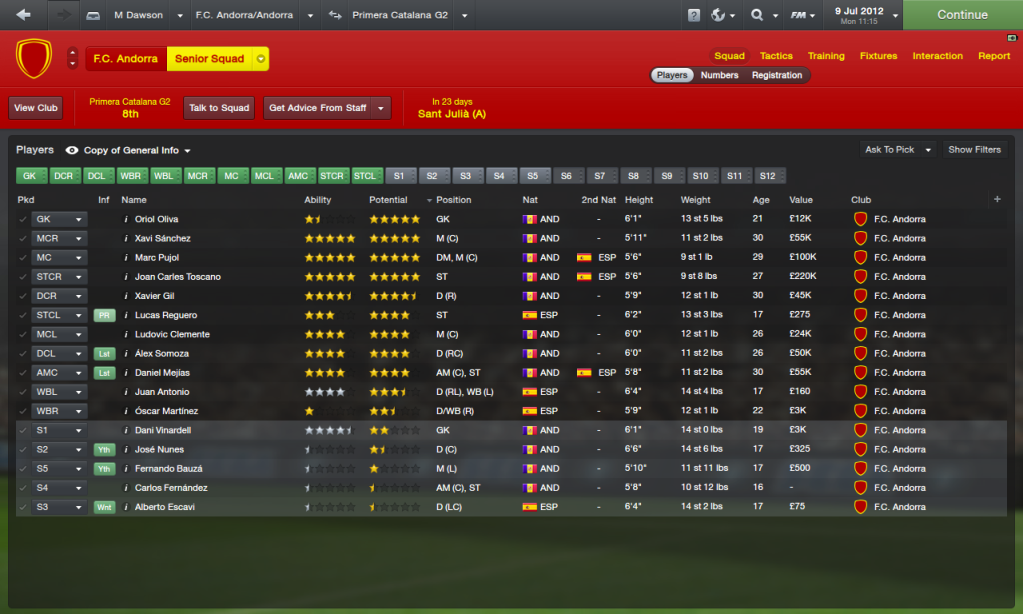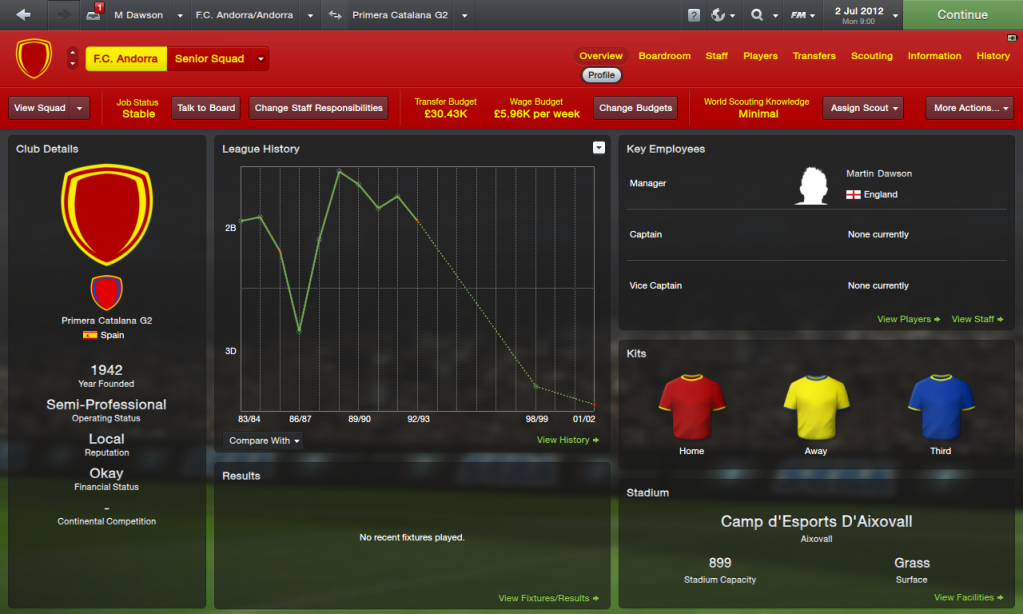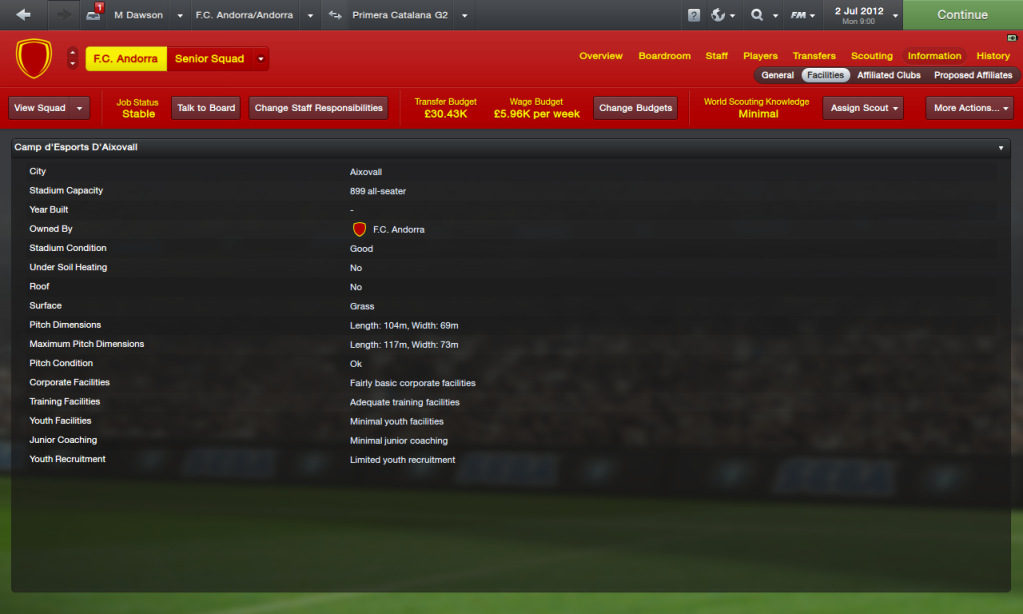 Don't let the 5 stars fool you this is not what i'm used to working with. The club aren't in a very good position, Financially or otherwise. So I will need to get them promoted in double quick time. Obviously Unlike my Guernsey save I will be signing players where i need them. The long term view is a Cantera policy for the club and winning the world cup with Andorra.
The club obviously have some ambition but not the funds to back it up. I had already transfered my transfer budget into my wages at this point, Later in the season I may move it about if i need to pay for some signings.

The bookies seem to agree though having us as overwhelming favpurites to go up.
One strange rule in this division sees that i am only allowed 6 players over the age of 23. Great for the you but not so good for me working to an already tight budget. That said i'm all for youth, As a result some of my better players simply cannot play so have had to be let go.
These are some of the players i have kept.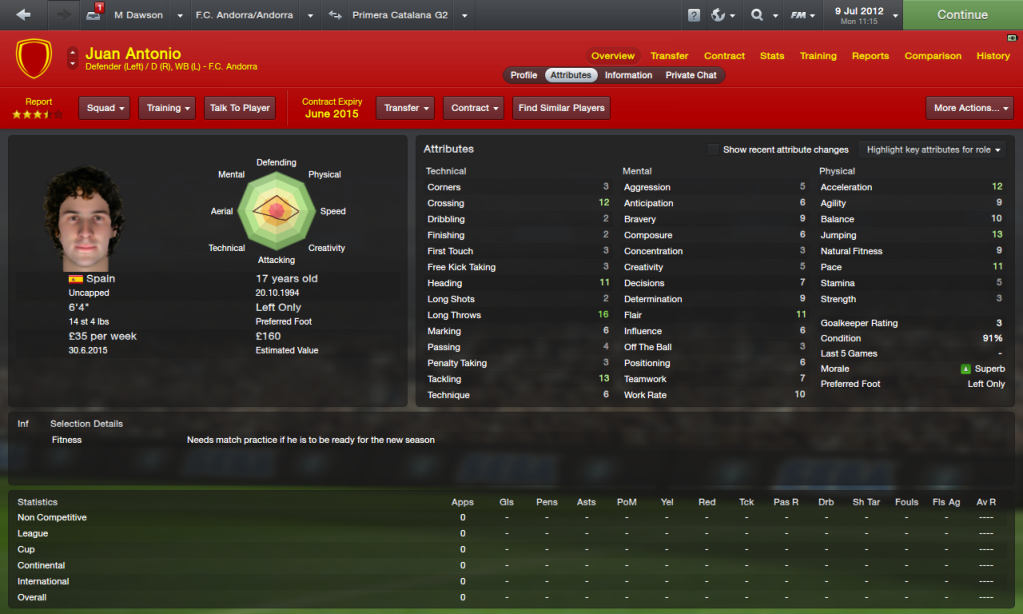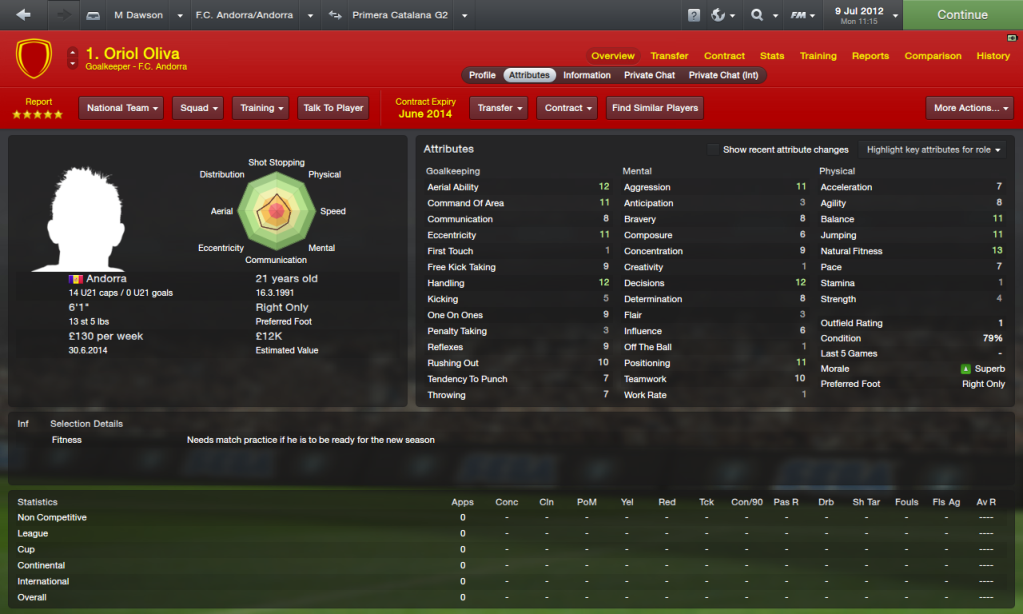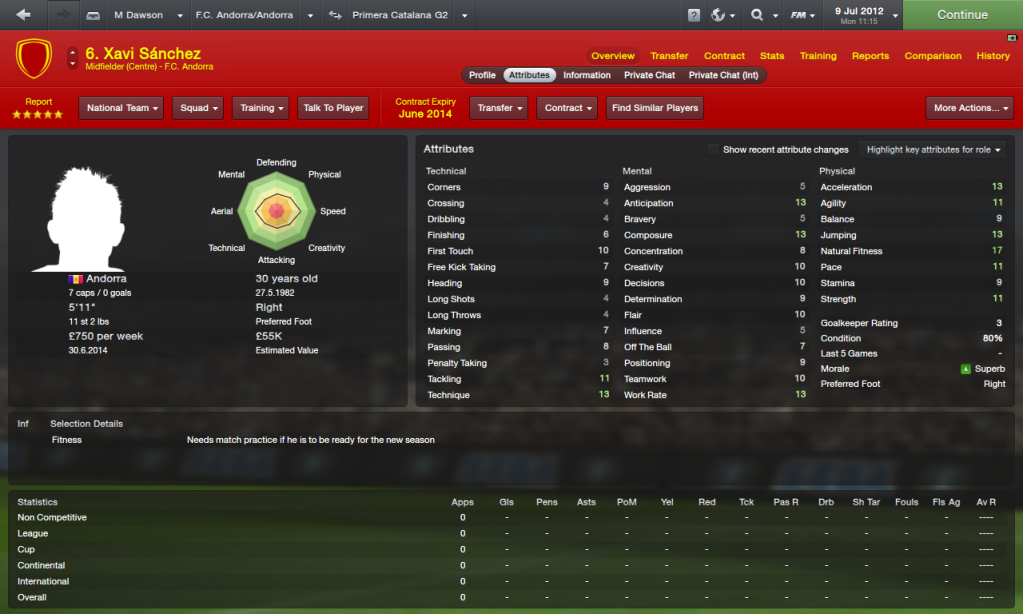 None of these players will be good enough long term, But we should be able to get out of the league without much trouble. The amount of quality players available is frightening, of course non of them want to join us(yet!). I'll keep an eye out on the 30 or so players i've already identified and see if i can coax any of them to join me some are playing at very low levels indeed.
First league updates tomorrow.
​
Last edited: