GRAYSON LEAVES
Grayson says fairwell to Leeds faithful
Simon Grayson has today decided to step down as Leeds United boss which he said was down to personal reasons. The 40 year old said " I am proud of my achievements here at Leeds United and leaving this fine club was always going to be a tough decision. I have stated to the board the reasons behind my resignation and have pointed out who I believe should be my successor. I wish whoever that may be, the best of luck."
RADEBE SHOCK FAVOURITE FOR LEEDS JOB
Leeds Legend to Return?
Sources close to Yvonne Allen have revealed that an interview will take place tomorrow with Leeds legend Lucas Radebe. Radebe was always a crowd favourite at Leeds but has no managerial experience. Bookmaker Paddy Power have stopped taking bets on Radebe becoming Leeds manager. Lucas has refused to comment on speculation.
BATES LAYS DOWN LAW TO FANS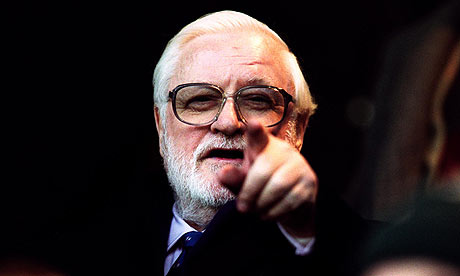 Ken Bates doing his Lord Sugar Impression
Today Ken Bates laid down the challenge of a lifetime to fans of Leeds United. Bates has said "Football fans always think they know what they're doing and always have an opinion on how things should be done so I have decided to see how much they really know by inviting open applications from Leeds supporters. 20 lucky fans will then be shortlisted for interviews." This is obviously a completely unique idea and many experts say it will fail. Hundreds of Leeds United fans have already submitted their CVs in hope of a job in management. Coaching badges are needed but only in their most basic form.
AND THE MANAGER IS *?!:#@ ?
Ken Bates has today appointed lifelong Leeds fan Tom Miskell as manager of Leeds. Miskell has been handed a contract worth £6,000 per week. In an interview Miskell had this to say " I represent every fan of Leeds United and football as I sit here as Leeds boss. Obviously I was amazed at the challenge laid down by Ken Bates and honoured to even make it to the interviews. My dad always told me about the Revie Years and my aim is to return them to this great club. Ken and I have discussed our aims and ambitions and I am well aware of the consequences if they are not achieved."
​