Jesaustralia's favourite fm17 tactic 4-3-1-2
Download Here
Download Almost Reversed version Here
Player Shortlist by 0Widowmaker0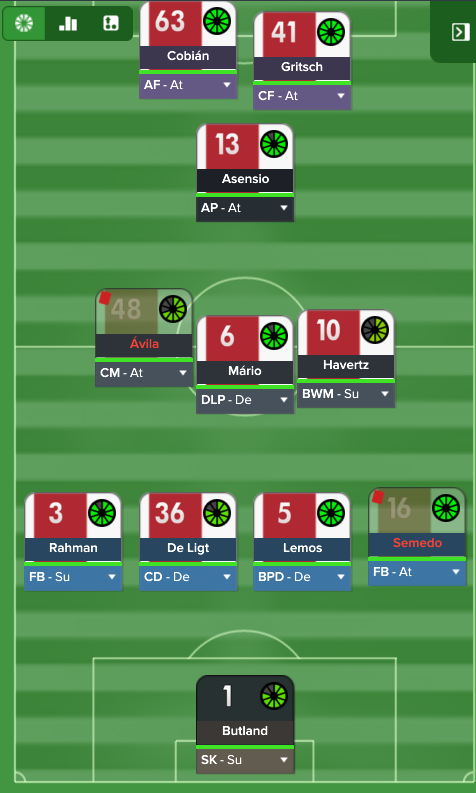 ​


First of all I've been aware of this tactic
for a while now
-
its
foundation
was
established by someone who call themselves the_reckonist and gave the tactic the name Gamebreaker - you can find the original version
here
An exellent tactic that hasn't received enough credit compared to other tactics on the market - SHAME!!!
​


​
However when that is said - the tactic released above is inspired by that tactic but improved to a version that I find magical - magic in defence - magic in attack - but as it often happen you will need to understand how things work - Knowing how you get to see that magic I'm talking about.

With this tactic I have build a team for Ajax - Brondby -

FC Helsingor

(Elsinore) -

Wolves

(Using Gamebreaker) - Real Madrid for 10 games or so (Reversed version) - With Ajax - Brondby I won anything that was possible pretty quick in the save - we were able to sign Asensio in season 2 and in the same season they were in the CH League quarter finals before exiting - and FC Helsingor which is another Danish team that starts in the 2nd tier of the danish competitions I managed to build to a CH League quarter final team pretty quickly as well.



So what does all this success mean

? - Cheat tactic? NO!! - it means I bought all the right kind of players that could make it happen and its honestly not entirely obvious what you'll need to do - so go on reading....

I'm not stating that this tactic is an underdog tactic - but you can lower the requirements in a lower league and succeed for sure - FC Helsingor is the perfect example of that starting a carreer their with amateur players - The year later they were professional





Lets get in to the flesh of things...

Players &

Individual Training

:

Attacking Fullback - A:
This position/role creates lots of assists and needs to be lightning quick and have attacking attributes - often my choice of player would be someone like Iorfa though he is a weirdo
**** tall and scary player - in reality it would be good to have someone like Nelson Semedo becourse this position get scoring chances themselves and a 10+ finishing attribute wouldn't hurt for sure. Crosses are not as important though its a wide player.
Training - Complete Wingback Schedule + Quickness

Supporting Fullback - S:
Well you'll need someone like Riedewald a ball playing defender that interacts alot in the build up play - again I do not think that the cross attribute is of imperitive importance - passing attributes and technical attributes I value much more.
Training -

Ball Playing Defender Schedule or

Complete Wingback + Quickness



Central Defence - D:
I prefer these to be average quick +13/13 - the more ball playing these are the better, but not absolutely crucial. De Ligt from Ajax is a massive talent of the future in this department, but theirs plenty of good defenders out their - both cheap and expensive. One of my Favs are definitely Michael Keane.
Training - Ball playing defender + Quickness

Ball winning midfield - S:
Now its getting more exciting...- In the original gamebreaker tactic theirs two of these, but I've changed that to one only - what matters though is that you get an allround type of player more than you get a strong player - this player doesn't need to be a monster physically - its much more beneficial if you have a player that can do things going forward as well - Havertz is a great player in this position - he has 10 in tackling, but how I want you to see this is - get a complete midfielder like Koke - Fernandes (Botafogo) - other player like Husbauer insane longshot - I find longshots to be quite useful - I always get BWM's or other types of midfielders going forward to have atleast 13+ longshot. High workrate - teamwork - decisions - Technique and more technique.
Training - Roaming Playmaker or Deep laying Playmaker + Longshot

Deep Playmaker - D:
This position is the player I would say is the worst performing overall - so you would easily be able to use a cheap option here - an older AP in this position will often do well. Defending attributes are not as important as ball playing attributes - technical attributes - this player needs to be a composed visionary that works well within a team (teamwork) - Basically you need players with DLP attributes
Training -

Deep Laying Playmaker Schedule



Central Midfield - A:
This is one of the most exciting roles in fm17 when getting the right player - I'm seeing this position as a 4th striker to be honest - yes exciting isn't it?
- So let me explain...This position needs to be a quick dribbler who has lots of visions offball movement skills and obviously a technical genius with flair - then he needs to be able to finish like a striker (James Rodriguez) (Renato Sanches) (Alena) (Asensio) and many more I bet.
Training - Roaming Playmaker Schedule + Finish

Advanced Playmaker - A:
My Favourite Role in both modern and past football - this however is like a 3rd striker - a creative striker - this position will score lots of goals and assist alot - Asensio is definitely gods son in this position - Oliver isn't
- you will want someone who can both finish and shoot from a distance - you will want vision and technical attributes, but you will also want this player to be intelligent
(decisions - flair - composure - anticipation) & fairly quick
Training - Adavanced Playmaker + Finishing

Complete Forward - A:
Depending on who you got ofcourse - this player can score alot of goals - 60+ I've seen 87 - what I find important is CFA to be creative - quick - technical - I don't care if these are strong but its always nice if they are - Vietto can do well here - Dybala/Suarez/ - Regents. In case you can't find one or don't have one becourse of lack of talent - its definitely ok to change this role to an advanced forward - I do that in my own saves if I feel that the players are not as good as a CF. One more thing I like in strikers that can finish is the PPM shoot with power if they have technique as well. Basically I just like quick creative strikers who got flair - AP schedule will provide that in that case its + finishing
Training - F9 or Advanced playmaker Schedule + quickness

Advanced Forward - A:
Nothing extraordinary about the AF - but I can tell you its a position that are capable of scoring lots of goals - I have seen a very young Buitink
(

becomes world class

) scored above 60 goals in the 2nd season tutored the first year by Didier Drogba - became a perfectionist in personality - you are probably aware that their aren't many of those that can often be an indicator of special talent - not always but in some cases for sure. I obviously treat the CF and the AF the same - so a quick technical finisher with the ppm shoot with power. Another good ppm for a striker is - Get in to opposition area - both ppms are golden.
Training - F9 + quickness or AP + finishing





Team Training:



Preseason - At the tactic screen - Load tactic in to all 3 slots

Training screen - Team Cohesion - Intensity=High - 50% Scheduling -
Match Preparation=Tactics

Do this till the 1st of october, but lower the intensity when you start getting more than 1 match a week.

In-Season - Team cohesion - Intensity=Average - 50% Scheduling - Rest after match ticked - Match preparation=Defensive Positioning

Resting - I recommend to rest your 1st - 11 - straight after each match between 2 and 3 days if their is more than 1 match in a week.

Their is no OI's

Team Talks - I prefer to do them myself - I normally choose the calm option and then the 2nd choice - then individually I say have faith or you got what it takes - prematch

At HT depending on the score and on the body language of my players - if they are confident and we lead comfortably then I do nothing - if its a narrow lead - by 2+ goals or less I calmly tell the players that its not good enough - if they are behind I aggresively tell them that they are morons


At FT I tell them calmly it was a good win or it wasn't good enough




0

Widowmaker0 Resources



FM-Touch



The Tactic -

Don't try this 4-4-2

I decided to take it down due to bullying if you wanna try it Download it here








IMPORTANT!!


So just to make one thing clear - I didn't from the start - If you don't listen to me
(reading this OP and learn) or you being a bit impatient due to poor results - then I don't have time for you - this op is crucial to your success -

Telling me that this and this is wrong and I don't understand this and that - is not gonna make me wanna edit the tactic - I refer you to the results post here - it speaks for itsself - I don't care about your poor results - I sincerely don't - I already have released a finished product - I don't need anyone to edit it - once again look at the results page - if you are not a moron you will agree that this is solid
- if not I will try not to reply to you
- In case this tactic will be tested it should rank in the top - In case it isn't I would question that test
- once again look at the results page above - results you see rarely somewhere else

If you want me to reply to your issues - show me pictures of whats going on - I need to see your players - your transfer history - your results - expect a harsh answer if you think its the tactics fault - this game is called football manager - the keyword manager should be taken serious since that's what you do in a game like this - manage & micro manage




So what's actually going on these days with me? (for you who's interested) - well I'm doing exersize due to my diabetes and then I'm doing some voice over jobs in short animation films - apart from that I'm chilling - playing different games - dreaming of the lake of lugano (how I want to live their one day
Guys if I come across as someone angry - you are very wrong - I'm a very fair person and if their is something I dislike - I tell everyone where they can put their finger and that's how it should be done - we live - we die - we are equals nomatter who we are or where we come from or what we believe in or how much money we have - noone is above the other - Respect

Enjoy Guys
​
Last edited: